| | |
| --- | --- |
| CaptainYS's Flight Logbook 2018 | |
Please enable JavaScript to display links.
2018/01/05
Actually, this was what we were doing in December. So, it did not take place in 2018. But anyway. We were in San Francisco during the winter break. We were born in Japan. I have been in Pittsburgh for almost 20 years, but I still feel it is funny to go to San Francisco as a domestic travel.
Since we are starving for fresh seafood, the primary purpose was seafood. Also the population of Japanese and Japanese Americans in San Francisco is far larger than in Pittsburgh. There are two large Japanese supermarkets called Mitsuwa and Marukai. Also there is a large Japan Town there. Those were our primary destinations.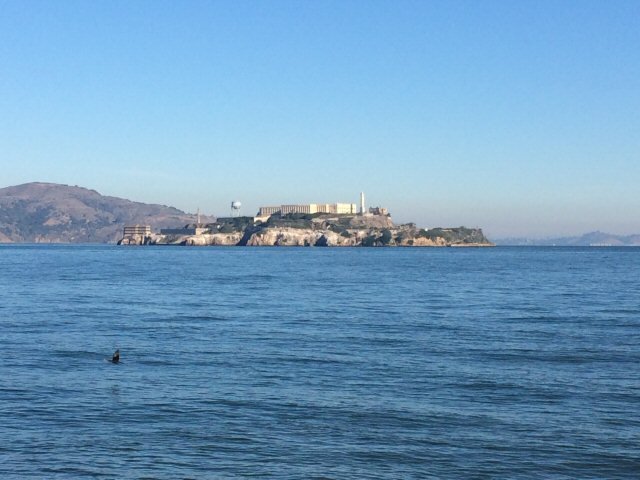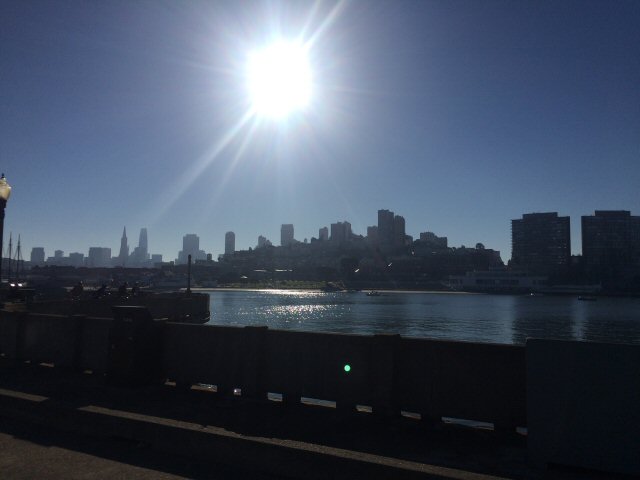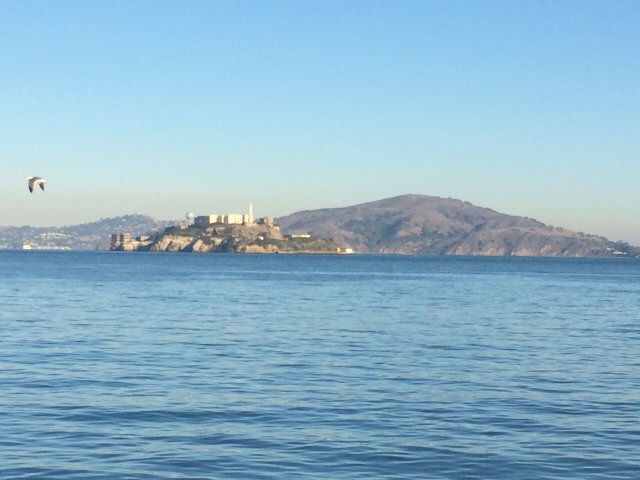 We were pretty much eating and shopping there. What a perfect vacation! But, to make it more perfect, I contacted a flight school called Nice Air, and reserved an airplane and a CFI to fly over San Francisco. This flight school is taking many Japanese trainees, and the chief instructor is running a web site. So I've been wanting to visit the flight school.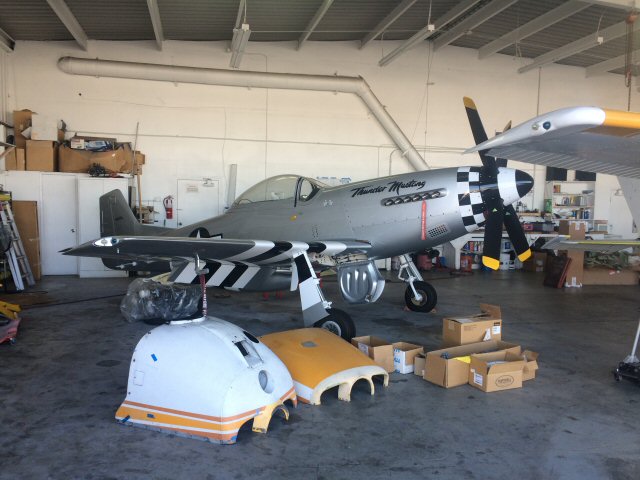 A P-51 replica (it flies!) in Nice Air hangar.
I had more than 600 hours of flying time, commercial, multi-engine, instrument rated, plus UAS certificate. But, can I talk with ATCs in San Francisco area smoothly? Aren't the ATCs mean in such a busy airspace? I was unfamiliar with the airspace. Not only unfamiliar, the airspace itself was much more complex than Pittsburgh. Here in Pittsburgh, there is Pittsburgh class B with some isolated class D airspaces. In San Francisco, huge class B airspace centered at San Francisco International (KSFO), and Oakland and San Jose class C under class B, plus three class D airports closely located each other between San Jose and San Francisco. I think I need to fly with a CFI several times before I feel comfortable flying solo in this airspace.
I started the engine and called ground.
"Reid Hill ground, Cessna 739HE at Discovery Air, ready to taxi for Bay Tour with Information Mike"
When I fly from Beaver, I say intention after ATIS code, but here they say ATIS code last. So, I followed the airport's convention. "Bay-Tour" seems to be a such a common flight path from there, so just saying "Bay Tour" will set up a flight following.
"Cessna 739HE, Reid Hill ground, 31R via Z, zap!"
The ground controller didn't actually say "zap" but that's how it sounded to me. It was too fast to catch. "What?" I was expecting approach controllers may speak very fast, but I was not expecting to miss what a ground controller say to me. Do all ATCs around San Francisco speak twice as fast as Pittsburgh ATCs? If I were solo, I would have asked again because that's the only option, but this time I asked the CFI to follow up. I suddenly lost confidence in ATC communication in San Francisco area.
Then we taxied to the run-up area. Run-up was smooth. It's same Cessna 172P. I have flown N9417L many times. Taxied up to the runway threshold, and called the tower.
"Reid Hill Tower, Cessna 739HE ready to take off 31R for bay tour."
"Cessna 739HE cleared for take off."
So I took off. The CFI told that a general aviation aircraft is support to make a 10 to 15 degree turn to the right as soon as taking off. So, I followed the instruction. We climbed up to 1,500ft avoiding San Jose class C. We were handed off to San Jose tower, then made a left turn and flew directly above San Jose International airport as directed from the tower. Then we followed highway 101 northbound. Around this time, I was able to handle ATC communication with little difficulty. What was that Reid Hill ground???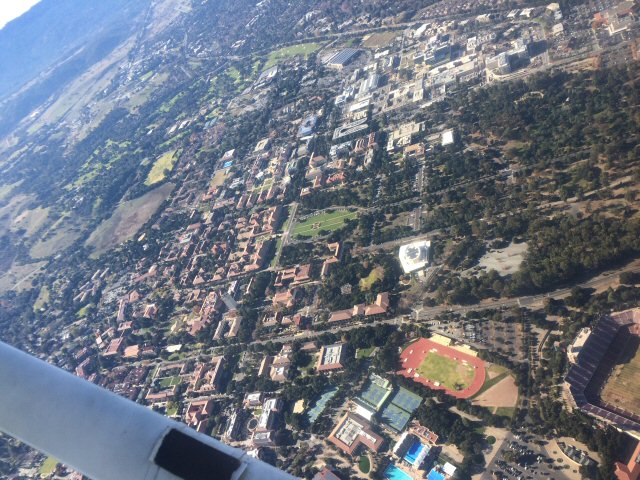 Stanford University Canpus.
But, the next ATC or the next of next ATC was fast again. So, I think I was able to communicate well with many of the ATCs there, but I really couldn't talk with a few ATCs. They were way too fast for me. Then we were expecting to here "Cleared for descend through class B", but the airspace seemed to be busy this day. We turned left and flew over the water toward Golden-Gate Bridge.
Soon we were above ground again, and saw the Golden-Gate bridge on the left, and downtown on the right. We have sooooo many bridges in Pittsburgh. I'm living next to a large bridge in Pittsburgh means pretty much same as I'm living next to a tall building in Manhattan. But, this Golden-Gate bridge was huge.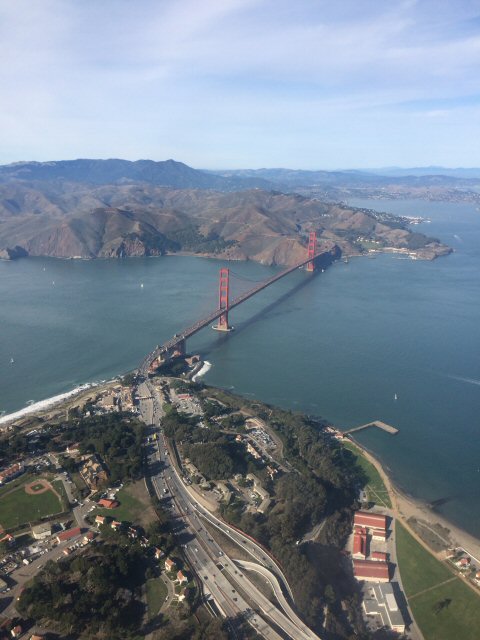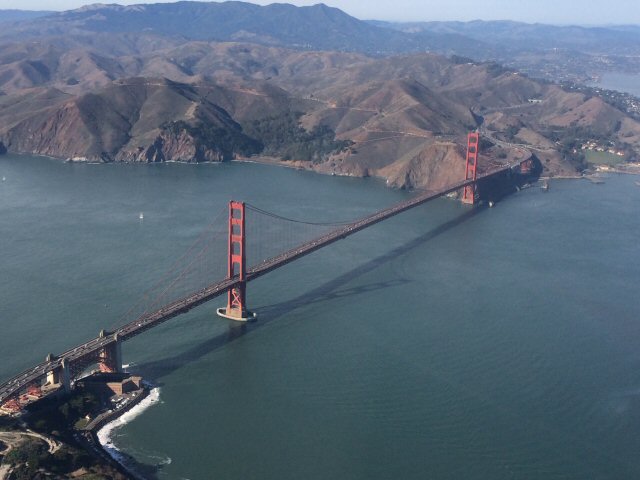 Around this area seemed to be a common sight-seeing flight course. There were four other aircrafts flying in this area. The CFI took over the airplane, and I took some photos.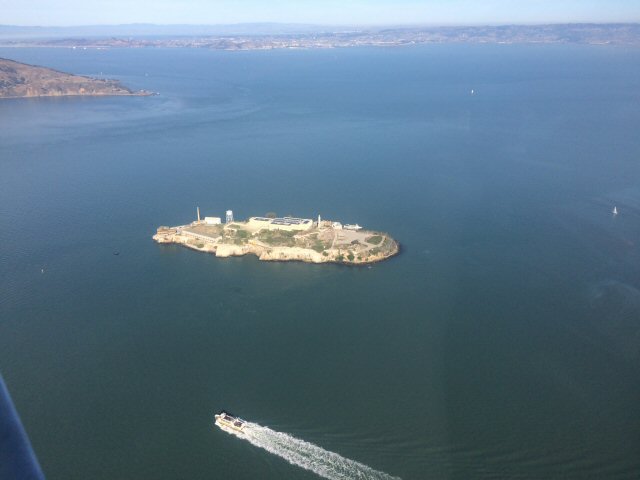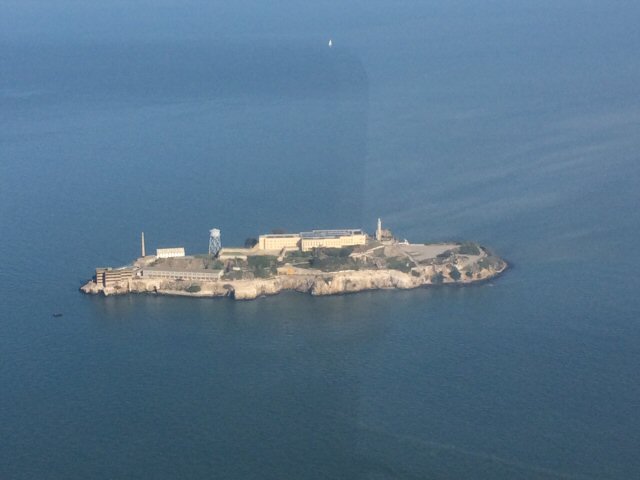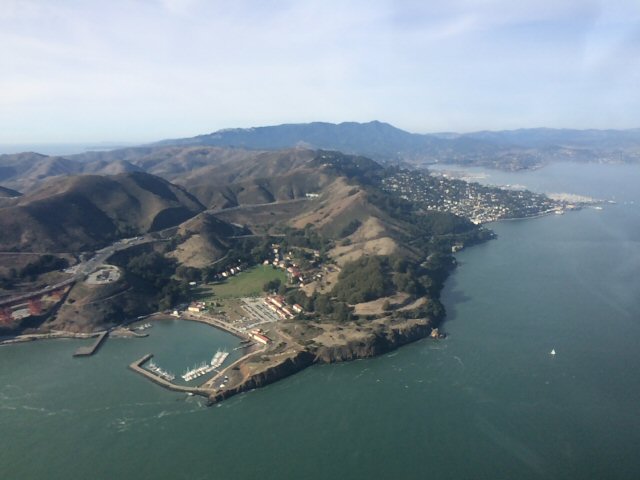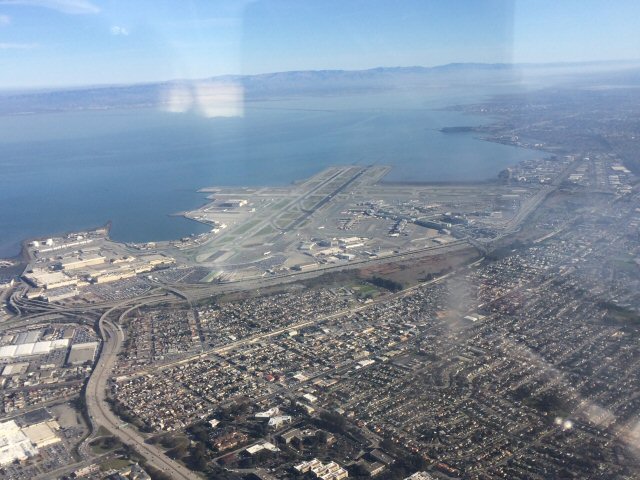 San Francisco International Airport. On the way back to KRHV.
I was hoping to be able to handle radio communication better. The CFI said I was doing well, and very good in terms of flying technique. But I guess I need more training to get used to the San Francisco area airspace. One day I want to be able to fly solo with confidence in such busy airspace. By the way, you can buy a chart explaining the bay-tour course from a nearby pilot shop. It's a good souvenir. I bought one. I don't want to hinder their sales, so I only upload a small bitmap of it.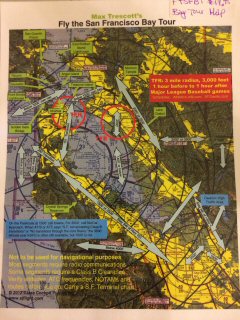 After landing, we drove to a supermarket called Marukai for final grocery for the New Year's celebration. Then we made a quick trip to Apple visitor center, next to the new Apple headquarter. Until I were there, I didn't know why Apple built a circular building for the new headquarter, but now I see. It's the home button. From the air, it looks like a large home button. And, they get rid of it in iPhone X? No way. I want to have a phone with a home button. I personally prefer fingerprint authentication than face recognition.
Well, and I tried to buy some souvenier there, but unlike the Apple Store at the headquarter, only thing that I could find there that can be a good souvenier was a shopping bag for $25. Isn't it too expensive? I bought one anyway though.
Then we flew back in a red-eye flight to Pittsburgh. That was a torture. I couldn't sleep well. Then I caught cold and had to stay in bed for two days :-P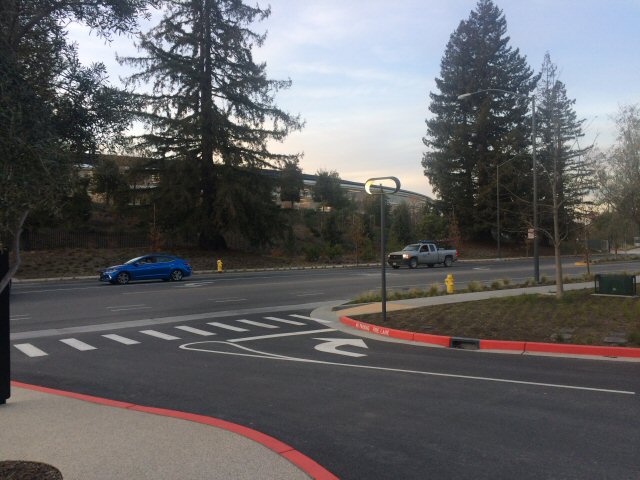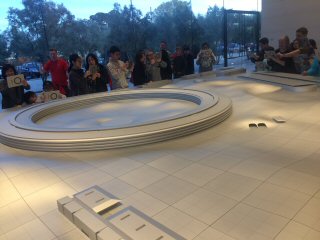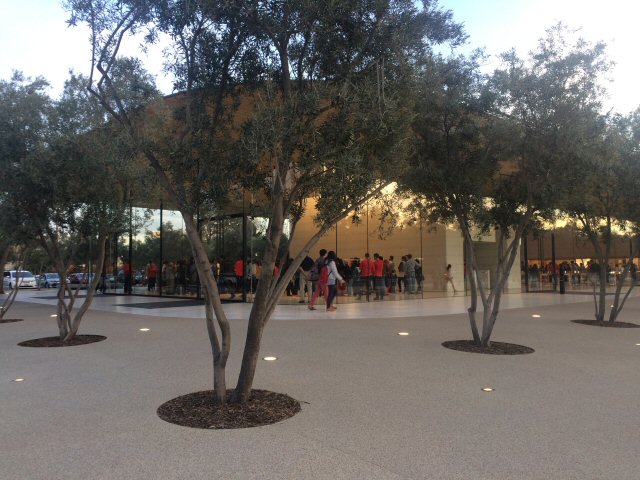 | | |
| --- | --- |
| Comments are welcome. Send E-Mail to: | |