I have been in Japan for May 2nd to 22th. The main purpose was renew my Japanese driver's license. Getting a driver's license in Japan is not as easy as getting one in the U.S. I could get a driver's license in Pittsburgh just by passing an easy written test and a practical test as opposed to signing up a driving school and receiving hours of driving instructions and passing series of written and practical tests. So, I didn't want to lose my Japanese drivers license even though it is unlikely for me to drive in Japan.

I also planned to visit some companies that I'm working with. I'm working in the university, and it is a very good learning opportunity for me to meet with people who are using my programs for designing products.

So, I had a pretty busy schedule in Japan, but I managed to visited Matsushima Air Base, Haneda International Airport, and Iruma Air Base to take photos of airplanes.

I visited Matsushima Air Base on 10th (Thr) and 11th (Fri). The weather was not cooperative on Thursday. I tried to take some take-offs and landings, but none of them came out nice. But, some pictures of taxiing F-2s came not so bad.
| | | |
| --- | --- | --- |
| | | |
| An F-2 taxiing for training flight (120mm F6.7 1/250sec) | (320mm F6.7 1/250sec) | Six F-2s lined up before taking off (90mm F9.5 1/180sec) |
The next day was a nice day. Although it was windy, the sky was clear, and the Blue Impulse aerobatic team of Japanese Air Force performed two aerobatic practice sessions over the air base, one in the morning and the other in the afternoon. They usually practice over the ocean, but they also practice over the air base twice or three times a week.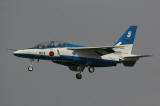 One of T-4 Blue Impulse airplanes landing after the aerobatic practice over the air base. The tail indicates #5, but the number on the tail wing may not match the actual position in the practice. (320mm F8 1/1500sec)
On the next day, I went to Tokyo Haneda International Airport. Haneda airport has a nice observation deck and provides a good environment for taking photos.
| | | |
| --- | --- | --- |
| | | |
| Japan Airlines jet with a crane marking on the vertical tail wing. Japan Airlines is changing the marking to a simpler ones, and this marking is becoming rare. Still plenty of them are stationed at Haneda airport. (140mm F9.5 1/3000sec) | New and old markings of Japan Airlines airplanes. (100mm F8 1/4000sec) | Pokemon Jet of All Nippon Airways (Blue) (180mm F8 1/1000sec) |
| | | |
| Pokemon Jet of All Nippon Airways (Yellow) (220mm F8 1/1500sec) | A retired YS-11 seen near the mono-rail station called "Ten-kuu-bashi", translated as "Sky Bridge." (100mm F8 1/2000sec) | |
On the next Monday, I visited Iruma Air Base. Iruma Air Base is about 30 minutes by train from central Tokyo, and is very accessible. Thousands of people show up to the annual air show held at Iruma Air Base.
| | | |
| --- | --- | --- |
| | | |
| A sparrow welcomed me in the morning. Maybe I should put it in my bird-photo gallery. (320mm F8 1/1500sec) | CH-47. Triple star on the window implies that a high-ranking personnel is on board. (320mm F8 1/1500sec) | YS-11E, electronic warfare version of YS-11. (170mm F8 1/1000sec) |
| | | |
| C-1 returning to Miho air base (280mm F8 1/1500sec) | T-4 #777 (200mm F8 1/1500sec) | YS-11 is still active in the air force although all civilian version have retired from Japanese airlines. (140mm F8 1/1500sec) |
Airplanes were using Runway 35 in the morning. They came a little too high when they come close to where I was standing. However, near 11 o'clock, a YS-11E taxied to the other side. The weather forecast was predicting the wind change, and it indeed changed, and they started using Runway 19. From my position, I could take almost-profile view of the airplanes. The condition became ideal for my vantage point!
| | | |
| --- | --- | --- |
| | | |
| YS-11E taxied to Runway 19 (320mm F8 1/1000sec) | A YS-11 landing Runway 19 (90mm F8 1/1000sec) | Another YS-11 landing Runway 19 (80mm F8 1/1500sec) |
| | | |
| U-125 (170mm F8 1/2000sec) | I think this is my best panning shot in my airplane-fan career so far. I can clearly read marking on the side of the air intake (180mm F8 1/500sec) | C-1 (80mm F8 1/750sec) |
| | | |
| T-4 #777 coming back from a training flight (150mm F8 1/1500sec) | | |
I left the base once for lunch, and came back to the west side of the runway. There's a pedestrian walk way connecting east and west side of the runway, and it is easy to go back and forth. By standing on the east side in the morning and on the west side in the afternoon, I can always keep the sun behind me.
| | | |
| --- | --- | --- |
| | | |
| I didn't think C-1 was particularly rare when I was living in Japan, but now I'm living in the U.S., and this is one of the airplane that I cannot see there. (80mm F8 1/1000sec) | T-4 #777 taxing to Runway 19 for a training flight in the afternoon. The filament of air obscures the contour of the airplane a little. (320mm F8 1/1500sec) | Double star of the front seat implies that a high-ranking personnel is on board. (150mm F8 1/2000sec) |
| | | |
| This one had double star on the rear seat. (150mm F8 1/1500sec) | T-4 #777 coming back from the training. The sky of Tokyo is dirty, and couldn't have a nice blue background. (170mm F8 1/1500sec) | A close-up look of a T-4 cockpit. (320mm F8 1/1500sec) |