The Wings Over Pittsburgh air show was held on June 16 and 17 at Pittsburgh International Airport. Pittsburgh International Airport is used by airliners and military. Air Force Reserve 911th Airlift Wing is based there, and they host the air show every year.
The main performance of the show is no doubt Air Force Thunderbirds. The weather cooperated and Thunderbirds performed all maneuvers of the high show (including all vertical maneuvers) on both two days. Also, it was my first time to see an aerobatic flight of F-15E Strike Eagle. Civilian teams also performed spectacular aerobatics. Aviation Living-Legend Sean D. Tucker participated the air show, and his flight was outstanding as always.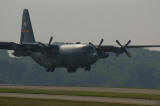 The air show officially starts with parachute jumps with a jumper carrying an American flag. This C-130H of the 911th airlift wing carried the jumpers for air-show opening ceremony.
The Wings Over Pittsburgh air show is a nice air show for me because the airport is located just 30 minutes drive from home. I don't need to drive five hours to reach the air-show location. However, there is only one problem. The sun is behind the airplanes almost all day. And Pittsburgh is relatively a humid city in the U.S., and the sky is almost always hazy. A performing airplane is more or less obscured by the haze. So, it is not a good environment for photography. On the first day, for some reason my *ist DS2 could not focus well (maybe due to the obscuration by the haze), and I could not take many good pictures.
| | | |
| --- | --- | --- |
| | | |
| Yak-52s of Aerostars Aerobatic Team. | Landing of one of the Yak-52s. | Mig-17 of Fighter Jet Inc. |
| | | |
| F-18C landed after an aerobatic flight | C-17 landing after flight demonstration. It showed steep turn, slow flight, and assault landing. By the way, according to the announcement, it can fly as slow as 90kt. | One of four AH-1s of Sky Soldiers. |
Sean D. Tucker's aerobatic was outstanding as always. I carried a portable stool to take a photo of his Ribbon Cut. But, I missed the timing. My *ist DS2 can take only 3 shots per second. It's a little too slow to capture a specific moment of the flight :-P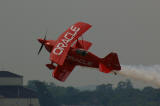 Sean D. Tucker's ORACLE Challenger
After Sean D. Tucker, it was Thunderbirds' turn.
| | |
| --- | --- |
| | |
| Thunderbirds standing by. As you can see, heat haze makes the picture blurry. No matter how large and long lens you have, you cannot beat the heat haze. | This it not particularly a good picture, but it shows how humid it was. Look at the vapor trail from the wing tip. |
I tried again to take a close up look of the solo airplane performing Surprise Pass, but ....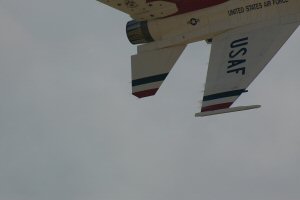 I should have used a shorter focal length. OK. I'll try again with 200mm tomorrow. Next, I tried to take all four airplanes converging from four different directions after Bomb Burst Upward. The result was....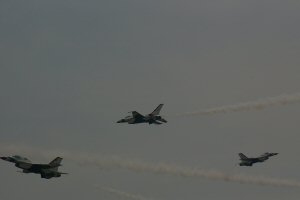 Almost! I captured three of them. I'll try again.
I wanted to use my new digital SLR, K100D, on the second day, but my K100D was hospitalized and I could not use it. I noticed that a bright red dot appears at the same pixel on every picture taken with K100D. The location of the red dot was too close to the center, and I had to send it to the Pentax service center for repair.
| | |
| --- | --- |
| | |
| Sean D. Tucker landing after the morning practice session. | Behind Thunderbirds F-16s is the control tower of Pittsburgh International Airport. |
On the second day, I took a position on the fence to take photos of take-offs of F-15E, F-86, and A-10.
| | | |
| --- | --- | --- |
| | | |
| F-86 taking off from Runway 14. | F-15E taking off. | Beautiful afterburner of F-15E. |
| | | |
| A-10 taking off. | "Dedication Pass" of A-10. | Heritage Flight by A-10, F-15E, and F-86. |
A photo of the dedication pass of A-10 came out pretty well. So, I tried to take dedication pass of F-18 similarly, but....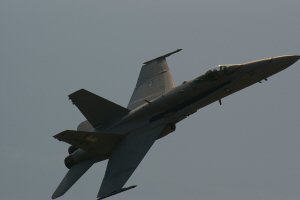 I should have used a little shorter zoom. I chose 180mm focal length, but I probably should have reduced used 150mm or so. My next target was the dedication pass of F-15E, but....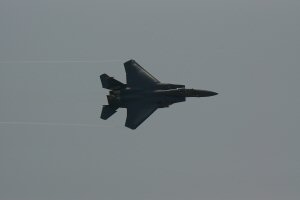 I should have used a little longer zoom.... Ironic :-P
The show stopper was Thunderbirds.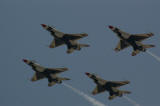 It is a textbook type of shot, but it came out nicely.
I tried to take Surprise Pass after Trail to Diamond Roll with 200mm focal length. The choice of the focal length was a gamble. 200mm was good for A-10, but 180mm was too long for F-18, and 200mm was too short for F-15E. So, my best guess was 200mm. But the result was....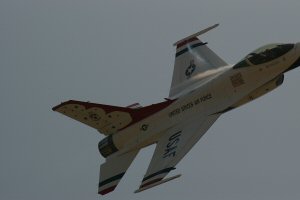 I should have used 150mm or so.
I also tried to take all four airplanes converging after Bomb Burst Upward in one picture, but....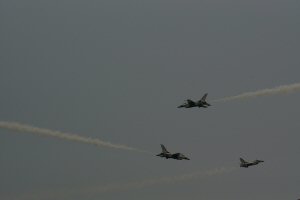 Again, I could take only three airplanes. I'll try again.
After landing, I took close-up pictures of each airplane.
The next air show I'm planning to visit is Dayton Air Show late July.