I am serving as a committee of a conference called International Meshing Roundtable this year, and I visited Seattle to attend a committee meeting. I took a 6am flight from Pittsburgh, stayed a night in Seattle, and came back to Pittsburgh in an overnight flight. (I wanted to fly by myself, but Seattle was out of reach of Cessna from Allegheny County Airport.)
One of the things that makes Seattle special is the main assembly factory of Boeing. The factory is located next to an airport called Boeing Field (KBFI,) and next to the airport is the Museum of Flight. I believe the Museum of Flight is one of the three biggest air museum of the United States. The other two are Smithsonian Institute at Washington D.C., and Air Force Museum at Dayton, OH. In particular, the Museum of Flight keeps British Airways Concorde G-BOAG. I've been wanting to visit the museum for long, and finally I was able to visit the museum this time.
I left Pittsburgh at 6am, and arrived at Seattle around 10am.The meeting was on the next day, and I could use all afternoon of Thursday to visit the museum. I took a taxi straight to the museum. It took about 15 minutes and cost about $20. It is even possible to visit the museum when you change an airplane at Seattle and have four or five hours for transit.
The museum was really next to the airport, and the runway was visible from the museum. I saw three trains carrying a fuselage of an airliner, probably B737. I should have prepared my camera handy, but when I saw them, the camera was still in my backpack, and missed the chance.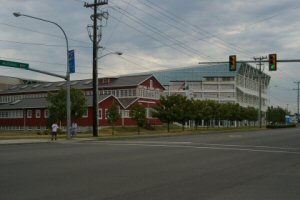 The Museum of Flight
I wanted to go straight to Concorde, but the Concorde was parked in an area called Air Park, across the road from the main building, and Air Park opened at 11am. (The museum opens at 10am.) So, I spent time watching other airplanes on display. SR-71 Blackbird was displayed at the center of the main hangar, and smaller airplanes, F-4 Phantom II, A-4 Skyhawk, etc., were placed around it. Some airplanes were hanged from the roof. Many of this type of museum keep the display area dark, and it is really difficult to take pictures, but the wall of the main hangar was glass, and the display area was bright. Although the light source was behind the airplanes, the lighting condition was much better than typical air museums.
| | | |
| --- | --- | --- |
| | | |
| The main display area. | A-4 Skyhawk | SR-71 Blackbird is located at the center of the main display area |
This museum also features a display of the early years of the Boeing factory, floors of WWI and WWII airplanes, and it is nearly impossible to see all the details in one day. Also, there is a mock control tower, and I could see the Boeing Field from the viewpoint of an Air Traffic Controller. There were some explanations of how the air-traffic-control system works. It is also good for an educational experience.
| | | |
| --- | --- | --- |
| | | |
| Focke-Wulf Fw109. It was in the main display area, not in the WWII floor. | NASA's F-104 Starfighter. | Mig-15 next to F-86. |
| | | |
| Williams X-Jet. I want one for daily commute. | The explanation of X-Jet. | Mig-15. This picture is made from three different pictures. I used ACD Photo Stitcher to stitch them together. |
I walked to Air Park at 11am. Concorde G-BOAG was the last Concorde landed at Heathrow airport on October 24th, 2003. On that day, British Airways celebrated the final commercial flight of Concorde by three consecutive landings of Concordes. The three Concordes landed in that ceremony was G-BOAE, G-BOAF, and G-BOAG in the order. I was near the approach of runway 27R of Heathrow airport on that day. That was my third trip to London in 2003 for watching last flights of Concorde. I attempted to take pictures of a Concorde many times, and none of them came satisfactory. For the last trip, I purchased Pentax 80-320mm lens. Actually, before the trip in August, I asked a person who is famous in the Concorde-fan community about the appropriate lens, and he suggested to use as long telephoto as possible, which was a totally wrong suggestion. I took my 170-500mm lens, but it was way too long, and I could not take a profile look. So, I ended up with purchasing a new lens just to take a satisfactory photo of Concorde. Actually, I ended up with buying a backup camera, as well. That was when I started carrying two cameras for a serious photo trip. With all those preparations, I finally could take a satisfactory photos on the very last day of the Concorde's commercial flight.
So, this time, was my first time to see G-BOAG after it made the last landing to Heathrow. I could look inside G-BOAG also. It was my first time to see inside a Concorde that was actually used for commercial flights. (I saw a cabin of a Concorde prototype displayed in Duxford air museum outside Cambridge before.)
| | | |
| --- | --- | --- |
| | | |
| This photo is from its last landing to Heathrow. Taken on October 24, 2003. I wish I had my digital SLR then, but it was the best quality picture I could take with my equipments. | This is G-BOAG today. Resting its wings in Seattle. This photo is made from five photos. I used ACD Photo Stitcher to stitch them together. | Lighting condition improved in the afternoon. So, I tried another shots. |
| | | |
| The last two letters of the registration number "AG" is painted on the nose gear door. | I suppose Concorde passengers saw a scene something like this when boarding the plane. | Main cabin. |
| | | |
| Cockpit. | Mach meter. | Air Intake. |
| | | |
| Main landing gear tire. | This grey spots appeared like a hole on my pictures, and I was curious what they were. It turned out they were static air inlet. (Used for Vertical Speed Indicator, Air Speed Indicator, and Altimeter.) | Pitot tubes. |
| | | |
| The name of the engine. | Nozzle, and 'buckets' of thrust reverser. | Tail section. I was wondering what three dots appeared on my old pictures. Now I know they are holes. But, still don't know the purpose. |
Actually, I was walking with all my luggage and got tired before watching WWI and WWII floors. I just walked through, but didn't take any pictures. It was a nice museum and worth visiting. I'll visit again when I come for the conference in October. If you have chance to come to Seattle, I definitely recommend to visit the Museum of Flight.
| | | |
| --- | --- | --- |
| | | |
| Boeing 737 Prototype. Displayed next to Concorde. | Cockpit of the first Air Force One. | B747 Prototype. |
| | | |
| F-14 Tomcat displayed outside the museum. | A-6 Intruder. I was watching A-6 Intruders almost everyday, when I was living in Fujisawa, Japan, nearby Atsugi Naval Air Station. | I forgot what it was. I'll look up and check again. |