Cleveland Air Show was held at Burke Lakefront Airport in the labor day weekend. This year, I went there on 9/2 and 9/3.
The air show management does a very good job every year. A performing pilot often asks Air Boss, who is in charge of controlling the acts of the air show, how much time does he/she have before his/her performance, and the Air Boss mostly replies "on time."
Last year, many aircrafts that were supposed to participate the Cleveland air show could not land the airport because of the remnant of a hurricane. So, they had to make a last-minute change of the show schedule. However, they managed the situation very well and made a nice enjoyable air show.
Another nice thing about Cleveland Air Show is the arrangement of the airport. Since the ramp area is south of the runway, the sun is behind the audience almost all day. It gives an ideal lighting condition for photography. Only one drawback was the relatively high humidity. As the name "Lakefront" implies, the airport faces lake Erie, and the air is often hazy.
However, the air was almost perfectly dry on 9/2. There were absolutely no cloud, and the visibility was virtually unrestricted. Any aircraft appeared nice in this condition.
| | |
| --- | --- |
| | |
| AH-1 of Army Sky Soldiers. | Sean D. Tucker's Oracle Challenger |
A coast guard helicopter showed a air rescue demonstration, and then F-15E did aerobatics. My camera, *ist DS2, could not focus well on the coast guard helicopter and F-15E. Maybe my camera is not so good at focusing on dark and red objects.
| | |
| --- | --- |
| | |
| This is one of rare good shot from F-15E's aerobatics. | F-86 showed a heritage flight with F-15E |
C-130 and C-17 showed some fly-bys. In this clear condition, even large less-maneuverable cargo airplanes looked nice.
| | |
| --- | --- |
| | |
| C-130 | C-17 |
Thunderbirds performed a spectacular aerobatics as always. It was a remote show, i.e., they took off from a different airport (this time Cleveland Hopkins airport) and flew to the air show site to do aerobatics.
| | | |
| --- | --- | --- |
| | | |
| At the beginning, two solo airplanes broke from the delta formation. | Four-airplane convergence after high-bomb burst. The timing was perfect! | Diamond formation leaving Burke Lakefront Airport and returning to Hopkins. |
9/3. The sky was not as clear as the day before, and it was slightly hazier. But, it was a good condition.
| | |
| --- | --- |
| | |
| Sean D. Tucker Jr. Is he going to be an aviation legend like his father? Preparing for the practice session. | Air Rescue demonstration of a coast guard helicopter |
I succeeded in taking some very nice pictures of F-18F aerobatics. It flew a heritage flight with a F-4U Corsair, but they flew high and far. I could not get a nice picture of the F-18F + F-4U formation.
| | | |
| --- | --- | --- |
| | | |
| Taking off. | I believe it was after a touch and go. | Dedication pass. I got it perfect! |
Later in the afternoon, Sean D. Tucker flew formation aerobatics with his son. I can say it was a quite nice performance.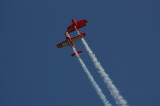 Sean D. Tucker and Jr.
Until late afternoon, there were few cloud. However, when Thunderbirds started, a patch of cloud covered just above Burke Lakefront Airport. It stayed only during Thunderbirds performance, but during the first maneuver, diamond roll, the formation flew through the cloud, and that made them decide to do low show, instead of high show. In fact, it appeared to me, a modified low show. It included two surprise passes. The first one was after trail-to-diamond roll, and the second one after echelon pass. I was caught totally on surprise on the second surprise pass. I would pay attention to the left of the show center when they do the echelon pass next time, but I missed the opportunity again. I think Thunderbirds' surprise pass is faster than a regular dedication pass performed by other military jet.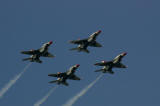 Diamond formation returning to Hopkins.
Overall, it was a very nice air show again. I'll definitely go there again next year.