Usually, Wings Over Pittsburgh air show is in June or July, but this year, it was held in May. This time, for the first time, Canadian Air Force aerobatic team, Snowbirds performed in Pittsburgh. I had seen Snowbirds only once in 2003 Dayton Air Show. The Snowbirds team is a European style aerobatic team, and uses 9 jet trainers. Since the airplane used by the Snowbirds is not as big as F-16 and F-18, it does not have a strong impact of power. Nonetheless, Snowbirds show variety of formations, and it was very impressive. Also in this year, F-22 demonstration team performed for the first time in Pittsburgh. The F-22 showed unbelievable maneuvers, just like propeller airplanes.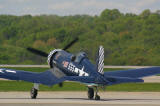 F-8 Corsair. It flew a formation with F-18F. I thought Corsair was F-4U. Maybe it's a different version of Corsair.
I don't remember exactly what time F-22 took off, but I thought it was around noon. It was my second time to see F-22 aerobatics. It easily performed tail slides and flat spins, just like propeller driven airplanes. It also shows high-speed passes with afterburner, which demonstrates the power of F-22.
| | | |
| --- | --- | --- |
| | | |
| F-22 taking off. | Fly-by with the weapon bay open. | Taxing back to the ramp. |
The Wings Over Pittsburgh air show is hosted by the 911th Airlift Wing. The 911th Airlift Wing's C-130 carried parachute jumpers.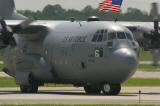 C-130 of 911th Airlift Wing.
Famous Sean D. Tucker flew before Snowbirds. Every time I see his aerobatics, I try to take a photo of his ribbon cut. This time, I was able to take just before the ribbon cut.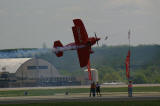 A fraction of second before the ribbon cut.
Lastly, Snowbirds took the stage. Since the airplane used by the Snowbirds is small, I have little chance to take a close-up photo of a single airplane. So, I needed to try to take a nice photo of a formation. I believe, it takes an artistic sense, more than a photo technique, to take a nice photo of a formation. Unfortunately, I totally lack artistic sense. Snowbirds were the challenging object for me.
After all, I was not able to take an impressive shot. But, at least I enjoyed watching the Snowbirds flight. Although a single airplane is small, 9-airplane formation is big. Also, they split the formations into, like three 3-airplane formations, or two 3-airplane formations plus two solos. So, they have more variations than American style aerobatics, which is almost always 4-airplane formation plus 2 solos.
| | | |
| --- | --- | --- |
| | | |
| 9-airplane diamond. | I think it's called a Vixen formation (I may be wrong) | |
| | | |
| | Double-Farvel Roll. | |
| | | |
| Coming back for formation landing. | | |
The air show continued on the second day. But, the second day was pounded by a rain storm. I went there but came back early.