I visited Dayton Air Show on July 19 and 20. Dayton is located about 4 hour and 30 minutes drive from Pittsburgh.
What I like about the Dayton Air Show is the lighting condition. The spectator area is located south of the air-show runway. So, the sun is behind the spectator area almost all-day.
Therefore, if the sky was blue, the condition would have been perfect. But, it was a bit hazy this year. If I photoshop the pictures, I can make them look like blue sky, but I think it's a cheating. If I apply whatever picture processing technique, what's the point to practice photography? So, I don't apply any picture-processing techniques other than trimming, scaling, and a little contrast adjustment to the photos on this page.
On the first day. During the opening ceremony, Aeroshell Aerobatic team circled around a parachute jumper with a big American flag, followed by fly-byes of a replica of Wright Flyer II.
| | | |
| --- | --- | --- |
| | | |
| Opening ceremony. | Wright Flyer II. | |
One of the things I was looking forward to in this air show was flight demonstration of AH-64 Apache helicopters. I have seen AH-64 on static display before, but I have never seen its flight demonstration. I occasionally saw an AH-64 flying over Pittsburgh (maybe was heading to Allegheny County airport for re-fueling?), but this was my first chance to take a photo of AH-64 in flight.
Of course, there were plenty of other civilian and military flight demonstrations as well.
| | | |
| --- | --- | --- |
| | | |
| B-25 Mitchell. | This F-16 came all right. But, the one I took last year was better. | This C-130 from Ohio National Guard had a paint commemorating Normandy Landings operation. |
Another thing I was looking forward to was formation flights of F-104 Star Fighters. F-104 had retired long before I started going to air shows. So, I didn't have an opportunity to see them in the air, and I never expected I would ever have an opportunity to see them flying.
| | | |
| --- | --- | --- |
| | | |
| F-104 Star Fighters. | Sean D. Tucker. | |
The last flight of the day was F-22 aerobatics. Already this was my third time to see F-22's aerobatic flight. It is totally unbelievable to see a jet fighter making a tail-slide and near flat spin at such low altitude.
| | | |
| --- | --- | --- |
| | | |
| Weapon-bay of F-22 | Dedication pass. I should have used a little longer tele-photo setting. I set my lens to 220mm, which was a little too short. | P-51, F-16, and F-22 heritage formation. |
My goal was take a good close-up picture of the dedication pass. I chose 220mm, but it was too short.
The second day. After the opening ceremony, C-5A Galaxy from Wright-Patterson air force base showed some fly-byes. I have seen static display of C-5A many times, and I had some opportunity to see C-5A flying in to Atsugi Air Base when I was living in Japan. But, this time, as far as I remember, this was my first chance to see clean configuration of C-5A.
| | | |
| --- | --- | --- |
| | | |
| C-5A Galaxy clean configuration. | Dirty configuration (Gears and flaps down) | Then AH-64 took off for the demo, but.... |
When three AH-64s took off, I heard something on the air band radio. Apparently, an emergency traffic was approaching the airport. The show was on hold until the traffic made an emergency landing. Later, the emergency traffic turned out to be Northwest Flight 791 heading to Detroit. The Boeing 757 had one engine out. So, it was flying with only one engine. Of course, the pilot was well trained to deal with such a situation. The voice on the radio (both the pilot and the air traffic controller) was calm and no panic. But, I imagine that the Northwest airlines pilot never expected to make an emergency landing in front of thousands of spectators. The airplane made an emergency landing just like an ordinary landing, and it later turned out that the engine was all right, but the computer (or a sensor, maybe) was giving a false information of engine failure.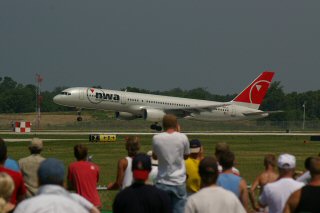 But, the casualty of this incident was AH-64 demo flight. They cancelled the demo, and headed back to the home base after vowing to the spectators.
| | | |
| --- | --- | --- |
| | | |
| AH-64's vow. | B-25. | |
The sky condition was better than the first day when F-104s flew. White F-104s in front of a blue sky.
| | | |
| --- | --- | --- |
| | | |
| F-104 Star Fighters | F-104 Star Fighter | |
However, the clouds moves in to the airport before F-22's aerobatics. Actually, the spectator area is not quite south of the air-show runway. It is south-east of the runway. So, in the late afternoon, the sun goes to behind the flying airplanes. Even before that, the lighting condition gets not as ideal as in the morning. Adding the cloud cover made the lighting condition even worse. I tried to extend my tele-photo to 240mm to get a little bigger picture of the dedication pass of F-22, but the picture didn't look so sharp. Well, I'll try again next year.
| | | |
| --- | --- | --- |
| | | |
| The sky was getting darker. | F-22's dedication pass with 240mm. But, the weather was not cooperating. | |
This year, we extended stay for two nights and spent whole day at National Museum of United States Air Force located next to Wright-Patterson Air Force Base. I believe this is one of the three biggest aviation museums of the United States. I was looking forward to seeing XB-70 Valkyrie.
| | | |
| --- | --- | --- |
| | | |
| Nose of XB-70 Valkyrie | XB-70's air intake | |
Below are three of the huge collection of the airplanes you can see at the air force museum. If I remember right, Mig-29 and AC-130 were not there when I visited the museum last time. But, I remember there was a Mig-23 displayed outside the museum, but I didn't see it this time.
| | | |
| --- | --- | --- |
| | | |
| B-2A Spirit | Mig-29 Fulcrum | AC-130 Gunship |