I was in Japan this December for renewing my working (H1B) visa. To renew a visa, I had to make an interview appointment with U.S. embassy in Japan, submit documents about a week before the interview, and then have an interview at the embassy. According to the travel agency that I used for arranging the documents and interview appointment, visa would be issued within 7 to 10 days after the interview on average. Based on this timeline, I set an appointment for December 9 so that I would receive my visa a few days before the Christmas. The plan was to stay at home during Christmas and New Year's holidays, and then come back to Pittsburgh.
But, I was not allowed to take whole one month off. So, I used this opportunity to visit my research sponsors and a company that was interested in our mesh generator.
I left Pittsburgh on November 29. I submitted my passport etc. to the travel agency (then the documents are submitted to the embassy all together from the travel agency) on December 1st. My wife went to her home, and I headed to Utsunomiya on December 3rd. I worked at the research facility of a sponsor company for three days, then moved to Tokyo to visit another company.
I contacted one of my airplane-fan friend living near Tokyo so that I can hand him a Blue Angels 2008 pamphlet. He told me there was going to be Yokosuka U.S. Navy Base Open House on Saturday. What a nice timing! So I went to Yokosuka Navy base on Saturday and met with him there. When I visited Yokosuka base last time, U.S.S. Midway was stationed there. This time, I was able to see U.S.S. George Washington.
| | |
| --- | --- |
| | |
| Flight deck of U.S.S. George Washington | Bridge. |
I stayed one more night in Tokyo and headed back to Utsunomiya next day. I worked only in the morning on Monday, and again headed to Tokyo. I rendezvoused with my wife and stayed at one of her friend's place on that night. Next day, December 9, we went to U.S. embassy for interview. Then my wife stayed one more night in Tokyo, and I headed back to Utsunomiya to work for another three days there. I was expecting to wait for seven to ten days for my visa but ended up with receiving it in two days.
Then I moved back to Tokyo. My last business trip was cancelled, and I had whole one free week in Tokyo. In that situation, I have only one thing to do, visiting airports and airbases! If you are not really into the airplane photography, you may think why the hell is this guy standing outside the fence of the airport taking photos of airplanes all day? But, it is really fun!
Monday, December 15, I had to go to my previous university. I asked a professor to write a recommendation letter for my green card application and had to pick it up from him. My previous university is located close to Atsugi U.S. Navy and Japanese Navy air base. My appointment with him was at noon, so I left hotel early morning to go to Atsugi base before the appointment. My primary target was YS-11 of Japanese Navy. It's a sort of nostalgic turboprop airplane. So far it is the only airliner designed and manufactured in Japan after the world war II. I missed its final commercial flight (It is still flying somewhere outside Japan for commercial purposes though), and I do not know how long the military version of YS-11 is going to last. So, whenever I have chance, I try to take some pictures of them.
Atsugi air base is accessible from Sagamiohtsuka station of Sohtetsu line, which you can ride from Yokohama station. Within 5 minutes walk from the station, you come to a place that you can see inside the base through the fence. This photography spot is right underneath the approach end of runway 19. When runway 19 is in use, it is the best spot for taking close-up look of the landing airplanes. When runway 01 is in use, the airplane is too high when it comes close to the runway end. So, how lucky was I? Actually not much. Runway 01 was in use on that day. There is another photo spot on the south of the base. If I had a bicycle, I would have ridden there, as I had done many times while I was living near the base during my undergrad years. But, this time, I had to stick on the north side. Well, what else could I do? I tried my best to shoot good pictures. Then I moved to Shonandai and visited my previous university. I received a recommendation letter from the professor and had lunch together. I hadn't seen him for more than ten years. There were many things to update. It was a nice meeting.
| | | |
| --- | --- | --- |
| | | |
| F-18F of (I suppose) Diamondbacks. (Click to enlarge) | Japanese Navy's YS-11, "Caravan 43" (Click to enlarge) | Japanese Navy's P-3C (Click to enlarge) |
Tuesday, December 16, my next destination was Iruma base. My primary target was, again YS-11 of Japanese Air Force. Iruma base is accessible from Sayamashi station of Seibu-Shinjuku line. There is a good photo spot, very close to the runway just 10 minutes walk from the station. When runway 17 is in use, YS-11 becomes full-frame with 80mm lens. However, runway 35 was in use. Unfortunately, when runway 35 is in use, the airplane is too high when it comes close to the spot.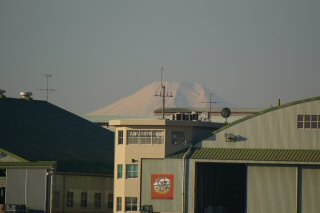 Mt. Fuji from the photo-spot of Iruma air base.
When I take a picture of an airplane, I want to make the cockpit visible. But, if an airplane is too high, the cockpit is hidden by the fuselage. So, I wanted to be the other side of the air base. There seemed to be a good spot the other side of the base, but I was not familiar with that spot. Also, I had to leave there early this time. So, I could not risk getting lost. Maybe next time I will try. I was hoping for the runway change, but while I was there, runway 35 was in use and never changed to runway 17. The wind was not in favor for me again.
| | | |
| --- | --- | --- |
| | | |
| CH-47 (Click to enlarge) | YS-11 (Click to enlarge) | YS-11 (Click to enlarge) |
| | | |
| YS-11 Electornic Warfare Version (Click to enlarge) | T-4 being chased by a bird (Click to enlarge) | |
I left Iruma base around 2pm. I visited my travel agency to pick up my passport with a visa stamp. Then I picked up my luggage from the hotel and headed to Sendai to go to Matsushima air base.
I have a long-time airplane-fan friend living in Sendai. This time, he took one day off for me to go to the base together. I stayed a night at his place, and went to the Matsushima air base together next day. Matsushima air base is a home base of Japanese Air Force's aerobatic team - Blue Impulse, and this time I was lucky enough to see two aerobatic practices over the base in one day. I was not able to walk to one of the best photo spots around the base because it was closed for construction work. Nonetheless, I enjoyed watching aerobatic flights.
T-4 Blue Impulse (Click to enlarge)
Then I left Sendai and headed back to Tokyo again. Thursday forecast was predicting clear sky. Because my pending business trip was finally cancelled, I had whole one day free. I decided to go to Atsugi base again. This time, I was determined to go to the best photo spot. I was thinking to use taxi to go to the south side of the base if runway 01 was in use. But, as I came close to the base, the air-band radio told that runway 19 was in use! Finally, the wind was on my side!
Only one problem was a U-125 from Iruma base was repeating low approaches to runway 01. The U-125 was performing ILS test. According to the radio, no touch & goes until 11:30am because of the ILS test. When U-125 was on the approach coarse, all the landing and departing airplanes had to wait. Some U.S. Navy pilots apparently were frustrated and asking the tower how much more they had to wait.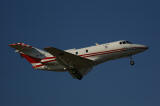 U-125 performing ILS test, keeping many airplanes on hold.
A YS-11 "Caravan 44" took off, but told on the ratio that it was going to stay over the practice area, and would come back for some touch & goes when the ILS test was over. If the active runway changes before YS-11 comes back, I will miss the chance to take a profile view of the airplane. Or, it could cancel touch & goes if it had to wait too long due to low fuel. I was anxiously waiting for the ILS test to be over.
While I was waiting for the ILS test to be over, I was warming up with other landing traffics. Although no touch & goes were granted, the tower was accepting full-stop landings while the U-125 was away. To that day, I have been suffering center-missing syndrome, for some reason I often failed to take the airplane at the center of the photo. I used to be able to be good at framing. I almost never missed the center unless the airplane was very fast. But, even when I was aiming at a landing traffic, I had a tendency to lose the target from the center. While I was practicing with landing traffics, I finally realized what I was doing wrong. I was so fixated on getting a target full frame, so I was paying attention to the outer edges of the photo frame, rather than the center. With this fixation mixed with *ist DS2's inconsistent shutter delay and auto-focus vibration, I was mass-producing off-center pictures. But, I should have focused on the center of the picture, and actually I should decide where on the airplane I aim at. After I noticed it, I was comfortably able to keep the airplanes at the center. Just in time for YS-11's touch & goes, I finally got out of my slump!
| | | |
| --- | --- | --- |
| | | |
| F-18F | Was it Cessna Citation? I couldn't identify. | CAG bird of EA-6B |
| | | |
| US-1. | YS-11 | P-3C |
At 11:30, the ILS test was over, and YS-11 "Caravan 44" called tower to come back for touch & goes! The time has come! YS-11 joined downwind, turned base, and then final. I aimed at the flaps, and pushed the shutter! And... it was a perfect shot! I finally got out of the long suffering of center-missing syndrome.
Then the sun came slightly to the other side of the airplanes on final. I walked to the west side of the runway (just several hundred feet walk) and continued shooting. I tried to tilt my camera so that the airplane lies diagonal in the picture. This way I was able to make use of the resolution of the camera more efficiently.
| | | |
| --- | --- | --- |
| | | |
| YS-11 | One of the newest airplanes of Japanese Navy, EP-1. Unfortunately I couldn't see them flying. | F-18E |
| | | |
| P-3C | F-18C | YS-11 |
Friday. It was the last day I was able to spend in Tokyo in this trip. I went shopping in the morning, and went to Tokyo Haneda airport in the afternoon. I checked in for my flight and came to the observation deck. My airplane was going to depart 6:30pm. The sunset was about 4:30. I was able to be on the observation deck as long as the sun was shining an airplane.
From Haneda, I flew to Fukuoka airport (as a passenger, although I wanted to fly by myself if possible). I stayed at my wife's home for three nights. Then I and my wife flew together (again as passengers) to Hakodate airport. We met with my parents there, and saw the city around on the next day. Then, four of us move to my home city, Hirosaki by train.
| | |
| --- | --- |
| | |
| Green JAL. Temporary special marking. | Night view of Hakodate with fireworks. |
| | |
| Lights from fishing boats, attracting squids. | Seagull from my hotel room. |
My wife stayed in Hirosaki for two days, and she flew back to her home on the Christmas day so that she could spend New Year's day with her family. In Japan, we celebrate New Year's day more than Christmas day.
I'm not so into train photography, but anyway I took this shot of Konan railways.
Then, on January 5, I met with my wife again at Tokyo Narita airport, and flew back to Pittsburgh. It was a nice trip home.