I have visited Dayton air show on July 18 and 19 with my wife. On the way from Pittsburgh to Dayton, there is a small mall in Columbus, OH, called Kenny Centre Mall. There is a Japanese restaurant, grocery, bakery, and a used-book and gift shop there. We usually stop by the mall, have some pastry, buy some food on the way to Dayton. This year, however, I was not able to take a day off and had to stay in my office late on Friday, and we were not able to reach Kenny Centre Mall before the bakery closed. But, we were supposed to be there by 8pm and hoping to reach there before the grocery shop and the restaurant closed.
We left Pittsburgh at around 4pm. Soon we were stuck in a traffic jam. In Washington PA, we were trapped again in a traffic jam, then hit by a hurricane-force storm. I saw a thin towering cloud on the left. I am still wondering if it was a tornado (or tornado to be). In West Virginia, we stopped again in a traffic jam. For some reason, there were road works everywhere. It was already passed 9pm when we arrived at Columbus. We gave up going Kenny Centre Mall and had dinner at a Burger King and then headed to Springfield, where we were going to stay for three nights.
At the hotel, we were told that our reservation had been cancelled and no room was available for us. What happened was my credit-card company recently issued a new card (obviously after I made the hotel reservation) and extended the expiration date by one month. Everything else was the same. Only because of that single-digit change, the hotel was not able to verify my credit card, and they cancelled the reservation. Cancellation itself was a problem, but the bigger problem is that they did it and didn't tell us! Just one simple phone call should have straightened everything up. Even if they had to cancel my reservation, they could have told us before we hit the road. But, the hotel did not bother making a single phone call to us. I was so upset and determined to write what happened and give the lowest review score in all the travel web site I could imagine. But, later the hotel manager directly called us and apologized. OK. Apology accepted. I didn't screw up their review score. At that night, we stayed the hotel next to the one we were supposed to stay.
I was hoping the air show would be a good one especially because of all the troubles I experienced the day before. On the first day of the air show, Saturday July 18, the sky was cloudy in the morning. I was hoping and expecting the sky to clear up before the show started. In fact, I saw some breaking among the clouds. But, the weather did not recover quickly. The army Golden Knight parachute team was not able to jump for the opening ceremony due to low overcast. I was looking forward to seeing Brazilian Air Force's aerobatic team, Smoke Squadron. They did fly, but they had to skip some maneuvers to stay under the overcast layer.
| | | |
| --- | --- | --- |
| | | |
| Patty Wagstaff was supposed to circle around parachute jumper in the air-show opening ceremony, but parachute jumps were cancelled due to cloud. | Brazilian Air Force Smoke Squadron. | B-2 Spirit fly by. |
In this condition, I was hoping to see shock cone around F-18 during its high-speed pass, but this time, I didn't see a shock cone like this time.
| | |
| --- | --- |
| | |
| Tora-Tora-Tora. These are all T-6s modified and painted so that they appear to be Japanese Imperial Navy airplanes. | Sean D. Tucker. This time I used 500mm lens. So I was able to take more close-up look of his airplane. |
Then came B-52 fly-by! I have seen B-52 many times as static display. But, this was my second time to see B-52 in the air. The first time was when I was an undergrad student. I was riding a bike to my university from my apartment and saw a B-52 approaching to Atsugi air base for an air show. But, I didn't have a camera with me then and was not able to take a picture. I wish I could take a B-52 flying in a clear blue sky. But, the weather was yet cloudy.
| | |
| --- | --- |
| | |
| It was my first time to see B-52 in clean configuration. | I should have used a little longer zoom. |
You can see in the next picture some blue openings in cloud, but Dayton International airport was mostly covered by overcast to broken cloud.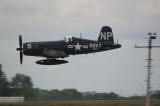 F-4U Corsair.
The weather finally did not recover. Thunderbirds flew a low show, which did not include most of the vertical maneuvers. One good thing about the low show is that it includes two surprise passes. First one is after trail-to-diamond roll, and the other after echelon pass. I had been trying to take a close-up photo of surprise pass, but I had little success yet.
This time I was trying a different method of aiming at the airplane from the method I was using in the past. I used to pay attention to the edges of the frame so that the airplane fits in a frame with reasonable margin from the edges. However, during my Japan tour last December, I realized that I rather should aim at a specific reference point of the target airplane and try to keep the reference point at the center of the frame. It was a sort of new paradigm for me.
I had two chances of surprise passes in this flight. And, I got a first surprise pass not too bad, but I missed the second time because my camera's auto focus screwed it up. I decided not to buy a new camera this year, but I definitely want to get a faster one next year. My K100D gave me a lot of good pictures, but when it comes to a speed-critical shot, it cannot keep up with the target.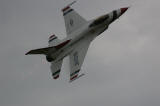 First surprise pass. Much better than the previous attempts.
The second day. When we left the hotel, the sky was somewhat cloudy, but it was quickly clearing up.
| | | |
| --- | --- | --- |
| | | |
| Patty Wagstaff took off for the opening ceremony. | Army Golden Knight team showed parachute jumps for the opening ceremony. The picture is the airplane used by the team. | Wright Flyer II. |
By the time AH-64 took off for a demonstration, the sun was out, and the condition was getting better and better.
| | |
| --- | --- |
| | |
| AH-64 showing its back to the audience. | AH-64 performing a flight demonstration. |
Brazilian Air Force's Smoke Squadron flew with blue sky as background. As I wrote two years ago, this team's skill level is very high. They show variety of formations, not only one formation plus two solos, but sometimes like two 3-airplane formations plus one solo, two 2-airplane formations, and so on. Also, their formation is very rigid. There skill level was as good as the last time. Their aerobatics were impressive and spectacular.
| | | |
| --- | --- | --- |
| | | |
| Brazilian Air Force's Smoke Squadron. | Seven-airplane formation. | 3 vs. 3 back to back. |
| | | |
| Close up look of the airplane #7. | | |
I wish I could take pictures of a B-2 and a B-52 with blue sky as background, but unfortunately, fly-bys of a B-2 and B-52 were only for Saturday show.
| | | |
| --- | --- | --- |
| | | |
| Dedication pass of A-10. | Sean D. Tucker. | I wish pyro techniques should be reduced next year. Or, pyro should wait until one or two passes, and then start. Otherwise, I cannot see airplanes well. |
Patty Wagstaff showed aerobatics, and C-5 Galaxy did some fly-bys before Thunderbirds. I was expecting the weather to last until the show is over, but low clouds were moving in to the area. And, the sky was gradually getting dark.
| | |
| --- | --- |
| | |
| Patty Wagstaff. | C-5 Galaxy. A huge airplane. |
So, the Thunderbirds flew a low show again, and I had two chances to take a surprise pass. And, the time has finally come! I was able to take squarely a close-up photo of the surprise pass!
| | | |
| --- | --- | --- |
| | | |
| Where was the blue sky gone? | The first surprise pass. Getting even better. | Wow! Finally! The second surprise pass. (No trim, just re-sized) |
I missed a little bit of the pitot tube and small portion of the vertical tail wing. But, with no doubt, it's my best shot of the surprise pass! I guess what I learned from my last Japan tour really worked! But, I will continue aiming at the surprise pass anyway. I wish I can take a nice picture of the surprise pass with blue sky as background.
The next air show will be Youngstown Air Show, Thunder Over the Valley. It is a strange air show. Usually, an air-show organizer wants as many audiences as possible to come. But, in this one, I need to get a ticket before the show, or I will be kept out. I managed to secure a ticket to go to the Saturday show.