I was visiting Japan with my wife from late December to early January. Main purpose of the trip was to attend a wedding party of my cousin. Her wedding ceremony was back in October. This time was a more casual party. If I visit Japan, I also wanted to see over-the-field training flight of Japanese air force's aerobatic team, the Blue Impulse, and wanted to see Japanese Navy's YS-11, which is expected to retire in a few years. However, the wedding party was scheduled for December 29. Both Japanese air force and Navy was in the new year's recess around that time, and all regular training flights were on hold. Earliest possible date that I could see those airplane flying was January 4th. I had to make a difficult travel plan.
I decided to leave Pittsburgh on December 25th and come back on January 9th. I was also given an opportunity to give a talk at Meiji university on 27th. A banquet with my relatives was planned for 28th, and the wedding party was scheduled for 29th. Then I was going to travel with my wife to her home town to say hi to my in-laws, and then fly to my home on January 1st. I planned to go to Tokyo on January 3rd and visit Atsugi base for 4th and 5th to see YS-11s, then move to Sendai to see the Blue Impulse on 6th. I was going to come back to my home on 7th, then meet with my wife on 8th in Tokyo, then leave Tokyo on 9th to come back to Pittsburgh. It was a hell tough schedule.
I was super busy during the semester of fall 2010. I was too exhausted to go through this tough schedule. I planned to slow down my work for a week before leaving Pittsburgh to recover from the exhaustion. But, no plan goes as planned. I was summoned for an emergency call on 22nd. Apparently, the project that I was not directly involved got into trouble, and everyone in the team was asked to work for rescuing the project. This reminded me of the Thanksgiving holidays of the last year and gave me a terrible feeling. I had to give up whole my Thanksgiving holidays last year for rescuing a project that I was not directly involved. This time it turned out not as bad as the last time. Nonetheless, I had to work in full for 22nd and 23rd. I was not able to recover from the exhaustion.
December 25. There was no direct flight from Pittsburgh to Japan, and I had to change an airplane once. This time, I changed an airplane at Chicago O'Hare. To catch a Japan Airlines flight from Chicago, I had to leave Pittsburgh at 7:10am. To avoid congestion at the check-in counter (I couldn't check in from home since it was an international flight.) I wanted to be there by two hours before. To get there by 5:10am, I wanted to park my car at an off-airport parking by 4:40am. To be there at 4:40am, I had to leave home at 4:10am.
I flew United Airlines from Pittsburgh to Chicago (I wish I could fly by myself!). The airplane flew as scheduled, and we were able to check in Japan Airlines flight at Chicago. I worked on one of my research projects in the international flight and didn't sleep much. I was able to finish one of the outstanding issues though.
By the way, if you are tired of ever decaying airline services, and if you don't want to be treated like a cargo any more, you should try Japan Airlines next time. Their level of service is magnitude better. Japan Airlines' cabin attendants are courtesies. Interior of the airplane is clean. And, in-flight meal tastes like a real food. You can expect a similar level of service from All Nippon Airways, too.
December 26. We arrived at Tokyo Narita airport. We wanted to fly directly into Tokyo Haneda airport, but we were not able to secure a ticket. In Chicago, we were told that only three of the four checked luggage may be coming, which made us feel uneasy. But, we were able to pick up all four bags at Narita.
For the first time we used Japan Rail Pass, which allowed us to use almost all Japan Railways trains. Two-week pass cost about $550 per person. Only a non-Japanese citizen and a Japanese citizen who has a permanent-residency status in a foreign country can use this pass.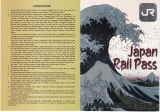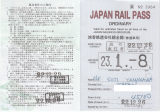 (Japan Rail Pass. Click to enlarge)
I picked up the passes at the JR counter at the airport and headed for Shinagawa where we were going to stay for two nights by train. We met with my parents at Shinagawa, and we had dinner together. We wanted to eat something light. But, I ended up with eating a tempura (Japanese traditional deep-fried food). I really shouldn't have finished everything, but since it tasted so nice, I ate all. Then we came back to the hotel room and fell asleep instantly.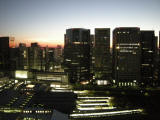 (View from the hotel room at Shinagawa)
December 27. My wife was meeting with her friend who used to be in Pittsburgh. I had some time to spare in the morning, and went to Akihabara for shopping. Usually I spend at lest half a day to walk around Akihabara area to search for interesting PC parts. But, I didn't have time to do so this time. I just went to Yodobashi camera next to the Akihabara station. Yodobashi is a camera retailer giant. Now it sells PCs, CDs, DVDs, cell phones, and everything. In Pittsburgh, I need to buy almost every camera equipment over the internet. I can buy stuffs from Ritz camera or Best Buy, but usually they don't have what I want in stock, and I end up placing a back order. So, it's the same thing. The problem is I cannot actually see and use before buying. But, at Yodobashi, it has wide variety of camera lenses, parts, bags, supplies, etc., in stock. I can actually see it before buying. I didn't buy too many things this time though due to this crazy U.S. dollar - Japanese Yen conversion rate. (Japanese economy is not in a good shape, and it doesn't make sense for JPY to go up against other currency at all!) But, I bought some lens pouches. I was able to make sure my lenses fit in them.
Then I briefly met with a friend. He gave me a key chain commemorating 50th Anniversary of Blue Impulse.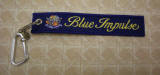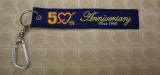 (Blue Impulse 50th Anniversary Commemorative Key Chain)
Then I went to Meiji university for a presentation. The presentation was open to public. I thought about announcing on YSFLIGHT.COM, but since it had nothing to do with YSFLIGHT, I didn't. I sent out invitation to some of the friends, and yuichi, who is maintaining Ysflightsim! Japan, came to the session. I thought my presentation went well, but I forgot buying a bottled water, and I was losing my voice toward the end of the presentation. There was a banquet after the session. I ate too much again. Food there tastes much better than in Pittsburgh. I couldn't just stop. It was 10pm when I arrived at the hotel.
December 28. I woke at 5:30am due to jet lag. I was exhausted but couldn't sleep again. We checked out the hotel and went to see the new international terminal of Tokyo Haneda airport. I really wished I could have flown into Haneda airport, not Narita airport. Narita airport is a shame. There is nothing good about Narita airport. It is too far away from Tokyo. In my opinion Narita airport should be given to Japanese air force. This airport must have caused enormous economic loss to Japan over the years. I hope this trip was the last trip that I use Narita airport. On the other hand, new international terminal of Haneda airport was nice and clean. It is easy to change to a domestic flight at Haneda airport unlike Narita airport.
Then we moved to a new hotel and went to a banquet with my relatives. The food was nice. I ate too much again. After the banquet, we were suggested to have some more drink only with cousins. I really should have been excused. I was exhausted by then. I was more than ready to sleep. But, I also thought it's a rare opportunity since I'm living in the U.S. I went with my cousins. My wife and I came back to the hotel room after 11pm. Both of us nearly fell to the bed and slept.
I'll go to Atsugi base and Matsushima base to take pictures of airplanes when all these events are over.
I didn't realize my death flag was set then. (What's death flag?)
December 29. We attended the wedding party of my cousin. The party was nice. My cousin looked happy. And the food was good. I was expecting the party to be 2 to 3 hours, but it went on for 4 hours. After the party, we were supposed to take a Shinkansen train from Tokyo station to Osaka. Although the hotel was within walking distance from Tokyo station, I was thinking to use a taxi since we were carrying big bags. However, we ended up with walking with other relatives to the station. It added some more exhaustion on me and my wife. I should have insisted on using taxi then. Anyway, the main missions of this trip was accomplished. It was a big relief.
December 30. My wife's voice got hoarse. Also I started coughing lightly. I didn't expect it to become a serious sickness at this time. We couldn't get seat reservations from Osaka to Hakata, so we were prepared to stand for 2.5 hours. However, when we came to the platform, I saw one train bound for Hakata nearly empty. It was a slowest Shinkansen train, because it stopped every station, and was going to take 5 hours. But, we were able to sit. We took it, and spent five hours to get to Hakata. It was not bad. I liked to see cities from the window.
Hakata is a few hundred miles south of Tokyo. It was warm in Tokyo. I didn't even need to wear a jacket. With a light jacket, I got sweat. Since Hakata is far to the south of Tokyo, I expected it to be even warmer. Contrary, it was cold in Hakata. It was too late. I had sent my thick jacket to my home last night since I didn't think it was necessary. All I had was a light jacket, which was not enough to keep myself warm. With the accumulated exhaustion and the cold air, my stomach went into safe mode. I couldn't eat anything.
December 31. I went shopping with my wife and sister in law. I started feeling a chill. When I feel a chill, I usually have at least 100F fever. But, I didn't want my in-laws to be too worried about my condition. I tried to be as normal. But, I couldn't eat dinner this day.
January 1. When I woke up, I didn't feel a chill. I supposed my fever was temporarily gone. I usually don't get motion sickness at all. But, maybe due to my health condition, I had motion sickness after riding a car to the Fukuoka airport. I felt my body heavier than usual. My fever may have come back again. I wanted to take cold medication the night before, but I didn't because I was worried about causing further damage to my stomach. My wife purchased some vitamin drink. I drunk it and took a cold medicine hoping it makes me sleep in the airplane. As I hoped, the airplane from Fukuoka to Tokyo was nearly empty. Nobody was sitting beside me. I was able to sleep for about an hour in the airplane. When I arrived at Tokyo Haneda airport, I felt slightly better. The airplane from Haneda to Aomori was also not full, and I was able to sleep a little more. My parents picked me up at the airport, and I finally came home. Obviously, it was impossible for me to go to Atsugi base in two days. So, I delayed the trip by one day. New plan was to leave my home on January 4.
January 2. I slept almost all day.
January 3. I was still coughing but was able to walk outside again. My stomach was also gradually gaining its function again. I was ready to go to Tokyo next day.
January 4. I moved to Tokyo with a Shinkansen train. I was able to see friends from my college. I couldn't drink though. But, my cough didn't stop. I couldn't sleep well because of severe cough. We often say human body is a very well designed machinery. But, is it so? If it is, how come I get exhausted because I cough too had to sleep. Human body is not so well designed as a system.
January 5. After almost 10 days in Japan, I still woke up at 5:30am. This trip had been too hard for me to recover from jet lag. One of the friends I saw yesterday recently started digital SLR, so he joined me and tried to take pictures of airplanes. The forecast was predicting northerly wind. Atsugi base has runway 01 and 19. If the wind was from the north, runway 01 should have been in use. To take pictures of landing airplanes, it was supposed to be the best to go to the south side of the air base. So, we went to the station which is about 15 minutes walk to the approach end of runway 01. But, when we started walking, Atsugi ground called "Runway change. Now using runway 19." We were lucky to hear it early enough. We haven't walked 100ft from the station yet then. We rushed back to the station, and took a train go the station near the approach end of runway 19.
Although my primary target was YS-11 of Japanese Navy, Japanese Navy was still in new year's holiday, and they were not flying a regular training. (I was sure some crews and airplanes were on alert though.) Nonetheless, airplanes of CVW-5 from aircraft carrier George Washington flew a lot. I saw CAG (Commander of Air Group) airplanes of VFA-102 Diamondbacks, VAQ-136 Gauntlets, VAW-115 Liberty Bells, and also VMFA-242 from Iwakuni base.
| | | |
| --- | --- | --- |
| | | |
| C-130 of Japanese Air Force | F-18E of VFA-27 Royal Maces | A CAG F-18D of U.S. Marines VMFA-242 from Iwakuni base. |
| | | |
| --- | --- | --- |
| | | |
| CAG E-2C of VAW-115 Liberty Bells | CAG F-18F of VFA-102 Diamondbacks. | CAG EA-6B of VAQ-136 Gauntlets. This airplane may soon be replaced with EA-18G. |
In the afternoon, I unexpectedly met with yuich (admin of Ysflightsim! Japan) again. I knew he was living near Atsugi base, but I never expected to see him there.
At night, I headed for Sendai in a Shinkansen train.
January 6. My airplane-fan friend gave me a ride to Matsushima base. It was very nice of him. He took me around the base to several different photo spots, and I was able to take some nice shots of the Blue Impulse. It was very windy there. It was understandable why Japanese air force used this air base for cross-wind landing test when they were developing F-2 strike fighter. On this day, F-2s were using runway 25, but T-4s including Blue Impulse airplanes were using runway 33. He took me to really close to the approach end of runway 33, and I could take some pictures from really close distance.
On the way to the base, I purchased some souvenir at Seven Eleven near the base. Those items were most likely unofficial. Actually, the coaster has an error. What's "11th Fight Squadron"? No such squadron exists. But, I thought it interesting to see a convenience store selling a Blue-Impulse related souvenir. So, I purchased some of them anyway.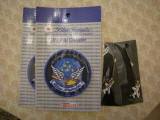 Unfortunately the weather became cloudy in the afternoon, and the over-the-field training included no vertical maneuvers. Nonetheless, I enjoyed watching some new maneuvers and formations (new since I saw them two years ago.)
| | | |
| --- | --- | --- |
| | | |
| T-4 Blue Impulse #6 taking off for the morning flight heading for off-shore training area. | Blue Metro (weather recon) landing runway 33. | Blue Impulse #1 coming back from the morning training session. |
| | | |
| --- | --- | --- |
| | | |
| #6 coming back from the morning training session. | #1 to #4 taxing out for the over-the-field aerobatic training in the afternoon. Unfortunately, the sky was too cloudy to perform vertical maneuvers. | #1 entering runway 33. |
| | | |
| --- | --- | --- |
| | | |
| Cleared for take off. | Change over turn. | Double roll back. I saw this maneuver for the first time. |
| | | |
| --- | --- | --- |
| | | |
| Point Star formation. | Swan formation | Grand Cross formation. |
| | | |
| --- | --- | --- |
| | | |
| #4 landing runway 33 after the field acro. | #6 landing runway 33. | Thanks for the nice aerobatic and formation flights! |
Then I traveled back to my home with a train at night.
January 7. I went shopping to buy some stuffs. Other than that I was taking a rest almost all day. I tried to recover to prepare for the international flight in two days.
January 8. I moved to Tokyo with a train. My wife also left her home and came to Tokyo. We rendezvoused at Tokyo station. We went shopping for the last time before leaving Japan, and then headed for Narita. We stayed a night at a hotel nearby Narita airport to catch morning flight of the next day. The hotel was nice. I would have enjoyed staying there if I had been healthy. But, I still was coughing hard and my wife's cold was not over yet. I regret that we couldn't have a few glasses of drinks in the hotel bar.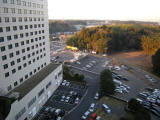 January 9. Left Narita airport for Chicago. We hoped this was the last time we used Narita airport. Narita airport is a failure. Way too too too far away from Tokyo. It makes much sense to use Haneda airport rather than Narita. Narita airport was one of many things that everyone knew it didn't work but nobody corrected for very long time. It must have been causing very big economic loss to Japanese economy over the years. Opening Haneda airport for scheduled international flights was one of few good news from the last year. At this time, the number of international flights from Haneda is limited, but it would increase soon. I definitely want to land at Haneda next time. I think Narita airport can be a good air-force base.
And, I was determined to visit Japan in a warmer season next time. Probably it would be in 1.5 years.
Glossary:
Death flag Death flag is a property of a character (such as a movie character, a game character, a person in a novel, etc.), and the character will die in the story if this flag is set. Strictly speaking, the flag is set by the author of the story. However, an audience can observe a flag-setting event in the story. For example, if a character says "When the war is over, I'll come back to my home town, propose my long-time girlfriend, start a farm, and live a quiet life," this character is most likely to die a dramatic death. Until the character says such a flag-setting phrase, the flag status is unknown to the audience. However, as soon as we hear such a flag-setting phrase, we can confirm that the flag is set. Hence, although the flag had been set by the author, we can say "This guy's death flag is set" when we hear a flag-setting phrase.