I came up with a very neat idea of a new all-hexahedral mesh generation technique, which is my primary research topic. I was initially skeptical about practical quality of the new method, but when I implemented it, I realized it can achieve practical quality, and it can be the world first fully-automated all-hexahedral mesh generator that can deal with any thin-walled solid and can achieve practical mesh quality. If you are interested, I have uploaded a PDF of my paper in my publications list.
I quickly wrote a provisional patent and submitted a paper to the conference called International Meshing Roundtable. I had never been this confident before and had absolutely zero doubt about the acceptance. So it was accepted. And I earned a free trip to Paris to attend the conference. My airplane and hotel fee was paid from the research account. I paid for my wife's airline ticket and made it a cheap vacation.
If you think about France, probably what comes to your mind first is a Rafale fighter or a Mirage 2000 fighter. Or, the Airbus industry may come to your mind first. (Is there any disagreement?) To me, France is a country of Concorde along with United Kingdom. I wish I had enough time to visit Toulouse, where Airbus is based, but I had only a few days and could not afford it. Instead, according to my search, Museum of Air and Space at Le Bourget has a Concorde and is close enough from Paris. I really looked forward to seeing another Air France Concorde there.
10/22 (Sat). Left Pittsburgh. Believe or not, there is a direct flight to Paris Charles de Gaulle (CDG) from Pittsburgh International (PIT). Pittsburgh International is said to be an international airport, but most of the international flights are to and from Canada. Its immigration and custom facilities are not utilized often. I never imagined I could fly directly to Paris from here. And, the flight leaves such a nice time, 6pm. In most cases, wherever I go, I need to catch a 7am flight. To get there 2 hours before, I need to wake up at 4am and leave my apartment at 4:30am. Then I can get there by 5am. To me, Pittsburgh International has been an inhumane airport. I was using it simply I had no choice. To me, this Paris flight sounded too good to be true. But, it was true.
But, Delta Airlines' Boeing 757 was uncomfortable. I tried hard but I couldn't tilt the seat back. I had to sleep with seat back upright position in an overnight flight. What a torture! Their maintenance level must be no much different from PFTC. They don't make a fatal maintenance error. But, they don't care passenger comfort either.
10/23 (Sun). Arrived at Paris early morning (8am). We purchased a Museum Pass at the airport. This pass allowed me to go into popular museums without standing in a ticket line. Especially good to go to Louvre and Orsay museums, where a very looooong ticket line is formed. On the way from CDG to the hotel, the taxi passed right next to an Air France Concorde, F-BVFF, which is now guarding the perimeter of CDG Unfortunately I could not take a good picture of it. The hotel was near the famous Notre-Dame cathedral. After dropping the luggage at hotel, we went for a sight-seeing. We reached Seine river in three minutes from the hotel. From there, Notre-Dame cathedral was just one block away.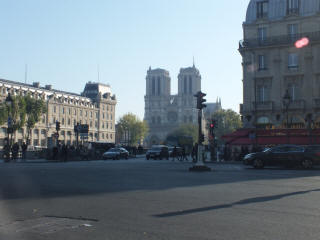 Nortre-Dame Cathedral. I need to be careful not to misspell the second word.
We then walked along the river toward Orsay museum. I had a museum pass good for two days from the first day of using. But, since I had to be in a conference for Monday through Wednesday, my plan was to use it on Wed and Thr. And, according to the tourist information center, Orsay museum was free on this day. When we passed near the Louvre museum, mysterious children surrounded us and asked to sign a petition for something I didn't understand. I immediately suspected these kids are coming to my wallet. But, my bag was guarded with a U-lock, and I was tying it with a string to my belt. My wallet was well armed. However, they put their hand on my iPod touch. I shouted at them and they retreated. Had they tried to grab my iPod touch, I could have returned fire. Cowardly criminals they are.

Louvre museum across the Saine river.
We arrived at Orsay museum only to find the museum was closed due to employee strike. We changed the destination to Eiffel tower. It was just one station away by Metro. Eiffel tower was huge. I wanted to go up, but gave up because of loooong line for the elevator.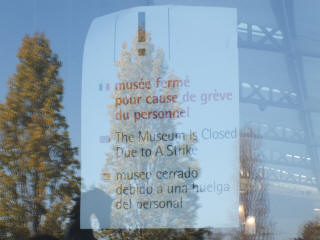 Orsay museum was closed due to employee strike.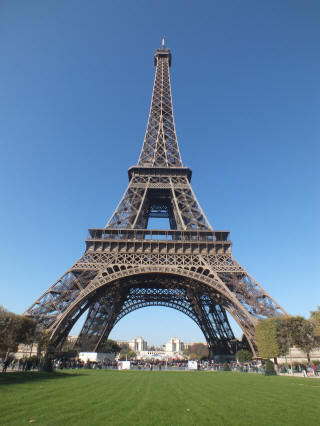 We came to Eiffel tower instead.
Then we came back to the hotel and registered for the conference. I was annoyed by the mistake on the conference program. Someone else's name was on the place where my name was supposed to be. Career of a researcher is evaluated by the papers. But, this program appeared as if my work was done by someone else. There was no error in the conference proceedings. So, it was not a critical error. But it still made me uneasy.
After having dinner, I had to search some stuffs on Google. But, no matter what I did, my Firefox wanted to go to www.google.co.fr, and didn't let me use www.google.com. The problem of google.fr was French web sites tended to be shown before English web sites. I really wanted to search by English. My solution was going to www.google.co.uk . This worked.
10/24 (Mon). I sent my wife to Notre-Dame cathedral in the morning. Then I parted and came back to the conference, and she went to Louvre museum. I had to present my poster in the poster session and my paper in the last session of the day. In fact I like to talk in front of a big audience. Especially, this time I was confident in the content. I enjoyed presenting my work.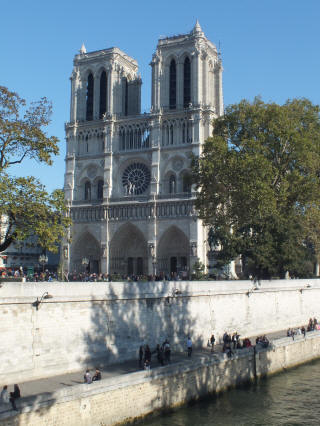 Nortre-Dame cathedral from closer proximity.
My wife came back utterly exhausted. She tried to see major objects in the Louvre museum and ended up with walking very long distance. It's a typical museum fatigue. When you are walking at a constant speed, you can walk long distance without getting too tired. But, if you walk, stop, watch, and walk to the next object, you repeat acceleration and deceleration. You will get tired quickly. You can see the same thing in your car. While you are driving on a highway, you don't have to change speed much. That's why you get a better fuel mileage. If you are driving in a city, you stop at a traffic light or a stop sign, and move again, and stop again, and so on. You will have much worse fuel mileage in a city. It's the same thing for a human.
Nonetheless, she made to famous Mona Lisa. According to her, there was a pile of people who were trying to get closer to the picture. She courageously dived into the crowed and got some pictures. All of them were shaky and indicating a heavy competition over the vantage point in front of Mona Lisa. I still don't understand why that picture attracts that much interest. Isn't it just one of nice paintings?
10/25 (Tue). I skipped some sessions and visited the museum of modern art. My wife was supposed to go together, but due to museum fatigue, she stayed in hotel during the day. After the museum, we walked through Champs Elysees street. I stopped by a store called FNAC. It's just like Best Buy in the U.S. and sells laptops, CDs, DVDs, Apple products, appliances, etc. Everything looked familiar except that everything were all in French. It gives a feeling as if I came to a different world. I had a similar feeling when I moved to the U.S. from Japan. We then walked all the way to Arch of Triumph and then came back by Metro.
At night, we went for a conference banquet dinner cruise on Saine river. Since I graduated from Carnegie Mellon, I always love free food, although this was included in the registration fee, which was paid from the research fund. I'm not paying. My wife also enjoyed the cruise. I paid for her from my pocket. The food was very nice. When I served as a committee of this conference, we had to cut down things due to tight budget. Especially I wanted to have the banquet at Carnegie Mellon, but to get discount hotel price, we had to do it at the conference hotel. I hope this conference keeps this level of nice food for the coming years.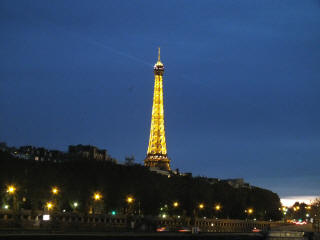 Eiffel tower from the cruise boat.
10/26 (Wed). Finally, we visited the Museum of Air and Space at Le Bourget airport. We took RER train from St-Michel Nortre-Dame toward Charles de Gaulle airport. Le Bourget was the fifth stop. That was my intention. But, the train we took apparently was an express train and skipped Le Bourget. We ended up at Aulnay sous-Bois. We had no idea what "express" is called in French. We were able to decrypt French messages and was able to get on the local train to the other direction that took us to Le Bourget. Then we took bus #152 to the museum. We almost got off one stop before the museum since the bus came to the edge of the Le Bourget airport, but the bus driver was kind and told us where to get off. The nearest bus stop was right in front of the museum.
I hoped we could skip the ticket line with our museum pass, but we had to stand in line. Only two employees were dealing with a long line. It took 10 minutes or so to enter the museum. We then headed straight to Concorde hangar. This museum has two Concordes. One used by Air France, and the other used for pre-production experiment. The beautiful airplane they are. I have no doubt that Concorde is the most beautiful airplane that has ever been built. I have no feeling about Mona Lisa, but Concorde impresses me more than any paintings.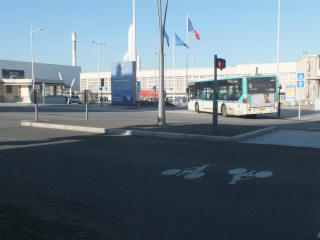 Gate of the Museum of Air and Space
Oh, poor Concorde. It should still be able to fly at Mach 2 over Atlantic. I wish someone restores one or two of them and keep them flying in the future. For that purpose, all of the Concorde must be kept in good condition. The Concorde kept in this museum looked in a very good condition. Much better than the one at Intrepid Air and Space museum. Maybe it is not possible to make it flyable with fully loaded passengers any more. Maybe it will not fly at Mach 2 any more. But, I believe it is possible to restore it to the state in which it can fly for commemorative flights. The landings of Concordes I saw at Heathrow was more graceful than any other landings I had ever seen.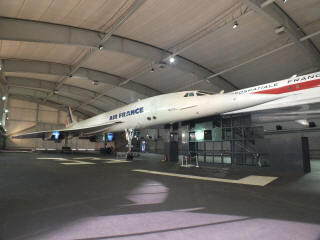 Air France Concorde! What a beautiful airplane!
The other side is an pre-production experimental version of Concorde.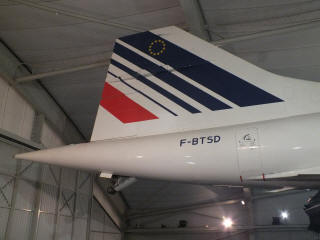 Tail number F-BTSD. Sierra Delta.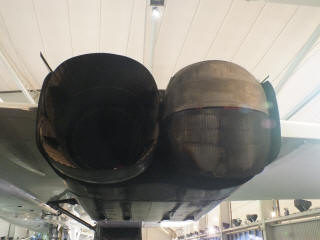 One of the thrust reverser was deployed.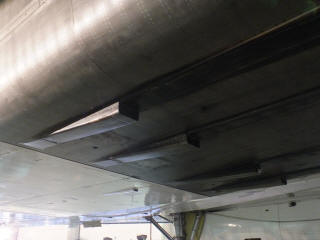 Some kind of drain? near the exhaust.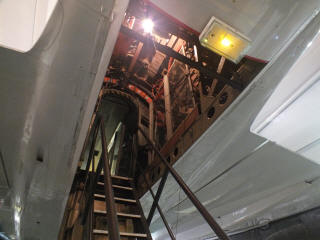 You can enter the pre-production plane from its tail door.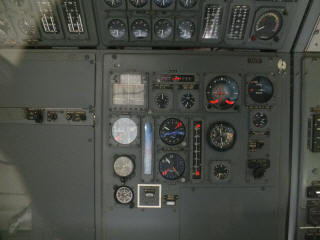 Signature of pre-production Concorde. A mach meter that can measure up to 2.0+ mach.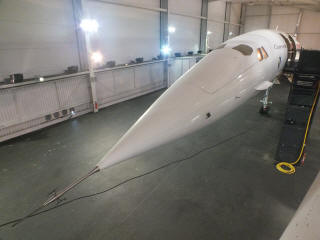 Nose of the pre-production model.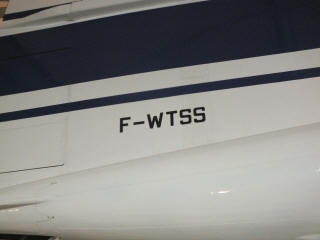 Tail number of the pre-production model. F-WTSS. Sierra Sierra.
In the same hanger, they were keeping Mirage IV. Outside the hanger were French primary air-superiority fighter Rafale, and previous air-superiority fighter Mirage 2000 (although it was labeld as Mirage 4000, I never knew Mirage 4000 existed), and former Swedish primary fighter Viggen. Since they were kept between hangars the sun was blocked by the building. I couldn't get crisp pictures. Probably if I come in summer, the sun is high enough to shine between the buildings. They also had other airplanes that I cannot see in the U.S. very often including German Air Force F-104 Starfighter, DC-8, Boeing 747 that was used by Air France. Although I couldn't come close, I saw Mig-23 and Mig-21 parked outside the museum. My primary purpose of visiting was seeing Concordes. I achieved my goal.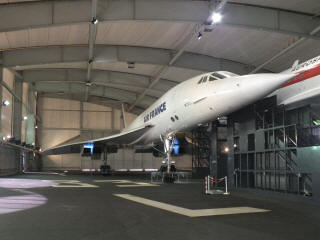 So long, Concorde. I'll come back to see you!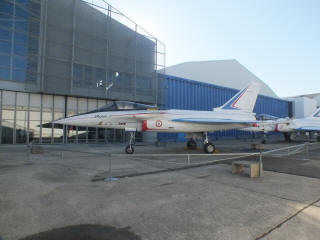 French primary jet fighter, Rafale.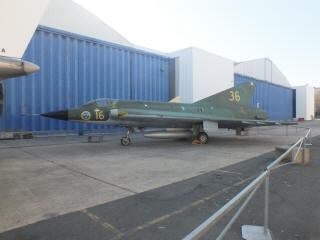 SAAB Viggen. Swedish air force.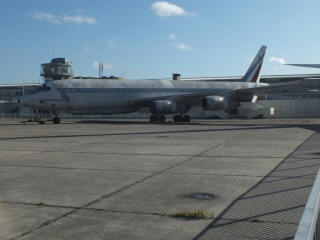 I thought it was B707, but it actually was DC-8.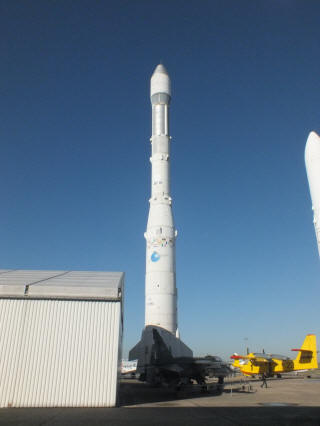 Since it is air and SPACE museum there were a lot of rockets as well.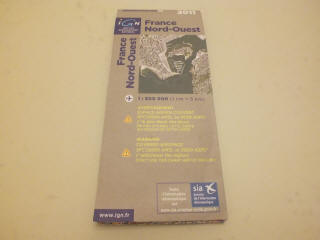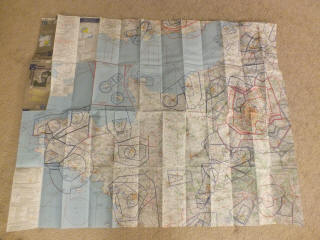 I bought a sectional chart for my souvenir.
I bought a sectional chart around Paris for my souvenir. Now I am ready to fly there. Only a tiny problem is how to get fuel for Cessna in the middle of Atlantic ocean.
Then we came back to Chatlet (one stop before St-Michel Nortre-Dame) by RER and changed to Metro and came to Tuileries. We wanted to go to a famous cafe called Angelina just one block away from the Metro station. Honestly cakes I can buy in the U.S. are too sweet. All the cakes taste the same. I feel as if I were eating a chunk of sugar. This cafe outside Tuileries is famous for a cake called Mont Blanc. It is made of chestnut cream, which gives its signature flavor. It's not too sweet. Just right amount of sweetness. It tastes great with a cup of coffee. But, if I want to eat it in the U.S., the closest place from Pittsburgh where I can eat it is in New York city as far as I know. (But, a new French bakery called La Gourmandine opened in Pittsburgh recently. If this place sells it, it's going to be a blast. I need to check this place out soon.) So, we were determined to eat one Mont Blanc cake while we were in Paris. According to the guidebook, this Angelina was the closest cafe from our hotel that we could have Mont Blanc cake. When we got there, there was a discouragingly long waiting line. We almost gave up. We could buy one for take out, but it was sad not to have coffee with it. But, after watching the line closely, the line was moving reasonably fast. We stood in line, and was able to get in within 5 minutes or so. I saw many Japanese tourists in this place, I guess because this cafe was listed in the guidebook. (Well, but why? They must be able to find the same kind of cake with zero difficulty in Japan. Were they all working outside Japan like myself?) The cake tasted very nice as expected. Coffee was also nice.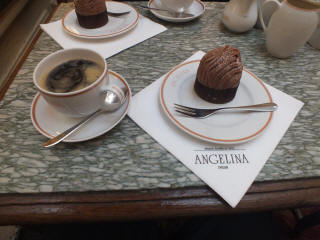 Mont Blanc cake and coffee at Angelina cafe.
Then we crossed the Tuileries park and visited Orangerie museum, which was famous for Cloude Monet's "Water Lilies." I think impressionism is a pioneer of dot graphics. This type of pictures always remind me of 16-color graphics in 320x200 screen resolution. Maybe I should have studied impressionism then I could have made icons better.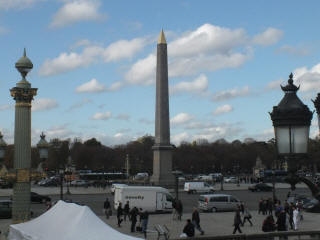 Concorde square. This square is named after the famous supersonic airliner....
What? Am I mistaking?
We still had time after Orangerie. We went to Louvre museum. Again, I had no idea why people praise Mona Lisa much. To me, it's just one of many nice pictures. My curiosity was if the picture impresses me if I see it for real. But, I could see the museum entrance from the Tuileries park, but it was not really close. I guess it took 15 minutes or so to get there. Being able to see doesn't mean it is close. But, one good thing was again we could skip the ticket line with the power of the museum pass. This feeling of privilege was worth for 50 EURO. We entered the museum, and walked long distance again to get to Mona Lisa. Yes, I finally saw the actual picture! Yes, it was a nice picture, one of many nice paintings. I still don't understand why it is outstanding.

"Water Lilies" Nice dot picture.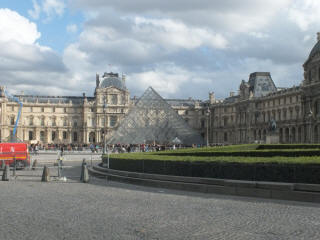 Entrance of the Louvre museum.
Jacobian determinant cannot be defined at the peak. (Sorry, it's an engineering joke.)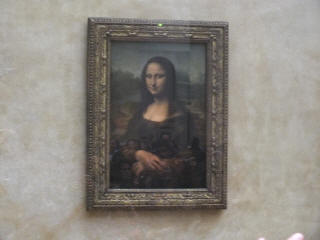 Mona Lisa. I still don't understand why this picture is outstanding.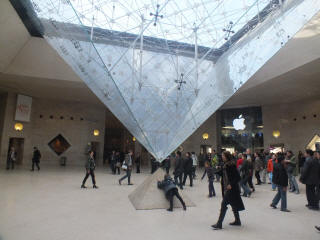 Inverted pyramid at the underground level of the Louvre museum.
Reminded me of Gradius ((c) Konami) That game was called NEMESIS
when exported outside Japan.
That time I was also suffering from museum fatigue. We walked out and had dinner at the food court of a mall connected to the museum. That mall must be under the Tuileries park, and came back to hotel.
10/27 (Thr). Final day in Paris. We first visited Medieval Age Museum, which was 1-minute walk from our hotel. I was expecting to see the world of Wizardry (well, maybe Final Fantasy if you are younger?) but, I saw only a few swords and armors. The museum was more focused on arts and crafts. Then we came to Nortre-Dame cathedral. This time we were thinking to climb up to the tower, but we were discouraged by the long waiting line. Museum pass didn't gave us priority here. Then, for the last attempt, we came to the Orsay museum again, hoping the strike was over by then. The door was closed when we got there, but people were waiting in line. When we got closer, an employee told us to stand at the end of visitor-with-ticket line. Of course because we had a museum pass. What a privilege! Wtihin 5 minutes or so, the door opened. We came to the museum exactly at the right timing. I saw famous pictures there. Honestly, I didn't know which pictures were famous, but my wife explained to me. The museum was large. After walking through, my legs refused to move any more. We sat on a stair step outside the museum to rest, and came back to hotel.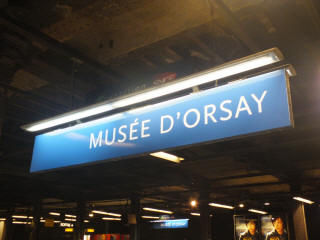 Metro station near the Orsay museum.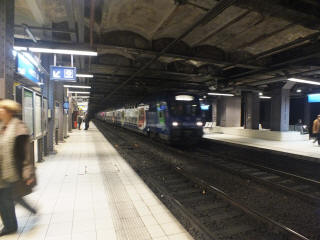 By the way, Paris metro was double-decker.
10/27 (Fri). Our direct flight to Pittsburgh was to leave at 11:10am. I tried to get to the airport two hours before. The hotel employee explained that it was going to take no longer than an hour. I reserved a shuttle for 8am so that we could get there by 9am. The shuttle came 15 minutes late. And, we got to the airport at 9:15am. Still, almost two hours before the departure. Then it was hell difficult to find a check-in counter for Delta airlines, but we managed to find it. The counter was empty. It took almost zero time to check in. But, in front of the passport control was a long line. Then, another long line before X-Ray. When we got to the gate, the airplane was already boarding.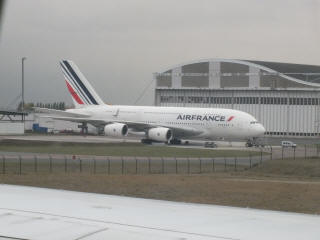 I saw Airbus 380 for real for the first time at CDG.
The return flight took 8 hours. It arrived almost on time. I again was tortured by the seat back that didn't tilt. Delta airlines quality. No different from PFTC. I want to avoid it in the future if possible.
It was my first experience to enter the U.S. at Pittsburgh International. Usually, when I come back from Japan, or some other country, I need to go through the immigration, then custom, and had to go through security checkpoint again to change an airplane. But, this time, Pittsburgh was my final destination. I was expecting that I could get out after going through the custom. I was wrong. Pittsburgh International airport is so badly designed that no matter if you change an airplane or if Pittsburgh is your final destination, you need to walk through the security area after the custom. Therefore, even though Pittsburgh was my final destination, I had to take my shoes off, had to take my laptop out, had to take off watch, wallet, any metal things, and go through the security check point. Although I didn't fly again, I had to re-check my suitcase, which was just carried to the outside baggage claim.
What a bad layout design! Because everyone needs to go through the security check point, it takes longer time than other international airport. And, local passengers are not expecting this. We were not prepared to go through another security check. If I knew it, I was ready to take my laptop out, take watches and stuffs off so that I could put them through the X-Ray, but I was not that efficient because I was totally caught by surprise. I hoped everyone who had a connecting flight got through in time. It's such a bad layout design. No wonder Pittsburgh International airport lost almost all international flights.
Nonetheless, at least we didn't have to be worried about missing a connecting flight. That was only one good thing. And, now I know how to get to Le Bourget airport. I'm ready to go to the next Paris air show. Next Paris air show will be 2013. I hope I have money and time to go there then.