Visiting Cleveland Air Show is now our annual family event. As every year, we have been to Cleveland Burke Lakefront airport on Sunday and Monday of the labor-day weekend.
However, the weather forecast looked hopeless. Hurricane Isaac was heading toward Ohio. Usually Hurricane loses its energy as soon as it landfalls. But, this particular hurricane didn't lose its energy and continued on its journey to the north. I was thinking to give up this time if the forecast predicted rain all day.
The night before going, the aviation weather forecast turned better, to my surprise. Cleveland TAF (Terminal Aerodrome Forecast) was no longer predicting rain all day. It was talking about occasional rain, but it was not for all day. Other general weather forecast sites were also predicting partly to mostly cloudy with some rain. The decision was go!
I thought most spectators was not going to rush to the air show because of the poor forecast up until the last minute. So, we also left an hour later than regular year. We left Pittsburgh at 8am, and arrived at the air show parking at around 11am. We usually park this parking lot rather than the parking lot right in front of the gate. I think this parking is easier because I don't have to drive through the crowd of pedestrians after the air show. Also it is very easy to get on to the freeway from this parking.
My primary goal from the Saturday show was to capture a ball of vapor around the airplane typically seen on the high-speed pass of F-18.
It rained a little bit on the way to Cleveland, but when we arrived, the sky was between clear to cloudy. The World-War II airplanes were already flying when we arrived there at around 11am, which was very early compared to the regular year. Usually, local remote-controlled airplane club shows some demonstrations until real airplanes starts the show. According to the air show announcement, they were adjusting the schedule so that they could fly as many performers as possible before the weather deteriorated. And, because of the change, they were going to respect the admission tickets for Sunday for the entrance on Monday. What a generous decision! So, we were able to save money for the Monday ticket.
When we arrived at the regular vantage point, a little bit to the west of the show center (you can identify show center by looking at the air-show announcer), Sean D. Tucker was already flying. He usually flies just before Blue Angels or Thunderbirds, but this time he flew in the morning. I thought the airplane may not appear vivid in this cloudy condition, but it came out pretty well. His red airplane, Oracle Challenger, appeared beautiful.
Then, soon F-18 took to the sky.
The goal was to capture a big ball of vapor along the shock cone. I saw it, but it was a bit too far. I captured interesting pictures, but not very impressive.
Another performance I was looking forward to was an aerobatic of Canadian Air Force CF-18. Canadian Air Force brought a CF-18 with a commemorative paint-job. In fact, the airplane flew in an air show in Toronto, and then received a mid-air re-fueling to fly to Cleveland. I heard two call signs on the radio and was wondering why two. One of them was actually KC-130 tanker airplane. Both two airplanes made one fly-by in a almost-re-fueling formation. I was also able to capture commemorative paint-job nicely. This was a success.
And Blue Angels' C-130 Fat Albert came back after a few months of maintenance. I saw the team using normal paint-job C-130 of Marine Corps in Latrobe and Dayton, but the famous White-Yellow-Blue C-130 is back in Cleveland! What's impressive was the spiral vapor trail behind the propellers on take off.
The second day. The sky was almost clear! Yes, Cleveland Air Show had beat the hurricane! We left Pittsburgh around 7am, and arrived at the Burke Lakefront Airport at around 10am.
Then, the stage was for F-18F.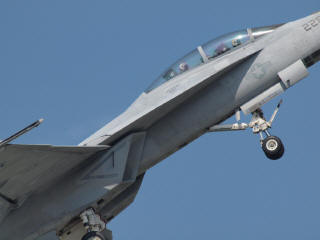 My goal was again to capture a ball of vapor, but....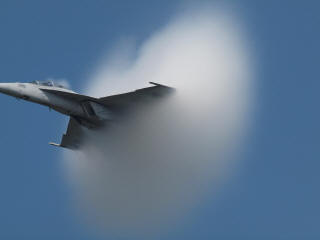 Big ball of vapor! And, I missed the nose! Why!? I missed the nearly once-in-lifetime opportunity! Why!?
I think it's the difference between professional airplane photographers and me. Those professionals never miss such a chance. I guess someone at the air show took a nice ball of vapor in front of the blue sky with entire body of the airplane. I guess I need to get more training....
But, I was able to capture the photo pass pretty well.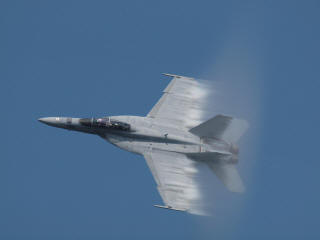 You can also see nice vapor in it! In fact, if you look closely, you can see shock cone, although it is obscured.
What made the Monday show special was F-22 Raptor fly-by. Actually I was hoping to see its aerobatic, but it was just a fly-by. Nonetheless, It was a very rare opportunity, especially the production was cut short. We were supposed to see its aerobatic flights as often as F-15 aerobatics, but unfortunately only about 200+ of this aircraft was built.
I was able to capture its high-speed pass pretty well.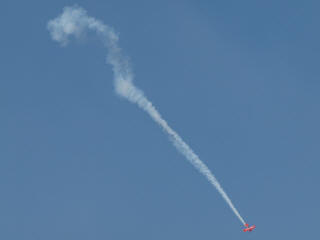 This time, Canadian Air Force CF-18 landed and got re-fueled before heading back home. It didn't come with KC-130.
Blue Angels perfomed a full-show under the blue sky. I never get bored of watching Blue Angels.
By the way, I tried my new strategy go capture high-speed surprise pass (it seems to be called "sneak pass" officially). I tried to aim at the nose of the airplane, and....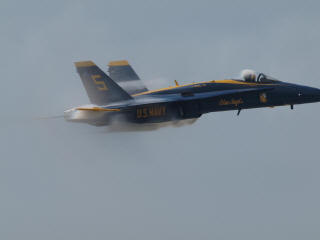 Getting there. After a few attempts, I hope I can get a nice shot of the sneak pass.
I'm going to organize pictures from Waukegan air show next, as soon as I can take time.