I am writing this part in San Francisco. I came to California for a conference, which happened to be from Monday to Wednesday following the weekend of Fleet Week Air Show. I have been wanting to see the Fleet Week long. What am I thinking? I never imagined that there is such a luxury of eating nice seafood, and watching Blue Angels over the ocean within walking distance from the hotel!!!! I'm going to write more. I'm trying to be a resource for an air-show visitors, so I hope I can give some photography tips and where to watch. Anyway, what I am writing here is about Waukegan air show.
Within a week from Cleveland air show, I took Friday off and came to Chicago. About one hour drive to the north of Chicago is an airport called Waukegan. I came all the way from Pittsburgh to go to the Waukegan air show.
It is relatively a small air show compared to Dayton or Cleveland and was beyond my driving distance from Pittsburgh. The reason why I came to this air show was mainly because a long-time YSFLIGHT user is working as a professional pilot out of Waukegan. He saw my post of Dayton air show this year, in which I talked about why A-4 Skyhawk is my second favorite airplane. My best favorite is Concorde, by the way. And, he contacted me and said the particular A-4 Skyhawk I saw in Dayton this year was based at Waukegan and was scheduled to fly in the Waukegan air show this year. Although it was in the semester, it was not too impossible to make a short trip to Chicago over the weekend. To see the practice flight, I took Friday off and headed for Chicago.
A week before the air show, however, an very unfortunate fatal accident took place in another air show near Chicago. A L-39 Albatross in a three-airplane formation suddenly entered a steep bank and crashed into the ground. It appeared that way from the video clip, although the investigation is still underway. The wing leader of the formation was the pilot who was supposed to fly A-4 Skyhawk in the Waukegan air show. He seemed to be ok with flying an A-4 Skyhawk in Waukegan. But, due to some circumstance, he had to cancel the flight of A-4 Skyhawk.
Although my favorite airplane was cancelled (it was only on the static display), Canadian Air Force Snowbirds were scheduled to fly. I had seen Snowbirds only twice before. Once in Dayton and once in Pittsburgh. European style 9-airplane aerobatics were very impressive. I was looking forward to seeing them again.
The air show was only on Saturday, and the practice flights were supposed to be on Friday. I left Pittsburgh in an early morning flight for Chicago. I wish I had my own Cessna 182, but I am not that rich yet. I flew as a passenger in American Airlines. I got a rental car, dropped my wife off at Mitsuwa Japanese grocery store, and then headed north. As I came close to the airport, light rain started hitting my wind shield. But, soon I saw nine airplanes of Snowbirds taking off. The practice session has already started! My GPS was showing I was still 15 minutes or so away from the airport. It was still ok. Snowbirds doesn't start the show right away unlike American style teams. All airplanes take off, and form up a formation, which takes five to ten minutes, and then they fly into the show center. So, I still had chance to see most of the show. I arrived at the airport when Snowbirds already performed two or three maneuvers. Yes, I missed only a few.
Snowbirds is an European-style aerobatic team. American-style team fly 6 airplanes, four airplanes for formation plus two solo airplanes. European-style teams fly more airplanes, and the combination of the formations changes more flexibly. Snowbirds fly 9 airplanes, and they fly a big formation of nine, or two 3-airplane formations, two 2-airplane formations, and so on. It is very interesting to watch. I think it is also possible for American-style teams to fly like three 2-airplane formations, or two 3-airplane formations, which would make more variation of the maneuvers.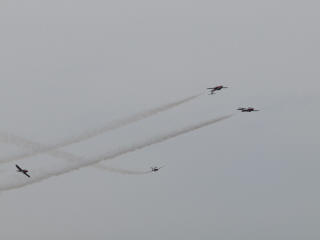 Corkscrew. A formation of two is leading two solo airplanes flying barrel rolls.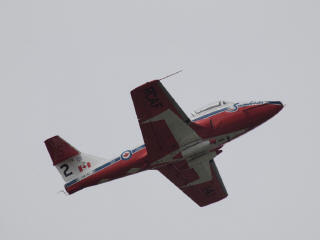 Because of the small size of an airplane, there are not many chances of taking close-up of a single airplane.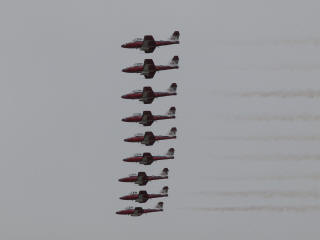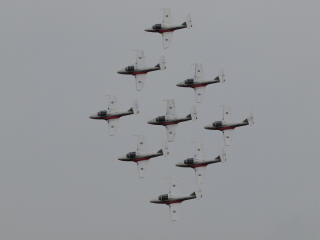 It's a long line abreast formation! (left) Nice angle, but I wish the weather was better (right).
Then F-18 and A-10 flew aerobatic practices. I didn't get too good shots. I captured A-10's take off pretty well.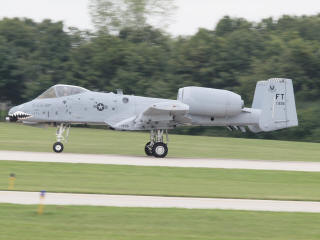 Then, my friend there let me ride in the back seat of DA40 in his student's training flight. I saw Snowbirds, A-10, F-18 etc. parked on the ground from the above.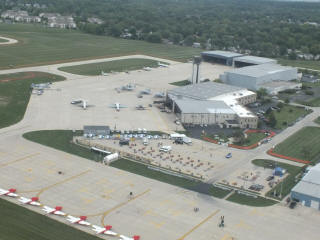 Birds' eye view of the air-show set up.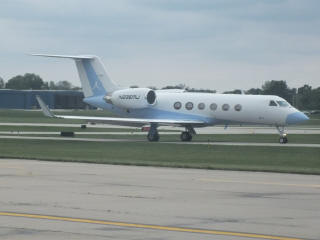 I heard this jet was owned by the basketball star Michael Jordan.
The next day. The sky was clear. Wild blue yonder! It was the best condition for an air show. It was just a bit windy.
The gate was going to open at 10am. We arrived at the airport around 9:30am. The Waukegan air show is very good for photography. The performances are flown over the main runway 5-23, and the spectator area is south of the main runway. The sun is behind the spectators almost all day. But, the condition gets difficult in the late afternoon. At that time, the sun is almost to the left. Everything to the left appears dark, and to the right bright. Combined with red and white paint job of Snowbirds, it was a difficult condition to take pictures of Snowbirds. In conclusion, I think I shouldn't have used exposure compensation. You'll see below.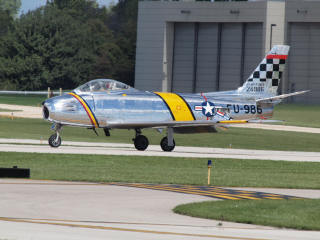 F-86 of the Warbird Heritage Foundation.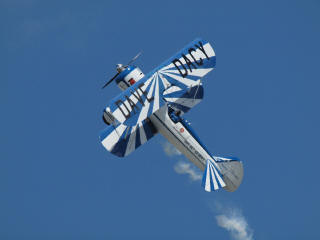 Boeing Stearman. I don't know how many Stearmans are still flyable today. I see a lot in many air shows.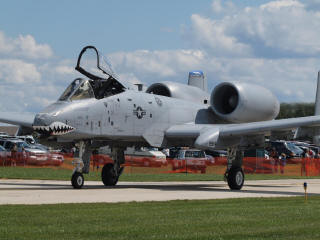 A-10 taxiing out for the demonstration.
Then it was a turn for A-10 demonstration. I captured a miracle shot! Since I didn't have a past photo data, obviously because it was my first time to come to Waukegan air show, I didn't know what was the good focal length for each airplane. My strategy here was starting with 100mm (equivalent to 400mm of 35mm film, with 2x crop factor and 2x tele converter), and gradually zoom as the airplane come closer. That worked.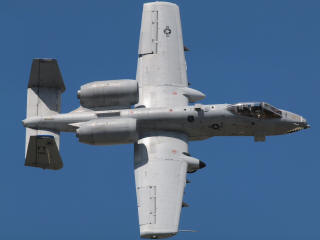 Believe or not, I resized the picture, but I didn't crop. I captured the A-10 with the full resolution of my camera. You clearly see markings and the helmet of the pilot! It was an amazing shot. I don't think I can capture any better shot of an A-10 in the future.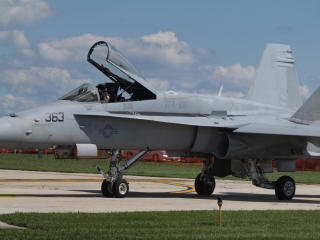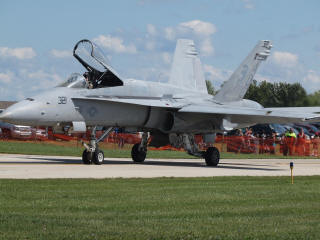 F-18C taxiing out for the demonstration. Legacy hornets are being replaced with F-18E/F and getting rare.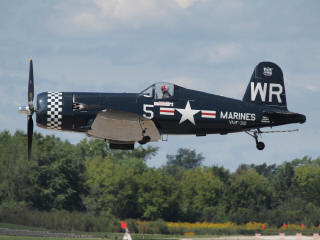 This F-4U Corsair flew a heritage formation with one of the two F-18Cs.
Then, it was a turn for Snowbirds. All nine airplane took off, and .... They never came back. They were circling to the south of the airport. I was able to catch the frequency and was listening to the radio, and it turned out #1 airplane had a bird strike. If it were one of other airplanes, they probably continued without one airplane until a stand-by airplane takes off. But, without the wing leader, they had to wait.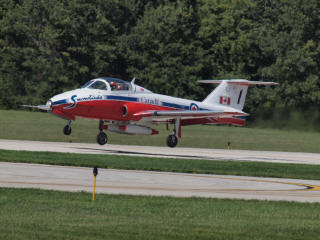 #1 airplane landed after a bird strike. I didn't see clear sign of damage.
Later I heard that a poor bird hit the right-hand side of the nose. I also looked at the right-hand side of the nose but still didn't see any sign of damage. Probably the pilot decided to land in case some part of the bird may be sucked into the engine. Poor bird violated the air-show TFR (temporary flight restriction), and shot down by the Canadian air force. Rest in peace.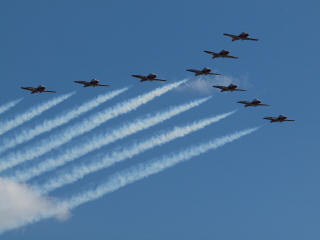 When the show started, the sun was already to the left, not behind of, the spectators. It made the photography very difficult. The white color of Snowbirds appears much brighter than the background when lit by the sun. In that case, I need to use negative exposure compensation, or the white part saturates the digital camera sensor. The red color does not require that much exposure compensation. Rather, I need to use positive exposure compensation when it is to the same direction as the sun, or the airplane will appear just plain black. So, I had to use different exposure compensation for the left and right, and if top side or bottom side of the airplane is visible. And, it was just my third time to see Snowbirds, and I was not too familiar with their formations and maneuvers.
Despite the difficult condition, I think I did pretty well.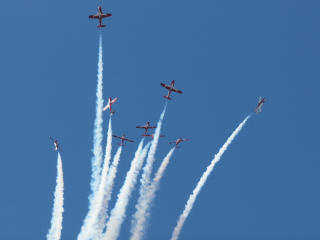 Nine-airplane bomb burst upward! What a view!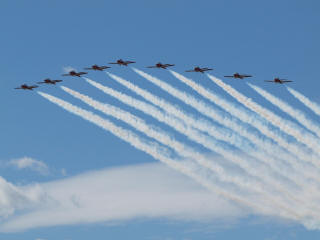 They flew delta, instead of line abreast this time.
But, I picked a totally wrong setting for the last pass. From the last day, I was trying to get back side of the nine-airplane formation. But, because I was far to the left from the place I had been the day before, the angle was very different, much more different than I expected.
I set up my -1.0 exposure compensation to prepare for bright white color, but it was too dark.
Of course, I can use an image processing to make it brighter, but when I process a picture, it loses its information little by little. It's ok. I admit my mistake of the camera setting.
I'll get a better picture next time. And, it was my third time. I hope I will have many more chances to see Snowbirds in the future.
After the show, my friend took me to the hangar where the A-4 Skyhawk was kept. Although the Skyhawk did not fly, I was able to have a close look of the beautiful airplane. And, there he introduced me to the pilot of the A-4 Skyhawk, Mr. Paul Wood. Actually, this particular Skyhawk was featured in a Japanese magazine called "Koku Fan" (Koku means Aviation in Japanese). I took my copy and had his autograph. This copy is now one of my family treasures.