I came to Dayton air show as I do every year. Air Force Thunderbirds were supposed to participate, but as we know, all military participations including Thunderbirds are cancelled due to infamous government budget cut.
However, I was expecting to see B-29 of Commemorative Air Force (the same B-29 I saw last week at Allegheny County airport) and A-4 Skyhawk. Those two were good enough to me.
I arrived at the air show parking around 8am. I was second car in the general-admission parking. B-29 ride was scheduled to fly from 9am. I thought if B-29 lands on 24L, parking lot would be the best location to see.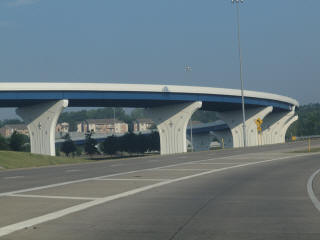 Bridge-support at I-70 and I-75 has a symbol of Thunderbirds' High Bomb Burst engraved.
But, the radio implied that the air-show participating aircrafts were directed to 24R, and other aircrafts were directed to 24L with small exceptions. So, I decided to go in before B-29 takes off. I made it, and was able to capture B-29 just before touching down.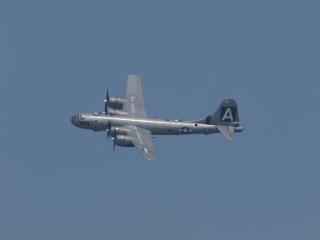 B-29 showed its back to the show center after an overhead pass
The air show performances started at around noon with a huge American flag drop followed by Wright Flyer B.
Then an F-86 took off. Mr. Paul Wood was at control. He is based at Waukegan and also owns A-4 Skyhawk. He autographed my Koku-fan magazine last year at Waukegan air show. (Actually, I have another autograph from him on Flying magazine as well.)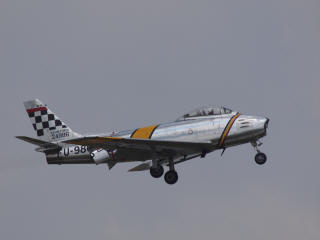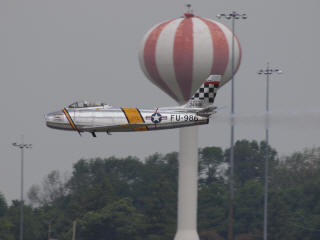 I could never imagine a tragedy was about to strike when I was watching F-86 flying.
While I was taking Wright Flyer B, the camera battery got low. So I switched the battery, and decided not to take pictures of the next wing walking. I have seen her stunt several times before. I saw her in last Cleveland air show and other air shows. While I was watching her wing walking, the cloud came in to the area. The forecast was predicting a clear sky. Occasionally her airplane was in a shadow of a cloud. The sun was still out while F-86 was flying. I was worried about the cloud condition at the time of A-4 Skyhawk.
The wing walker Jane Wicker was dangling under the airplane wing. And the airplane was going to invert so that she comes on top of the wing.
I remember that I saw the airplane started to go inverted. Before the airplane became fully inverted, it looked to me like 120 or 130 degree bank, but a video from another angle indicated 150 or 160 degree bank, the airplane rolled back to almost 90 degree bank like knife edge, and the nose dropped. There was a moment that I realized that the airplane was not going to make it before it hit the ground. Next thing I saw was the airplane disintegrating into pieces and a large flame. That happened right in front of me. I think the airplane crashed within 1,000ft from my location.
I have visited many air shows, but I have only seen an accident twice. Both two accidents were fatal and happened to be in Dayton air show.
An ambulance, probably carrying the remains of the bodies of the pilot and the wing walker, left the accident scene. The remaining of the show was subsequently cancelled. The wreckage was right in front of the spectator area. It would be too bad a taste to see all flying activities in front of the wreckage where two airmen were just killed. I think it was a right decision.
It was a very sad accident. But, they understood and accepted to take the risk. I took my hat off, saluted (mentally), and left the scene. Although the forecast was predicting a good weather, a thunderstorm struck the Dayton International airport when I came back to my car. The sky seemed to be mourning two airmen lost in the accident.
A video of the accident I saw later indicated that the aircraft was almost inverted, when its left wing dropped suddenly. Then the nose came down and never recovered. It appeared to me the left wing stalled. It reminded me of when I was practicing uncoordinated stall. In uncoordinated stall, left or right wing stalls first, and the airplane rapidly banks to the side of the stalled wing. Of course, I was practicing at 1,800ft above ground and was upright attitude. If I enter uncoordinated stall at this low altitude, there is virtually zero chance of survival.
The wing cannot support the airplane near 90 degree bank, and the airplane wants to descend. In fact, the integral of the lift is zero during continuous roll with constant G, the airplane therefore flies a parabolic trajectory. To compensate for that, the airplane needs to first add power and raise the nose up to gain positive vertical speed and then roll into inverted flight. Ideally the vertical speed must be zero when the airplane is completely inverted.
Indeed, Jane Wicker's airplane first pulled the nose up just a little bit before rolling. However, the video indicates that the airplane was actually descending before it was fully inverted. Although the vertical speed was negative, the nose of the the airplane was gradually coming up. Stearman's airfoil is not symmetric, and it doesn't require as much angle-of-attack as upright position to stall inverted. Finally, the left wing dropped. The left wing was carrying the wing walker, and the airplane was not symmetric. The essence of uncoordinated one-wing stall was there. Maybe the pilot started rolling before the airplane gained enough positive vertical speed, and he may have pushed the stick too hard hoping to stop sinking. That's the impression I got from the video. You can easily find a video by searching for keywords "Dayton air show crash".
One of my friends suggested that the reverse roll was intentional. The pilot could have decided that the airplane needed to come back upright to stop altitude loss. But, what is certain is that the airplane started losing altitude while rolling into inverted flight.
In a low-altitude aerobatics, just one mistake means fatality. It is such unforgiving. But, that's the world they lived. That's the world they loved. They were seeing and feeling something we can never touch unless we live in their world.
Day 2.
I was the second to reach the general-admission parking on the first day. I didn't have to be that early. So, I delayed the departure from hotel by 15 minutes. This time, I was eighths in the general-admission parking. I could have delayed by 30 minutes. I knew B-29 FiFi was going to land on 24R. So, I entered around 9am. Maybe due to the accident and due to lack of military demonstrations, not so many people at all. I walked around and bought some souvenirs for friends. I found a nice polo shirts with Thunderbirds emblem. I bought one for myself.
B-29 FiFi took off runway 24L around 9:30am. Why 24L? Why not in front of the early-bird spectators? Actually nobody was at the podium at that time. I was worried that the flying demonstrations were cancelled all together. But, soon air-show crews came to the podium. And, then B-29 came back, made an overhead pass just like it did at Allegheny County airport, and landed runway 24R.
Around noon, after the moment of silence for the two aviators lost their lives the day before, the air show started. The air show announcer briefly described the scheduled performances, but A-4 Skyhawk was not included. So, my guess was right. A-4 Skyhawk was cancelled.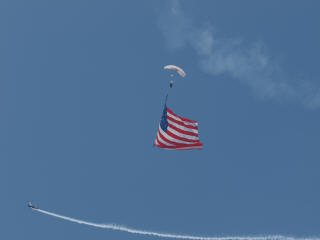 The F-86 did fabulous aerobatics including many vertical maneuvers.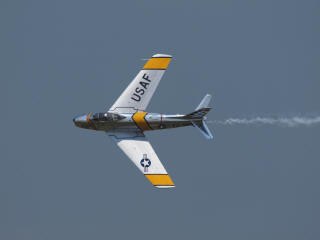 Then a crop duster took off. I wondered why a crop duster? It turned out to be a promotion for a new Disney movie.
F-4U Corsair was originally supposed to fly a heritage formation with an A-4 Skkyhawk, but it flew a solo.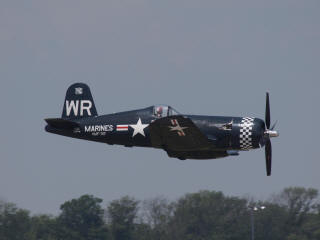 I'm glad I could see Sean D. Tucker.
I upgraded my camera from mid-class E-30 to high-end E-5 this season. I'm impressed by the picture quality of my new camera. You can read "SEAN D. TUCKER" and even "EXPERIMENTAL" written inside the cockpit. Not as much heat haze as last year also helped.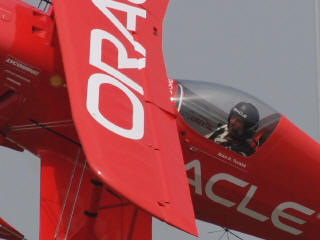 Since A-4 Skyhawk was cancelled, F-86 and Mig-17 were the only two jet aircrafts participated in the air show.
Skip Stewert's aerobatics was absolutely breathtaking. He started off with low-altitude knife edge as soon as the tire left the ground. That was really low. I suspect that the distance between the airplane and the runway surface was less than 3ft. It is not so uncommon to see an airplane going that low during an aerobatic session, but typically done upright, not with 90 degree bank like his performance.
Then, "Red Tail" P-51C took off. According to the announcement, there are only three C model P-51 are kept flyable among more than 150 flyable P-51 Mustang. It did a few passes, but it stay high.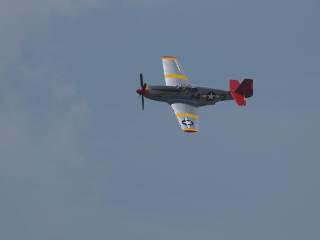 This is full-frame with 800mm (film-equivalent) lens. It stayed high.
And, B-29 FiFi finally took off with escort of the P-51C. This was one of the two things I was looking forward to the most. I have seen this particular B-29 a week before at Allegheny County. Also on the Day 1 of Dayton air show, but those were high-altitude overhead pass, mainly because it was carrying passengers. But, this time, it took off for flying demo. I was expecting to see some photo pass with its back visible to the spectators.
Well, that didn't happen. It stayed quite high. Probably it didn't come below 1,000ft. Maybe the air show admin raised the altitude restriction. I don't know. But, I had to extend my zoom tele-photo to the longest focal length.
Nonetheless, I enjoyed watching it flying. I missed some nice photo opportunities, but I have much better idea of what to aim when I see this B-29 FiFi next time. I hope this B-29 fly forever. Great job of Commemorative Air Force!
Also I was also glad that this time they kept Pyro until the end of the show. It's a nice visual effect, but the smoke coming from the pyro obscures the airplanes. My main purpose is watching airplanes. I was hoping them to hold off the pyro until this B-29 makes a few passes. Actually, they held off until the very end of the air show. It was very nice. This way spectators can see airplanes better, and the wall of fire is also spectacular, it's worth seeing once.
I needed to come back to Pittsburgh early. So, I left the airport as soon as B-29 landed. So, actually I saw the pyro from far away. The Aeroshell aerobatic team could not land on air-show runway (24R). I believe the smoke was making it IMC.
The A-4 Skyhawk was not there after all. But, it was a nice air show, and I think the air show organizers did a great job making it exciting even without military participations. I'll definitely come back next year!