I had been in Japan for about two weeks. It was particularly a difficult trip to plan due to several constraints. What made it even more special was Asiana Airlines crash at San Francisco. I flew in the same-type aircraft the day after the crash. My wife traveled separately via San Francisco, and her airplane ended up taking off beside the wreckage. We really wanted to use Haneda airport rather than Narita airport this time because Narita is extraordinary super inconvenient. If you use Narita airport, you would waste one whole day. If you are planning to visit Japan, don't use Narita. Make sure you use Haneda airport, which is much closer to Tokyo. No Narita airport. Haneda airport also has more fun things to do, like better shopping mall. Observation deck of Haneda airport is also much nicer than Narita. But, due to scheduling reason, we ended up with Narita again. I think Narita airport is good for Air Self Defense force. It would be better used by the military for capital air defense. I would vote for turning Narita airport into Narita air base.
I used to fly Northwest (now Delta) because it was cheaper. But, this time I took a luxury of All Nippon Airways. If you are tired of being treated like a cargo by U.S.-based airlines, try All Nippon Airways or Japan Airlines. Their service quality is magnitude better. If you want to save energy and jump-start your tour in Japan, you would want to fly comfortable.
And, my Chicago to Narita flight was far from full flight. There were so many empty seats, and it was going to be even more comfortable. It was supposed to be. But, maybe due to the heavy work load before leaving, I got badly drunk just by two glasses of wine. I didn't even drink two glasses in a short time. One glass just after take off, and the second glass with the in-flight meal. After eating, I fell asleep, nice and comfortable. But, maybe within 30 minutes, I woke up and felt extremely bad. According to the cabin attendant, I was pale, and she thought I was really sick. Lucky to me, there was four empty seats side by side. I was allowed to lay down there. So, although I was feeling very sick, I could sleep. I never drunk this bad just with two glasses of wine before. (Yes, I know I can get easily drunk in thinner air. But, I have taken two glasses of wine in an airliner many times before, and had no problem.)
I knew the air pressure was one reason why I got this drunk and was expecting to feel better when the airplane descend for landing. As I expected, when the airplane descended to 7,000ft or so, I felt better. In fact, I felt just normal. I prepared before leaving Pittsburgh an after-landing check list so that I could do everything without missing anything. (A pilot's habit.) I was able to follow all the items quickly, and took Narita express to Shinagawa. After checking in to the hotel, I still had energy to go to Akihabara for shopping. But, I was shocked by seeing so many computer parts shops closed. I could buy most of the stuffs within my shopping list, not from those small chaotic computer parts shop, but from a big retail store. There used to be so many computer-parts shops there, and one of my favorite things to do in Japan was walking through those parts shops and find gadgets that I never knew existed. But, it seems that this hobby will no longer be available by the time I visit there next time.

My primary goal was to take this airplane in the air with my new Olympus E-5.
The second day in Japan. I went to Iruma Air Self-Defense Force base to see C-1, YS-11, and T-4 airplanes, all of which are designed and built in Japan. There are three stations nearby the base, one is good when runway 17 is in use, another runway 35, and the last one is in the middle. Forecast was predicting north wind early and then south wind. I didn't know which runway was in use. So, I took a train to the middle station. I woke up early due to jet lag. I took advantage and avoided famous (infamous?) Japanese extreme commuter rush hour.
I was listening to the air-band radio, and figured runway 17 was in use. In fact, runway 17 is good for taking landing pictures. I got off Inariyama Kouen station, and walked about 15 minutes to the photography spot. I was not familiar with the road from the station to the photo spot, but I bought Garmin GLO before leaving Pittsburgh, which added GPS reception to my iPad mini. My iPad mini guided me straight to the spot.

(Garmin GLO)
My primary targets were YS-11s and C-1s. T-4s would be used longer, but YS-11s and C-1s may retire as soon as Japan Air Self Defense Force can afford replacements.
Iruma air base is a home of many C-1 cargo and YS-11 air inspection squads. In a normal day, I should see many of those airplanes taking off and landing. But, something special was going on that day. I saw many T-4 trainers, used for utility purposes by other squadrons, flew in to Iruma base. In fact, one T-4 each from all fighter bases except from Okinawa flew in. A local airplane spotter speculated that those came for a meeting for annual tactical exercise and competition. But, maybe due to that, I saw only one YS-11 and few C-1s taking off in the morning and it didn't return until I left. The spot was best for taking landing picture. So, it was somewhat disappointing for me.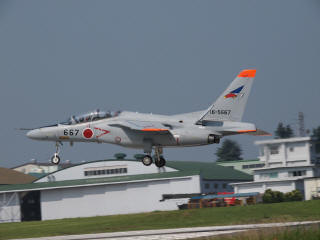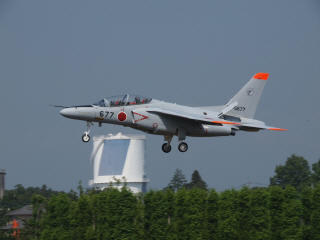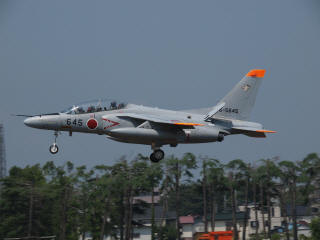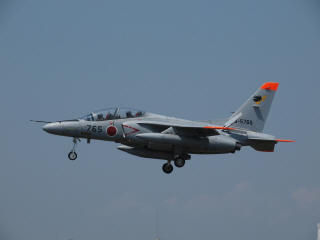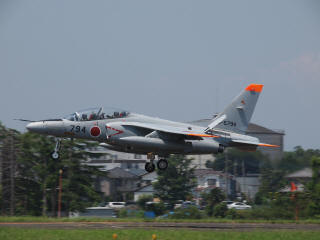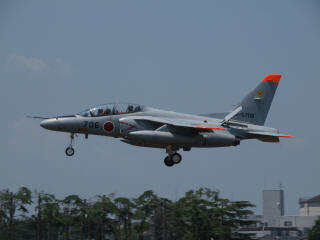 T-4s from six different bases. See tail squadron symbols.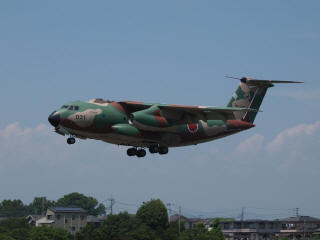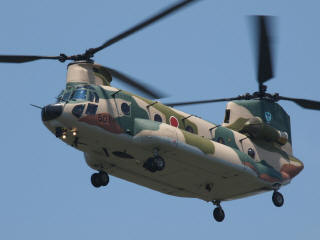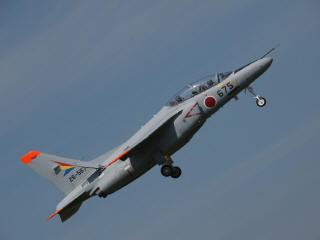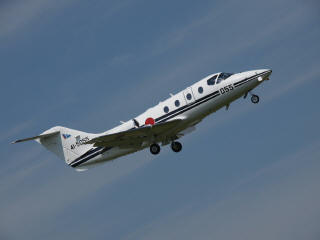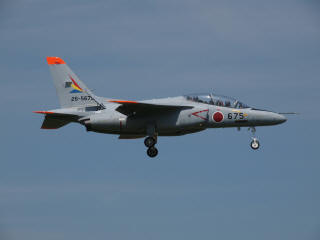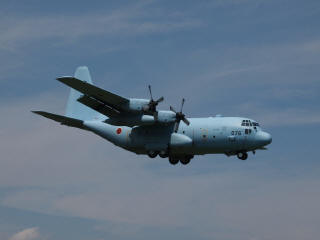 Other airplanes I saw on this day.
Next day. I wondered if I should go to Atsugi base or Iruma base. But, because only few YS-11s and C-1s flew, I expected to see more on this day. I decided to go to Iruma base again. To my disappointment, only few YS-11s and C-1s flew on this day again. At least I could see electronic warfare version of YS-11 and cargo version of YS-11. I hoped they were going to be flying by the next time I could visit there.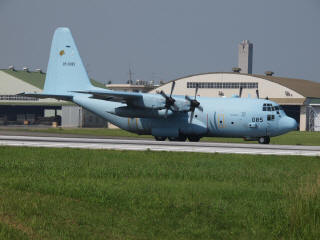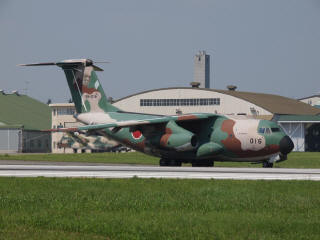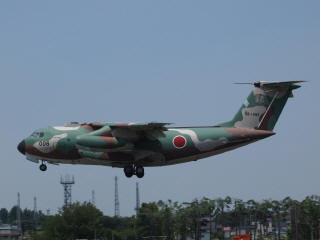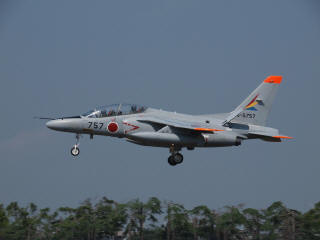 Pictures from the morning flights.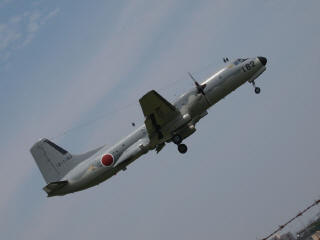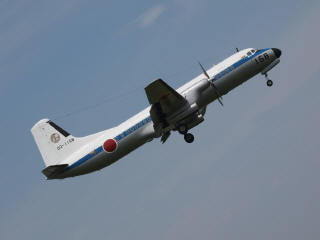 An electronic warfare version and a normal cargo version YS-11s landed in the afternoon.
My wife joined me later on that day. And, we moved to her home in Fukuoka in a Shinkansen train (also known as Bullet train). My Garmin GLO and iPad mini showed exactly where I was while I was in the train. It was interesting to be able to track where I was.
On 7/12, I visited Fukuoka airport to see Boeing 787 landing. I checked the schedule of All-Nippon Airways and figured All-Nippon flight 253 was going to be 787, which was to land around 3pm. So, I went there around that time, and tried to catch it on the radio. The landing runway was from the ocean side, and the observation deck was best for taking airplanes just before touching down. Soon I heard gAll Nippon 253h on the radio. I could catch gAll Nippon 253, descend and maintain 4,000h. I knew it was going to land soon. I tried to find 787's unique large dihedral angle. However, I didn't see 787. I apparently missed the hand-off to the Fukuoka tower (I was scanning through many frequencies), and next thing I heard was Fukuoka ground to direct All Nippon 253 to taxi to the gate. gWhat?h I never saw 787. In fact, what taxied to the gate was Boeing 777. Not even in the All-Nippon Airways paint job. It was painted Star Alliance. No fun. I stayed more than 20 minutes in 90+F temperature. It was a very high degree disappointment.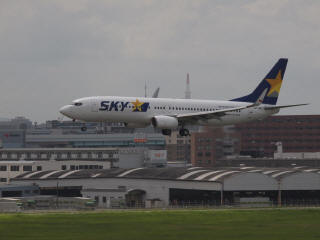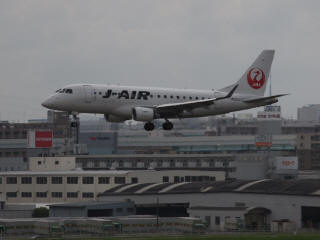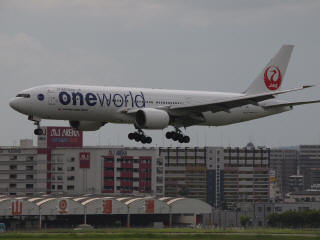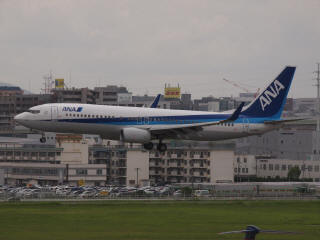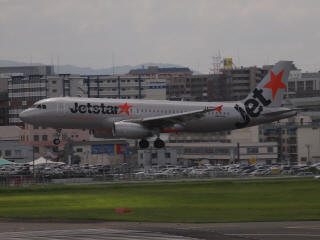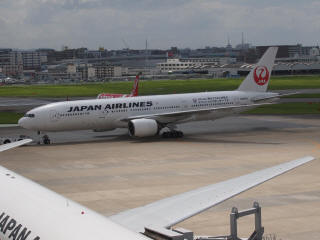 From Fukuoka airport observation deck. Nice spot for taking airplanes just before landing when RW16 is in use.
But, no 787 landed.
Since my wife is from southern Japan, and I am from northern Japan, I usually end up going all the way south to north every time I visit Japan. This time, I took Shinkansen train back to Tokyo, and took an airplane to my home. Because I had Japan Rail Pass, I could save a lot by using trains. And, I had about 40 minutes at Haneda airport while I was waiting for my airplane.
That was my last chance to see Boeing 787 on duty in this trip. I rushed to terminal-2 observation deck, where I could see most of All-Nippon Airways airplanes, and also was good for afternoon lighting condition. I saw a few 787s at the gate. I hoped to see some of them taking off.
While I was at the observation deck, I saw two of them taxiing out. However, they both took off from the parallel runway behind me. I finally could not see 787 taking off. All I could see one flying was landing 787s far away. Nonetheless, I could see JA801A, which I believe the very first 787 delivered to ANA, which is supposed to be the very first 787 put on service.
Probably 787 will be nothing special by the time I visit there next time. We have seen some troubles after 787 resumed flying. But, I think all of them are because airlines are not used to the airplane. They would accumulate knowledge on how to maintain and fly 787 quickly, and I expect troubles will die down exponentially.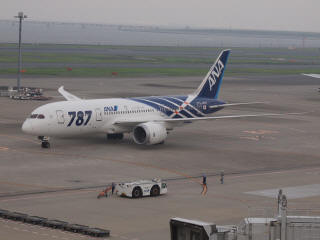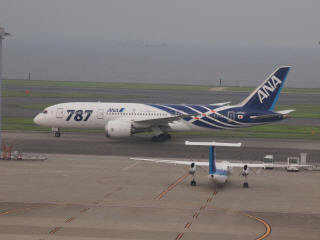 I believe this was the very first 787 put in service.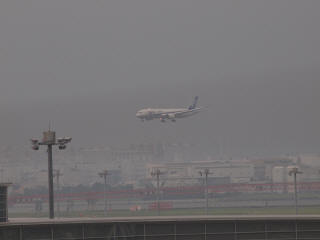 I could only see 787s in the air very far away while they were approaching RW22.
I was supposed to visit Matsushima air base to see T-4 Blue Impulse flying, but I had to cancel due to heavy rain. Actually I really wanted to avoid visiting Japan this time because Japan was in the rainy season. I hear that Pittsburgh is a humid and uncomfortable place to live. But, the humidity level at Pittsburgh is nothing like absolute zero compared to the humidity in Japan in the rainy season. In the past, whenever I visited Japan, I saw at least one flight of Blue Impulse, but this time I couldn't do that tradition.
Last visit was in winter, and super tight schedule, and myself and my wife caught a severe cold. We couldn't enjoy return flight. But, this time, we didn't catch cold at least. Our return flight to Pittsburgh was nice and comfortable. Next time I will definitely avoid rainy season. I wish I can visit Japan again in May.