I was in Japan from late May to early June. The biggest event during the travel was Miho Air Show. The last air-show in Japan I saw was in 2002, while I was staying in Japan after finishing my Ph.D.
Then I got married in 2004. Obviously, the marriage would fall apart unless my wife is also an aviation enthusiast. I have visited so many air shows with my wife. My wife had chances to watch Thunderbirds, Blue Angels, Snowbirds, and other teams in the U.S. Mr. Sean D. Tucker has been our favorite.
However, despite that my wife was born in Japan, she had never been to an air show before wedding and had never seen the Japanese Air Self Defense Force's world-famous, Blue Impulse. This time, finally, I was able to take her to an air show where Blue Impulse performed.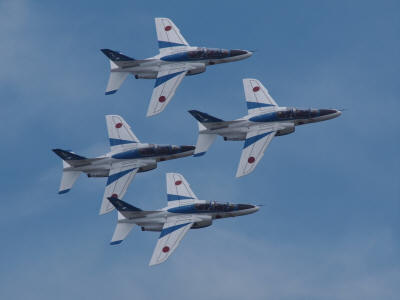 Blue Impulse performing in 2015 Miho Airshow
If you are interested in visiting a Japanese air show, Miho and Shizuhama air shows are two very good candidates. These two air shows are usually scheduled for May or June, just before Japan goes into the rainy season. The rainy season lasts typically a month. Any air shows during that period of time are very likely to become a static-display aircraft show due to rain and low cloud. Late May is the time just before the airline ticket price jumps up for the summer vacation season. You should be able to find a ticket for a reasonable price. Also Miho and Shizuhama air bases are not close to a big city, and you won't be trapped in a massive crowd. You can also find a nice nearby hotel that serve traditional Japanese dinner.
If you are able to take a week off in September, probably Misawa air show is a very good candidate to go. Or, if you can visit Japan in November 3rd, Iruma air show is usually on that day. But, if you choose to go to one of these big air shows, expect massive, really massive crowd. The air show in Japan is typically only a one-day event, not spread into two or three days. Everyone who wants to come will come on the same day. Due to the proximity to Tokyo, recent Iruma air shows get crazy crowded, according to my friends.
This time, the original plan was to go to Shizuhama air show, which was held on the same day as Miho air show. I was guessing that Blue Impulse was going to perform over Shizuhama at the time I was planning the travel, but I could not confirm then because Japanese Air Self Defense Force does not release the official schedule until the beginning of Japanese fiscal year in April. When it was available it turned out that Blue Impulse was going to fly over Miho, not Shizuhama. I had to make a sudden change of travel plan. I cancelled a hotel, and booked a new one near Miho base. We could have taken a train from Tokyo to Yonago (Yonago is where Miho base is located), but sitting in a train almost all day soon after the international flight might be too much stress. I booked two airline tickets for Tokyo to Yonago.
From Pittsburgh to Tokyo Narita, I flew Japan Airlines. I had never flown in Boeing 787 yet and wanted to experience what it is like. So, I chose to fly Japan Airlines from Boston to Narita, which is operated with a 787. Would I feel the difference? Maybe my body did. I typically sleep well in international flights. However, this time, I couldn't fall asleep. Boeing 787 keeps higher cabin-air pressure than conventional airliners in flight. Maybe I didn't become sleepy because there were more oxygen. Which may not be a bad thing. If you fly from the U.S. to Japan, your jet lag will wake you up very early in the morning, and you can take advantage of it. You can ride early trains to move around before the rush hour. I was planning to take full advantage of it. Because I didn't sleep in this international flight, I successfully had a maximum-intensity jet lag.
Upon arrival at Tokyo Narita airport, I exchanged some U.S. dollars to Japanese yen. From my past experience, currency exchange in Narita airport takes less conversion fee than doing so in U.S. airports. They take like 3% fee. A few years back, one U.S. dollar was converted to only 80 Japanese yen. Now it was 123! Thank you, prime minister Abe! Then, I bought a pre-paid SIM for my wife's iPhone which was made SIM-lock free just before leaving Pittsburgh. After downloading the APN setting, her iPhone was connected to NTT DOCOMO network like a charm. (There was a struggle when we came back to the U.S. due to this stupid APN thing though. I'll write it later on this page.) My iPhone 5S was not yet off the contract, so I couldn't make it SIM-lock free. I pulled out the SIM so that I have absolutely zero chance of picking up a connection and getting ripped off by the roaming fee. Instead, I rented a portable WiFi adapter. I could have purchased a pre-paid SIM for my AT&T Elevate 4G LTE that was made SIM-lock free. But, I was not sure if it works in Japan. To be safe, I used a rental portable WiFi router. Actually, I confirmed that Elevate 4G LTE works in Japan. I will use it next time. Pre-paid SIM is a lot more convenient than a rental WiFi adapter because I don't have to return it.
Then we moved to a hotel nearby Tokyo Haneda airport, and our day 1 was over.
The sad fact is there is a very inconvenient airport in Tokyo called Narita. Narita airport is a product of failed aviation policy of Japan. For whatever reason, Japanese government wanted to build an airport far away from Tokyo and use it almost exclusively for international flights. Most of the domestic flights depart from and arrive at Tokyo Haneda airport, which is really in Tokyo. I think it would be the best to convert Narita airport into a Japan Air Self Defense Force base, and use Haneda for both international and domestic flights.
If you plan to fly to Japan, you need to make a tough choice. Both of the two Japanese international airlines, Japan Airlines and All-Nippon Airways provide with a great service quality. If you are tired of being treated like a cargo, you should try one of these airlines. They are a bit more pricy than U.S.-based airlines, but if the international flight is an important part of the travel for you, it is worth paying some extra. Unfortunately, most of the U.S.-Japan flights of JAL and ANA use Narita airport. So, you may need to make a tough choice between a great airline service and a convenient airport. I wish Narita airport be gone, but it will stay there for a while.
Day 2. My wife and I successfully woke up very early. We took 9:55am flight from Haneda to Yonago. Actually, Miho air base is sharing the runway with Yonago airport. When the airplane landed, I saw Blue Impulse crews lined up next to the airplanes. I hoped that they were going to fly a practice. But, it could have been just after a practice flight. I ran to the observation deck, but it turned out that Blue Impulse had just landed. We've just missed the practice flight!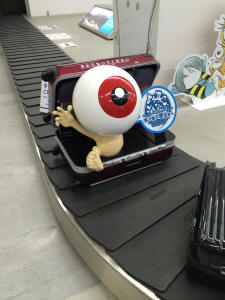 Greeted by a cartoon character at Yonago airport baggage claim.
We found that there was a sight-seeing tour taxi available from Yonago Japan Railways Station. We purchased a 2-hour course and looked around. Yonago is the birth-place of one of the famous cartoonist of Japan called Shigeru Mizuki. He wrote a lot of monster stories in his career. Yonago city was filled with his cartoon characters, actually cartoon monsters. Japan Railways trains were also wearing pictures of his characters, too. We wanted to go to mountain side if the sky was clear, but it was hazy. We visited the fishing port called Sakai-Minato. Sakai-Minato is not as touristic-place as Fisherman's Wharf of San Francisco, but the quality of fish is great! After the taxi tour, we checked in to Yonago All-Nippon Airways hotel. We realized that that the ruins of Yonago castle, which is now a park, was next to the hotel. We walked up hill of the park and saw the panoramic view of Yonago city all the way to Sakai-Minato fishing port.

View from the ruins of Yonago castle
Miho Air Show!
What's convenient now a days is that I can check the 10-day weather forecast of Yonago area before leaving Pittsburgh, which depressed me because the forecast was predicting rain on the day of the air show. In fact, the forecast was predicting rain three days in a row, and the air show was in the very middle of the 3 rainy days. I was hoping that it was not going to rain all day so that at least some airplanes could fly.
Day 3 in Japan was the day of the air show. If there was a farthest-traveled person contest in the air show, I'm pretty sure I was a very tough competitor.
The sky was not clear, but I was blessed with blue sky with some high clouds. There seemed to be a stationary front south of the Yonago area. Rain of shine was a matter of how much north the front was going to push through. If the front moved a little more to the north, Miho air show could have been totally rained out to become a static-display show. I cursed the front as strong as I could, and looks like the front backed off. As the prognostic chart indicated, I saw more clouds to the south, but that was all. The sky over Miho was a perfect air-show condition. By the way, had I not changed the original plan and had been in Shizuhama, I would have just enjoyed a static-display show due to rain. Everything worked out very well for me.
We took advantage of the jet lag and woke up around 3am. We checked out, asked the hotel to keep our luggage for the day, and took a shuttle bus to Yonago airport. The main gate of Miho air base is five-minute walk from the Yonag airport passenger terminal.
The flying demonstration started around 10am. Yonago is one of the remaining two air bases where you can see YS-11 cargo airplane. (The other is Iruma base.) I was not much interested in cargo airplanes when I was going to airshows all over Japan, but when I am living far away from Japan, YS-11 makes me feel nostalgic. I was looking forward to watching YS-11 and C-1 flight. It was good, but YS-11 made only two passes and landed. I knew many of the Japanese air-show fans are already too used to that airplane, but I wished I could see a few more passes.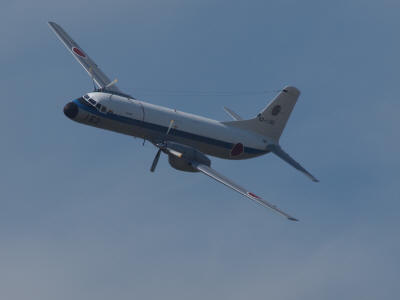 YS-11 performing a steep turn.
YS-11 and C-1s were followed by F-15 and F-2 aerobatics. It was once very common in the U.S. air shows to see performances of F-15, F-16, and F-18 in one air show. But, after the infamous budget cut, I typically see only one military jet per air show (excluding Thunderbirds or Blue Angels). It was very nice to see two jet fighters in one air show.
While I was enjoying Japan Air Self Defense Force airplanes, my wife was excited by the variety of food available at the air-show. In the U.S. air shows, what you can get is pretty much a hamburger or a hot dog. If you go to a Japanese air show, you can choose one from whole varieties of lunch boxes. But, if you visit a Japanese Air Show, buy a lunch box early. It is nearly impossible to buy a lunch box during the lunch time. If you stay in line, all flying demonstrations might be over when you finally get your lunch.
The weather stayed clear. Finally, Blue Impulse team took to the sky! By the way, if you have a scanner, Blue Impulse typically uses the control-tower frequency during the aerobatics (except in their home-base air show). Since the tower frequency is open to the public, you can easily find it. You don't have to scan for the air-boss and discrete frequencies. I was visiting their home base, Matsushima air base, almost every time I visit Japan, and I could see their over-the-field aerobatic practices several times. But, I hadn't seen them performing in the real air show from show center for 13 years. Their performance was fantastic!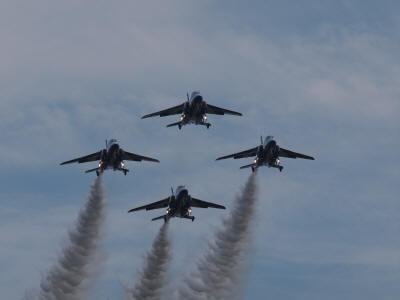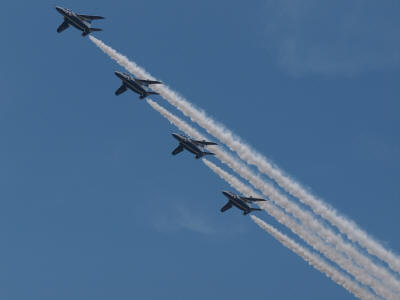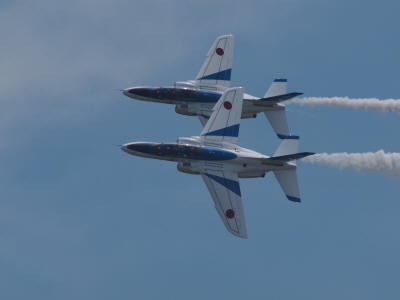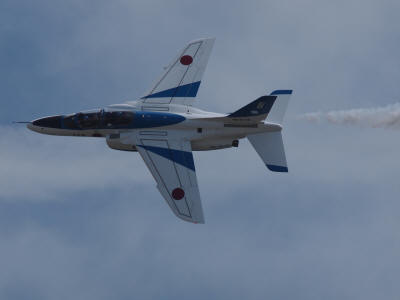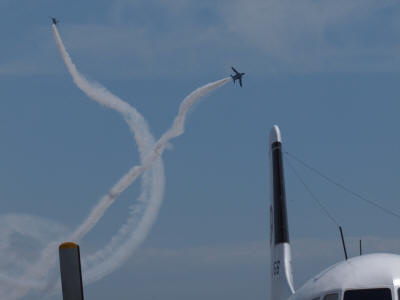 Blue Impulse was absolutely fantastic!
My wife and I enjoyed the air show very much. It was a very nice day.
Getting out of the airport after an air show is always a challenge. Options were, by bus, by taxi, or by train. In my past experience, the roads around the airport are all clogged up for several hours. We chose to take a train. We waited for a train for about 45 minutes, and were able to get on a train to Yonago station.
We stayed in a hotel called Hakusen for one night. Hakusen was a traditional Japanese hotel with hot spa. The hotel stay includes full-service dinner (served in your room) and breakfast. What's special about this hotel was some rooms with ocean view has a outdoor bath tab. OK. Don't worry. There is a curtain that blocks the view from the outside. You can look outside without exposing yourself. What's good about the outdoor bath is you can take a bath while feeling the ocean breeze listening to the waves. Furthermore, in this season, late May to probably early July, you can see both sunset and sunrise. I enjoyed the great view of the sun setting to the Sea of Japan, and coming up from the horizon several hours later.
The food quality was also superb. If you are a seafood lover, you will definitely enjoy fresh-caught fish delivered directly from Sakai-Minato port. They will prepare and deliver food to your hotel room, which is a very traditional Japanese way of service.
We could have stayed this hotel for two nights, a night before the air show and a night after the air show. However, the price for the night before the air show was sky high. I guess many people thought the same thing. Enjoy staying in a nice traditional hotel and go to the air show from there. So, the price was a problem. Also, no matter which air show it is, in Japan or in the U.S., you should get to the gate early, or you will miss much of the show while waiting in line. If I leave that hotel early, I miss one traditional Japanese breakfast, which is not cost efficient. On the other hand, most of the people leave Yonago and go back home after the air show. Hakusen was offering a cheaper price for the night after the air show. We made a choice. We stayed in an ordinary hotel for the night before the air show and then in a luxury traditional Japanese hotel after the air show.
It was a perfect choice. My wife and I are already thinking about visiting Miho air show next year again.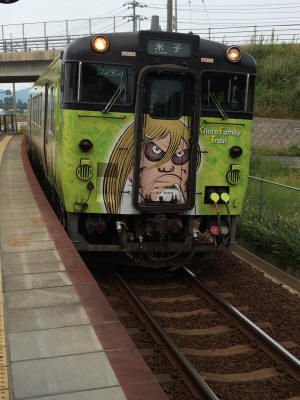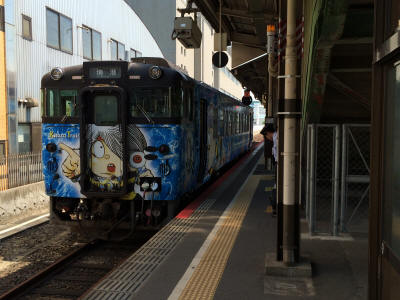 Cartoon characters are painted on local trains.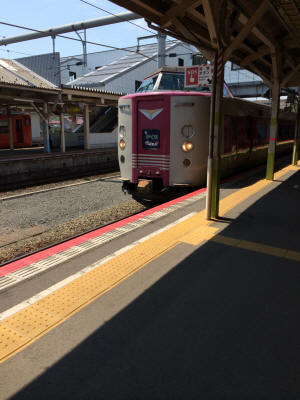 Limited Express Yakumo bound for Okayama
Fukuoka and Kumamoto
I stayed in my wife's parent's home for the next two nights. We took advantage of Japan Rail Pass. We visited Kumamoto which was about 1.5 hours from my wife's home by Shinkansen train.
Shopping time in Tokyo
Then I stayed one night in Osaka and came to Tokyo. My wife stayed with her family for the next several days. I was on my own. I suffered from way-too-strong Japanese yen for the last several trips to Japan. But, this time, Japanese Yen was so cheap. It was like my fortune grew 1.5 times in three years if you count in Japanese Yen. I bought some used PC games, an airband antenna for my scanner, cables, a Blue-Ray drive, etc. in Akihabara. Also 25-pack of 4GB micro SD cards. It was 290 JPY per piece=$2.41 per piece! Sadly, PC parts shops in Akihabara is shrinking but still there are some shops holding up in there position. Akihabara is now famous for, something other than electronics, but it still is a fun place to visit and shop.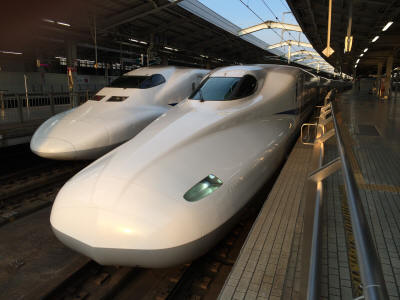 Hikari Superexpress bound for Tokyo
Hirosaki
There was a pretty big earthquake on Saturday. The intensity was not too strong, but it shook almost entire Japan. I have experienced only one earthquake in Pittsburgh since 1998, and in fact it was a man-made earthquake caused by fracking. The sensation of the natural earthquake was something I hadn't felt for long time.
And then I flew back to my home city of Hirosaki in Aomori prefecture. Typically JAL uses Boeing 737 for Haneda to Aomori flight, but for the scheduling issue, they changed the airplane to Boeing 767. Aomori airport is a class D airport, which has a control tower, but does not have an approach controller. Essentially it is same as Beaver County airport and Allegheny County airport where I am flying a Cessna from. I didn't know 767 could land at Aomori airport.
A pair of falcons welcomed me.
There I had to renew my Japanese driver's license. I am still keeping it as a photo ID. My passport is usually good enough, but when I need multiple photo IDs (although very rare), it is good to have a driver's license.
I asked my mother to call the drivers' license center to check what documents were needed to renew my drivers' license. I visited the license center with all the documents. And then I was sent back home to get an additional document. Bureaucrats always have fun by giving more trouble to the citizens. After one more round-trip, I renewed my driver's license.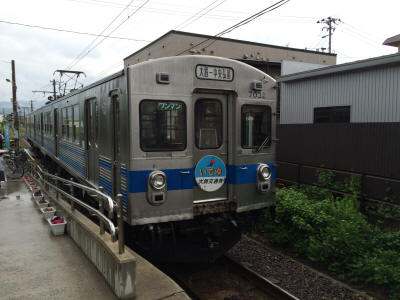 A local train connecting Hirosaki and Owani.
Talk at a Workshop in Tokyo
After three days, I took a train back to Tokyo. My college friend asked me to give a talk in a work shop. He wanted me to talk about the propeller-engine simulation that I implemented for YS FLIGHT SIMULATOR. I have given talks about my research work, but it was a rare opportunity to talk about my hobby work. I always enjoy giving a presentation in front of audience (for the same reason, I enjoy teaching programming). It was a fun experience.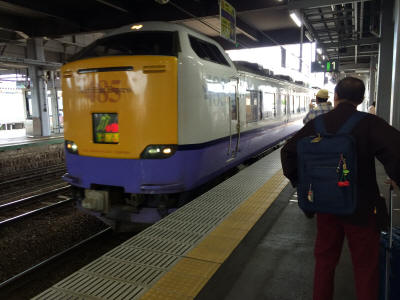 Limited Express to Shin (New) Aomori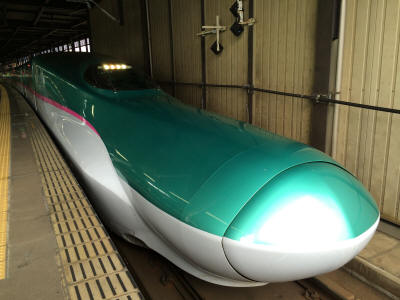 Hayabusa Superexpress bound for Tokyo
The content of the presentation will be available from YSFLIGHT.COM when I finish translating to English.
Haneda or Iruma?
The next day was my last opportunity to go to an airport to take photos of airplanes in Japan. I had to make a tough choice between Tokyo Haneda International or Iruma Japan Air Self Defense Force base. There is a very nice spot nearby Iruma where I can take a picture of landing airplanes just before touch down from the side. But, the wind needs to be from the south. If the landing and take off direction is to the north, I can only see the belly of the airplanes high up in the air. If I go to Haneda airport, I can have a nice breakfast in the terminal and watch airplanes taking off and landing from a comfortable observation deck. But, I cannot get very impressive shots.
The forecast was predicting weak north wind or wind calm. There was a 50:50 chance that runway 35 in use at Iruma base. I went to Haneda airport. The lighting condition is the best from the Terminal 1 observation deck in the morning. I was hoping I could see Mt. Fuji from the observation deck, but it was hazy. I could only see a vague silhouette of Mt. Fuji.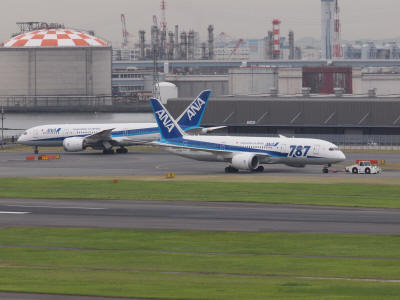 Boeing 787s in normal painting scheme (left) and commemorative painting scheme (right)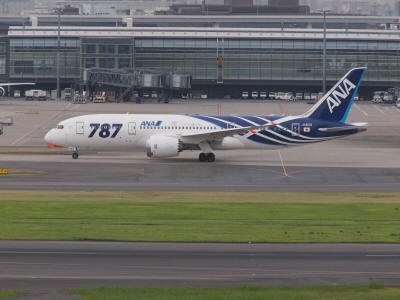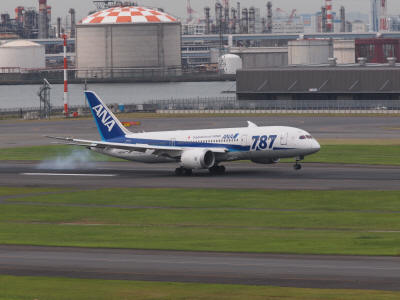 So many 787s. I don't think any single 787 has ever visited Pittsburgh International yet.
Haneda airport is probably the biggest concentration of Boeing 787. All-Nippon Airways are flying so many 787s to/from Haneda airport. Earlier delivered 787s of ANA has large "787" painted on the side of the fuselage. But, I also saw increasing number of (compared to the last year) a regular paint scheme 787s as well. That big "787" may be erased in the next maintenance cycle.
Sendai and Yamoto
I have a high-school friend who is working for Japanese Air Self Defense Force. He was this time working in Matsushima air base. I visited him. I dumped heavy stuffs in the locker in Tokyo railway station (I am allowed to keep my stuff up to 3 days) and took a train to Sendai, and Sendai to Yamoto where Matsushima base is located. Actually, the train connection from Sendai to Yamoto had been closed until a few days ago since some part of the railroad tracks were wiped by the tsunami disaster following the last huge earthquake in 2011. Japan is steadily recovering from the disaster.
By the way, except two flight legs from Haneda to Yonago and Haneda to Aomori, I was traveling all on Japan Rail Pass. I paid 46,000 JPY to buy the pass for two weeks, which allowed me to travel all over Japan. Without this pass, I would have paid over 100,000 JPY for the train tickets. It was a very big saving. Japanese railway network is very reliable, safe, and minute accurate. Yes, the trains are running within a minute accuracy. If your train is delayed by more than a few minutes, you will hear the announcement telling exactly how many minutes the train is off from the original schedule. If you travel to Japan, Japan Rail Pass is a must-have, and you must take full advantage of it!
Back in Pittsburgh - What to do after using a pre-paid SIM overseas.
I had lunch with another friend at Sendai station. I went to Matsushima air show with him so many times when I was a college student. It was a fun chatting with him about the airplanes and Matsushima air base.
I utilized my Japan Rail Pass again to travel back to Tokyo, joined up with my wife, and then move to a hotel nearby Narita airport. Narita is such a problematic airport because you will need to stay a hotel away from Tokyo to take a morning flight. You won't have an opportunity to enjoy last night in Tokyo. Narita airport should be converted to a JASDF base.
Anyways, we flew back to Pittsburgh via Chicago the next day.
After clearing the U.S. immigration and the custom, I put AT&T SIM card back in my wife's iPhone5, fully expecting to function right away. Instead, I was greeted with "Could not activate cellular network" error.
I immediately guessed that it was something to do with the stupid APN setting. If I insert the Japanese pre-paid SIM in her iPhone, the category called [Cellular Data Network] appears in the [Setting]->[General]. I could manually erase the APN setting (APN name and password) in there. The problem was that the setting was not really deleted. I deleted the setting, closed the category, and opened it up only to see the previous setting re-appears.
I could not do it! -> https://support.apple.com/en-us/HT201699
After some google search using my iPhone, I understood what was going on. When activated the Japanese pre-paid SIM, I had to download the APN setting for the SIM card, rather than manually entering the APN setting. If the APN setting was downloaded, it has the priority over the manually-entered APN setting. Therefore, it cannot be manually erased.
What needed to be done was:
(1) [Settings]->[General]->[Profiles] (You will see the downloaded APN setting)
(2) Tap on [Delete]
Below is where I found this information:
This worked -> https://discussions.apple.com/thread/5319155?start=30&tstart=0
I once thought her iPhone was locked to the Japanese SIM card. Actually, APN is unnecessary because SIM card itself is authenticating the right to access the network. APN name and password are redundant.
If you plan to use your iPhone overseas by inserting a pre-paid SIM, you may need to remember how to put your iPhone back to your original carrier network.