| | |
| --- | --- |
| 6/18-19/2016 Dayton Air Show | |
We visited annual Dayton Air Show June 18-19. Actually we had just returned from Japan and were still not out of jet lag. Also we were moving to a new apartment. But, that didn't stop us from going to the annual air show.
Unfortunately Blue Angels cancelled the appearance due to an earlier fatal accident during the practice, that killed #6 pilot, Captain Kuss. The main performance of this air show was F-22 aerobatics and static display of F-35A.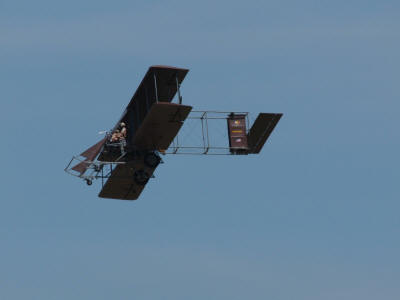 (Wright Flyer 2 starts the show.)
By the way, the economy in the U.S. (at least in Pittsburgh) looks to be pretty good. I see "now hiring" everywhere. Maybe the tax revenue is improving, and the military may be able to spend more budget for aerial demonstrations. I don't know, just I guess. I see F-22 demo team participating many air shows this year. They came to Latrobe, Dayton, and will appear in Cleveland. They took their airplane for static display at Toledo, too.
I don't take pictures of static-display aircrafts as many as before, but this time was my first time to see F-35A. I took bunch of pictures of it.
(F-35A pictures)
F-35A will fly, not just static display, in Cleveland. I am looking forward to the Cleveland Air Show.
I saw "6 KUSS" on the back of the F-18F commemorating the Blue Angels #6 Cpatain Kuss who has died in an unfortunate accident during a practice session.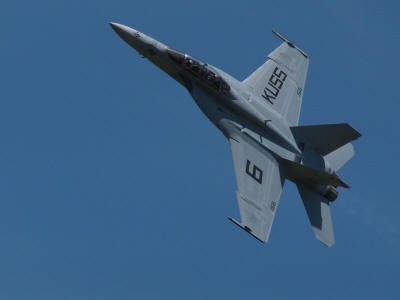 For some reason, my camera, E-5, cannot precisely focus on F-22. Is it because of the stealthiness? When I was using Pentax cameras before, AF-C mode was useless because it was always moving up and down and the off-focus time was longer than correct-focus time. I had more probability to get a out-of-focus pictures. Since then I was using AF-S, pressed the shutter just before the timing that I wanted a shot. But, E-5 is the final high-end line of Olympus digital SLR, maybe AF-S is better than Pentax cameras. So, this time I tried F-22 with AF-C. The result was, no much difference. Well, at least AF-S is as good as AF-C. I'm going with AF-C from now on. But, still F-22 was slightly off focus. (Why?)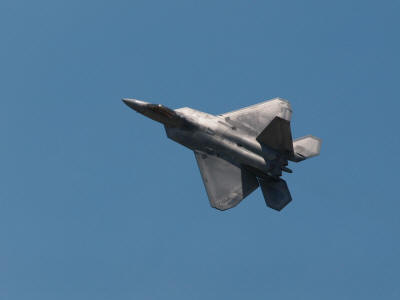 (F-22. Well, too far for my lens.)
Anyway, AF-C and AF-S don't seem to make too much difference. I'll use AF-C from now on.
Next stop will be Toledo air show, which returned after 12-years blank.
| | |
| --- | --- |
| Comments are welcome. Send E-Mail to: | |