| | |
| --- | --- |
| 07/16-07/17/2016 Toledo Air Show | |
This July was a crazy month for me. In a regular year, I have time to work on my hobby projects, go to Schenley park for Hummingbird photos, practice bowling, and go to air shows. However, this year, we were moving to a new apartment. Our previous apartment was about 40 minutes walk, 10 minutes drive from Carnegie Mellon University. Now both myself and my wife are working for Carnegie Mellon. We decided to move to within walking distance from Carnegie Mellon. Since it was a short-distance move, we didn't hire a mover. We carried everything that we could carry by ourselves. For large furniture, I rented a pick up track from U-Haul for one day, and our friends helped carrying them. That was a huge help. We were able to finish moving in a month. So, it was an extermely busy month for us.
But, we went to Toledo air show anyway. Nothing stop me from going to an air show.
Toledo air show is not a large-scale air show like Dayton or Cleveland. I was expecting it to be nice local small air show. Nonetheless, Thunderbirds were scheduled to fly. And, Toledo is just 3.5-hour drive from Pittsburgh, and very easy to go.
The day before the air show, we traveled to Moumee. Actually, it was much easier than we originally expected. From Pittsburgh, we drove north on I-279, which becomes I-79. Once we hit I-76, then just go straight until we get to Maumee. I-76 becomes I-80, but from the driver's point of view, it was just straight. It took about 3.5 hours, which is same as the time to go to Columbus. But, going to Toledo was much less tiring.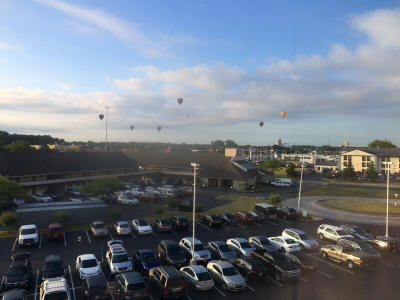 (Hot-Air Balloon event over Maumee.)
Day 1. 12 minutes to get to the air-show parking from the hotel. One problem was that there was no sign of air-show parking. We just followed the car to get to the parking. I wish they improve signs next time.
(Welcome banner)
Even bigger problem was that the shuttle bus driver did not know where to drop the spectators. The driver said he was briefed only once, no dry-run, and then told to carry passengers to the gate. Actually, a different driver was saying the same thing on the next day. Looks like the air-show organizer lost all those knowledges of what to do for the preparation while they were not doing an air show for 12 years. I really hope they do a better job next time.
One last problem was we didn't know where to buy tickets. Only table we saw sas "Will Call". But, no sign of "Ticket". We thought maybe we could buy tickets beyond the security check point. We just joined the line and came to the security checkpoint, and were told to buy tickets at the "Will Call" table. It was "Will Call" and "Ticket Purchase". We walked back to the table and bought tickets. Luckily, the officer at the security checkpoint remembered our faces. We didn't have to go all the way back of the line. Being an Asian looking sometimes works nicely.
So we finally were in the airport. Honestly, I was not thinking Toledo air show to be this good! A-10, F-15E, F-22, and F-35A were on static display. I missed a T-shirts of the F-35 squadron in Dayton, but I was able to get one here.
Suddenly, four F-16s took off for the opening flight. I should have been aiming my camera, but I was taken by surprise. It was only one chance of getting a F-16 with the color Stingers symbol on the vertical tail wing taking off. I missed it. Next time, I'll be better prepared.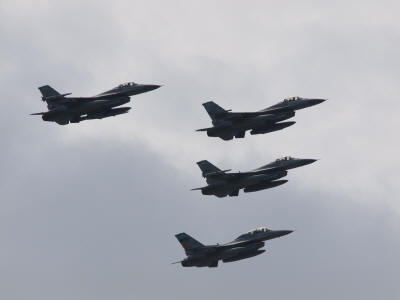 (Opening pass)
I successfully found air-boss and discrete frequencies, and was listnening to the radio. The air-boss seemed to be talking about B-2. B-2? It was not scheduled. But, it was indeed B-2 Spirit. According to the air-show announcer, it was on the way back from the mission. Really? Maybe a training mission, right? I don't know if it was on the way back from an actual combat mission. I missed the name, but the co-pilot was from Pittsburgh.
The B-2 made three passes. And the last one was with like 30 to 40 degree bank, showing the back of the airplane to the spectator area. Well, it was a little bit off from the show-center. But, I'm happy I was able to get this much detailed back of the airplane.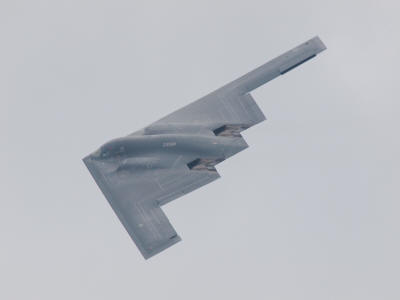 (The 3rd pass of the B-2)
Kyle Franklin showed a nice performance. I hadn't seen his flight for a while. His father Jimmy Franklin was a legend. Actually, the first bi-plane aerobatic I saw was by Jimmiy Franklin at the Naval Air Facility Atsugi Air Show. I think it was in 1994 or 1993. Next year, he and Sean D. Tucker visited Atsugi Air Show, and I am wearing Randolph Aviator sunglasses only because the sponsor of Sean D. Tucker was Randolph Engineering then. Anyway, Jimmiy Franklin died in an air-show accident in Canada. But, his son, Kyle Franklin inherited his spirit and was flying as an air-show pilot. He was badly injured in an air-show accident that killed his wife who was a wing-walker. But, he never gave up. He recovered, and is still flying in air shows. That is called the spirit of the steel. Actually, I adore him. He's got a fan here.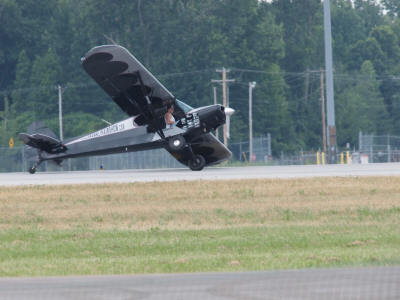 (Kyle Franklin. The pilot with the spirit of the steel.)
Toledo airport is the base of a F-16 squadron called Stingers. The Stingers performed a mock anti-ground mission. Of course, it is arranged for the air show. I don't think in the real combat, four F-16s attack the ground target from the same direction. They must approach from the four different directions simultaneously to confuse the anti-air battery. But, understandably, it is an air show, they are not supposed to confuse spectators.
(I liked the flares.)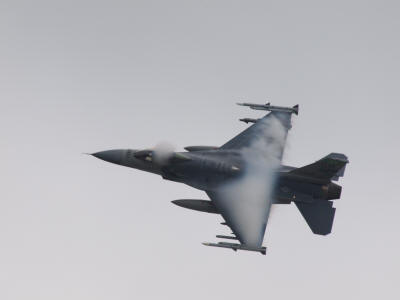 F-18 demo team took the same airplane that they flew in Dayton. Commemorating the Blue Angels #6 pilot Captain Kuss.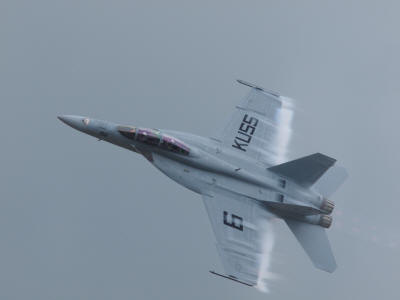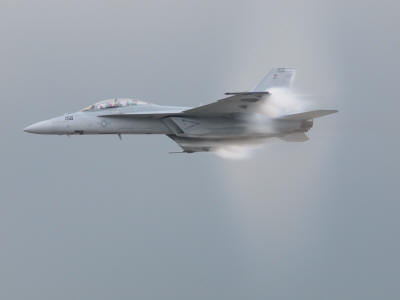 If the sky was blue, this shot would have clearly been showing the shock cone.
This air show was an only opportunity that I could see Thunderbirds this year. It was the Blue Angels' turn to cover Pennsylvania, Ohio, New York area. I'm collecting aerobatic team pamphlet. It was my opportunity to pick up a Thunderbirds 2016 pamphlet. I usually ask some extras to send to my airplane-fan friends in Japan.
But, Thunderbirds #4 was clearly strange. After bon-ton roll, it drifted large to the left. Left-wing airplane had to take an evasive maneuver to avoid collision. I didn't know how the pilot noticed it while concentrating on the leading airplane. Then it could not keep up with the diamond formation. I looked through my tele-photo, and noticed something like a white line, or more like a crack on the belly. Was it all right?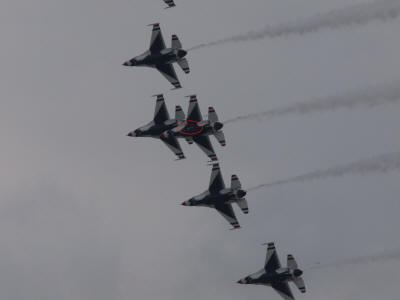 You can see the white thing in this picture. I enclosed it by the circle.
Then Thunderbirds aborted Delta Break Up. According to the announcement, #4 airplane had an open landing-gear door. It explains. The gear door was disrupting the smooth air flow. Probably #4 airplane was shaking as if it were flying through a turbulence. The aerodynamic drag increased, and the effectiveness of the tail fin, underside of the fuselage, was compromised. It explains. #4 airplane made an emergency landing.
There was a #4 gear-door incident, but the show was very enjoyable. Much more than I was expecting. But the problem was getting out of the parking. Absolutely no sign of exit. We had no idea where to get out. I thought it makes sense to go out from where we came in. I lined up with other cars who probably were thinking the same thing. But, the entrance was blocked by the shuttle busses, and didn't move. Some SUVs destroyed the fence and came out from everywhere. Later a police car came and finally started directing the traffic. It was a total chaos until then. The parking was disappointing. They should have learned. They should do better next time. Hopefully.
Day 2. The sky was clear. I hoped to get nicer pictures. But, F-16 with the color Stinger symbol didn't fly this day. Day 1 was only chance. It was basically the same program with slightly better sky condition than Day 1.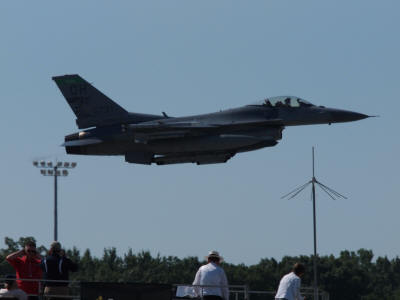 (F-16 taking off for the opening flight. The people on the ground are the air-show announcer and crews.)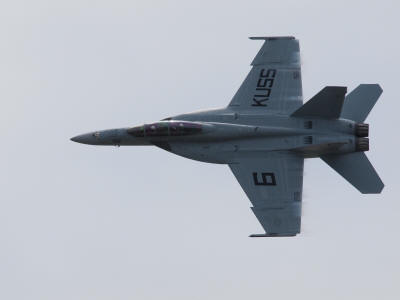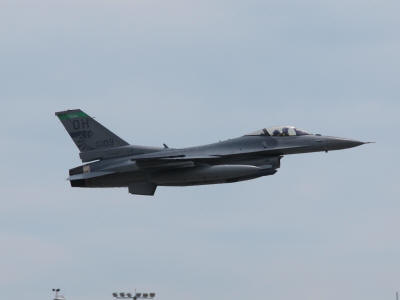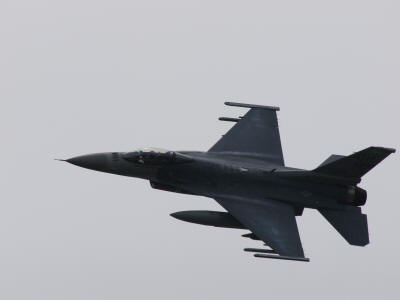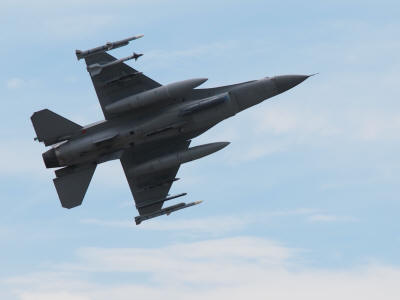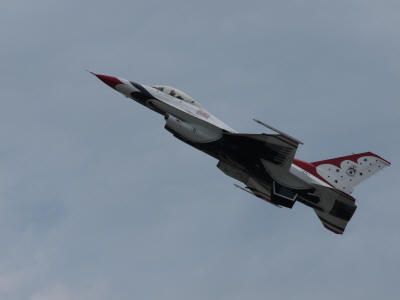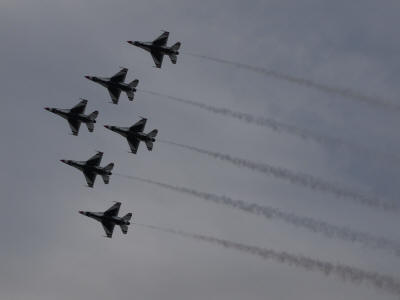 (No open gear door this time.)
By the way, both Blue Angels and Thunderbirds does a fly-by in a diamond formation showing the back-side of the airplane. But, why don't the do it in delta?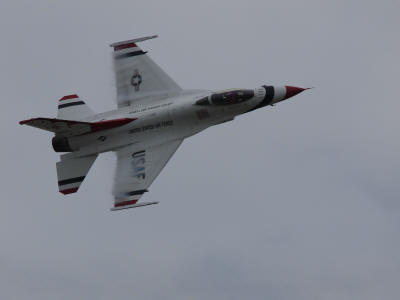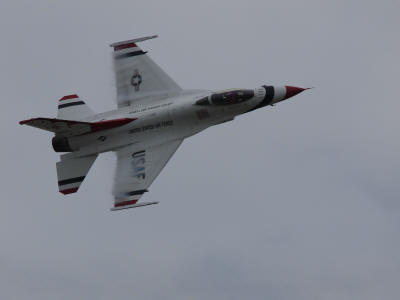 It was much more fun and bigger than I was originally thinking. It was a great air show! I wish they did better in parking and shuttle busses, but they should do better in the next one. I'll definitely go there when Toledo do it again.
| | |
| --- | --- |
| Comments are welcome. Send E-Mail to: | |