Latrobe "Arnold Palmer" Airport is located about 1 hour drive to the east from Pittsburgh. I have flown to this airport when I had to (turned out I didn't have to though) gain a few hours of night solo flying time for my commercial-pilot certificate. I made a touch and go to make it a night cross country. It didn't have to be a cross country, but if I had to earn three hours or so, why not.
This airport had been hosting a relatively large air show until 2001. Usually Thunderbirds or Blue Angels participated in those air shows. After the terror attack in 2001, however, this airport terminated the air show.
But, this year, the Latrobe Air Show is back! In fact the announcement was so little, and I didn't know about it until I saw a flier at the flight school. The scale of the show was small this time. Only air force airplane participated this air show was a C-130 from 911th Air Lift wing based at Pittsburgh. No major aerobatic team participated. But, T-33 in the Thunderbird marking was attractive enough for me. I went to the Saturday show.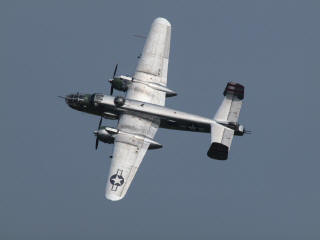 Aerobatics of B-25 Mitchell "Panchito"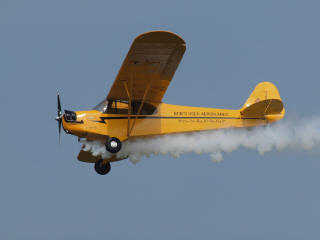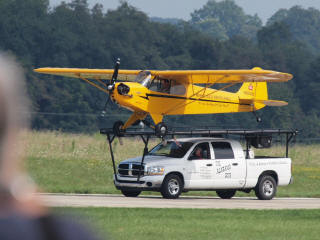 J-3 Cub from Alabama Boys. It made a landing on top of a truck.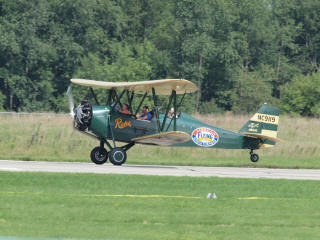 This vintage airplane was giving sight-seeing rides. I missed the name of it.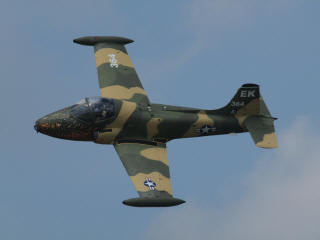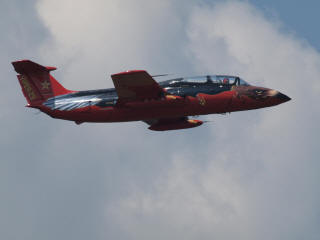 Red Star and Dragon's mock air combat.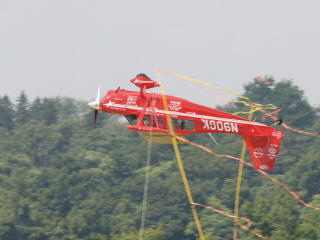 Ribbon cut by Super Decathlon..... Did it really cut the ribbon? The airplane looks a little too low to cut the ribbon in this picture.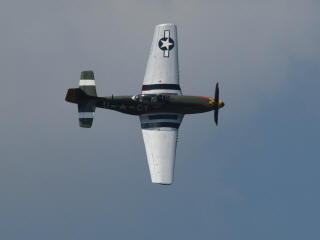 Aerobatics of P-51D Mustang "GUNFIGHTER"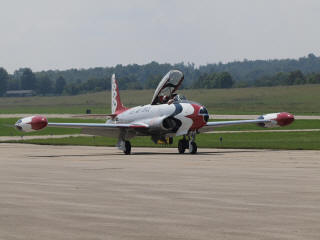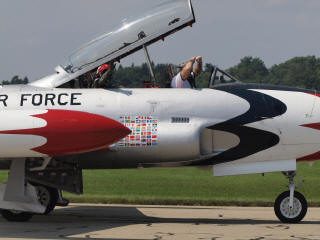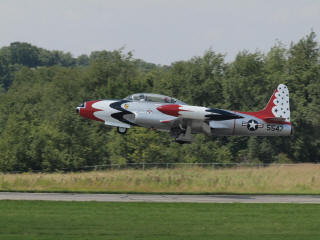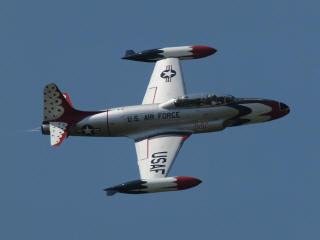 T-33 in the Thunderbirds marking.
I had to do something later in the afternoon and was thinking to leave after watching the T-33. But, it flew at the very end of the day. So, I ended up with watching all the flights, which were nice.
One inconvenient thing was that there was only one place we could buy food, and ve----ry long line was formed before lunchtime. So, I didn't eat anything. I wish they had a few more hot-dog and hamburger stands. I was pretty hungry when I left the airport.
The air show announcement said they will host an air show again next year early summer. I wish the next show comes back full scale!