Willoughby, OH is about 2.5 hours away from Pittsburgh. There is an airport called Lost Nation (KLNN) there, where they host an annual air show. This air show is not a big one. Not so much military participation. I have never been to the Lost Nation air show until this year.
But, this year's Lost Nation air show was supposed to be different. Brazillian Air Force's aerobatic team "Smoke Squadron" was supposed to fly. This team was also planned for the Dayton air show this year, but they had to cancel the U.S. tour citing the budget cut. So, they also cancelled this Lost nation air show.
I visited the air show anyway this time.
Despite a poor forecast, as we came close to Willoughby, the sky got clear. It was a nice air-show condition after all.
When we arrived, the opening flight was in progress. I saw Schweizer TG-7 (SGM2-37?) in a formation. I heard that there are only three flyable TG-7s in the world.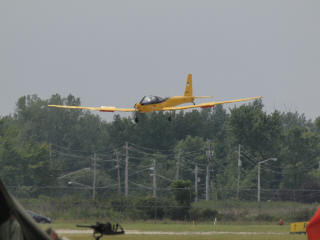 Another rare aircraft I saw was French-made Fouga Jet. I often saw same-type aircrafts performing a 3-airplane formation aerobatics in the past. Two of the three Fouga Jets are left in Beaver County airport. I don't know if this one was one of the three blue aircrafts repainted in a different marking, or if it was a different aircraft.
TG-7 motor glider flew once again in the afternoon.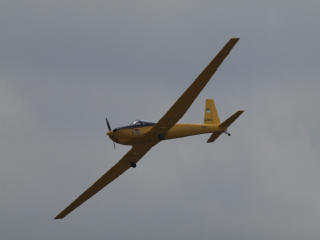 Another rare aircraft was Chinese-made CJ-6, which was a copy of Soviet-made Yak-18.
It flew with a SNV-1, an elementary-level trainer used during World War II. Because it was an elementary-level trainer, the landing gears was fixed (not retractable).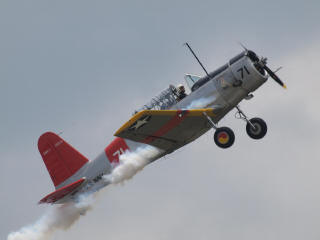 It was a small air show, but I enjoyed seeing many rare airplanes. I wish Brazilian Air Force have enough budget to bring the aerobatic team to the U.S. tour.