2016 Japan Tour
I visited Japan from late May to early June. Usually I stay there for two weeks once I cross the Pacific ocean, but this time, I was asked to go to a ship-building company that has been funding our research. I extended the stay, and this time I had three weeks in Japan. We visited Miho air show last year and we liked it. Actually Miho air show is in late May, which is the best timing for us. So, we planned to go to Miho air show again this time.
In this trip, my mobile Wi-Fi hot spot, AT&T Elevate 4G and 12000mAh mobile battery were useful for the first time. I bought this mobile Wi-Fi adapter to gain access to the Internet on the go when I was using a non-smart phone. But, the performance was disasterous then. I first used it in Honolulu, HI, but the connection was so slow, and it did not sustain the connection. Probably, the 4G LTE network was not widely available then. The battery capacity of this adapter was also too little. It exhausts the battery after two hours since fully-charged.
But, after the two-year contract had expired, I unlocked it. And, I briefly tested it last year with a pre-paid SIM card I purchased from Telecom Square, and I knew it was going to work this time. (Since I could not test if it was going to really work before the last trip to Japan, I reserved and used a rental wi-fi adapter instead of a pre-paid SIM then.)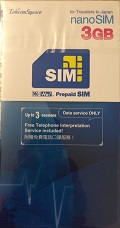 The advantage of a pre-paid SIM is you don't have to return it. Some rental Wi-Fi adapter need to be returned by mail. Japanese postal system is millions times more reliable than USPS in the U.S., but still you wonder what if your package is lost somewhere. You don't want to pay for penalty. No such worry with a pre-paid SIM. You can also use it all the way until the door of your international flight is closed. In fact, the airlines still ask you to turn off your cell-phone connection while take-off, but the risk is ficticious. I don't think nothing will go wrong even if you end up forgetting to switch your cell phone to the airplane mode.
The battery capacity was still a problem, but this time, I carried a 12000mAh mobile battery. I usually keep it in my flight bag. I use iPad mini to see Sectional Chart when I fly a Cessna 172. But, in case my Bluetooth GPS and/or my iPad mini runs out of battery, I am prepared to power them with this one. I had never had to use this battery before, so it had never been useful until this time. But, this trip was the first time this battery was actually useful. If combined, my Elevate 4G lasted roughly a day. If I charge it every day, I had continuous internet connection.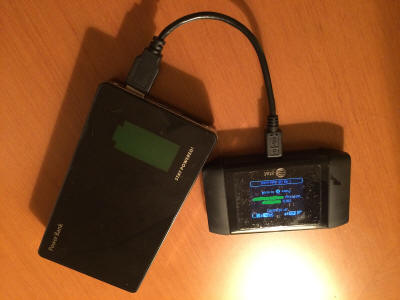 (My Elevate 4G and mobile battery. The pre-paid SIM was recognized right away by the Wi-Fi adapter.)
You need to set up what's called APN when you use a pre-paid SIM card, which I think is a useless authentication because same setting and same password work for all pre-paid SIM cards from the same vender. But, somehow they want to continue this authentication. Just make sure you delete the APN setting when you come back to your home country.
Although it didn't come in time for this trip, the North-American flight in and out of Tokyo Haneda International airport will be expanded substantially after October. Tokyo Narita airport is horrible. It's not even in Tokyo. You will waste almost one whole day to go in to and out of Tokyo if you use Narita airport. I strongly believe that Narita airport should be turned into Japan Air Self Defense Force base, and not for passengers. It is tooooooo inconvenient. This airport was built only for some political reasons, and the local people opposed the airport for long time.
Haneda airport is, on the other hand, very good. It is conveniently close to the center of Tokyo. A mono-rail, railway, busses runs frequently to/from popular places in Tokyo and Kanagawa area. Just don't use Narita. Go to Haneda, if you plan a visit to Tokyo.
Although we timed our trip to go to Miho air show, we ended up visiting Japan at the time of G7 summit. My father was the last generation of naval cadets of Japan Imperial Navy, and his school was near Hiroshima. Not to worry, a mountain was blocking the blast from the nuclear attack on 8/6/1945, but he said he saw the flash of light. The ship-building company I was going to visit was near Hiroshima. It was a rare opportunity to visit where my father spent last several months of the World War II. So, my parents came to Hiroshima, and I met them there, and visited an island called Edajima where his school was located. The place is now used by Japan Naval Self Defense Force, but they do a visitor tour every day. There is a museum of the Imperial Naval Academy. In fact, my father remembered his class (squad?) number, and I was able to find a group photo including him 16-year old. I asked a tour guide (I believe retired Japanese Naval Self Defense Force officer) if it is possible to have a copy of the picture, and he kindly made a copy.
Then we went to Kure city, across a bridge from Edajima. There are two museums worth a visit. One is Yamato museum, which has a huge scale model of Battleship Yamato, which was built by the Imperial Navy. It was a huge ship. It still keeps the title of the largest battleship of the world. But, it was already the time of aircraft carriers. Yamato didn't make much success and was sank by the air strike from a U.S. aircraft carrier. Also there is a Japanese Naval Self Defense Force museum nicknamed as "Iron Whale Museum". It has a huge retired submarine on display. I am, you know, an airplane person, not a ship person. Yet, there two museums were very interesting.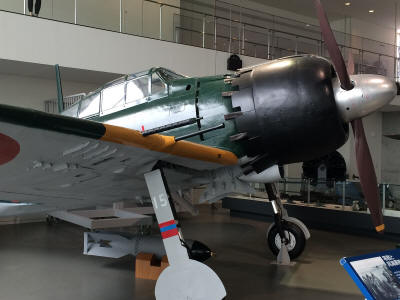 The next day, I came to the ship-building company. I stayed for two days there. Actually, the student who I was supposed to work with got another task to do, and I was pretty much staying there feeling useless. I don't know if I was of any help.
Friday evening, I hopped on the Shinkansen train in which my wife was also coming from Hakata from Fukuyama station , transfered to super-express Yakumo at Okayama station, and headed to Yonago, which is one of the two closest cities to the Miho air base. The NOTAM said Blue Impulse was going to fly a practice flight from 1pm on Saturday. But, it could change any time, so we went to the observation deck of Yonago airport (Miho air base is sharing the runway with this airport) earlier.
Unlike Latrobe, Yonago airport was generous to the airplane fans. They opened a booth selling snacks on the observation deck for the fans coming to see the practice flights of the air show. That's the way to go. I wish Latrobe air-show committees learn from them. Actually, the airport allows people to stay in the observation deck even on the day of the air show. Well, I rather want to buy stuffs and go closer to the airplanes, so I go in to the air show anyway, but if you choose to watch an air show from a different angle, it is also possible. How nice they are!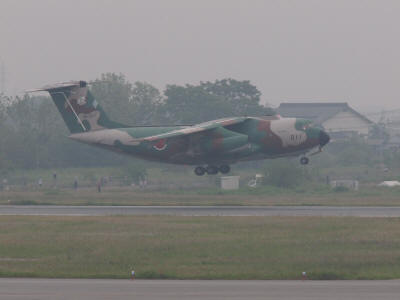 But, the weather around the airport was not so good. The ceiling looked ok, but the visibility was low. The METAR report has been saying 4500m. Which is slightly less than 3 miles. The minimum visibility for VMC is 5000m in the Japanese regulation (ICAO rule? I suppose.) Blue Impulse won't fly unless the condition is VMC. Some people showed up near the airplanes of the Blue Impulse. I first thought they were maintenance crews, but as I checked with my tele-photo, they were VIPs invited for the practice session. OK. Then they have a pressure to do something. Then the pilots and the crews came, started the engine, taxied out. As I was listening to the radio, the weather on the radio reported 9000m visibility. There seemed to be a disagreement between the meteorologists who was measuring METAR and who was giving the report. Anyway, officially it was made VMC, and the took off!
But, it was a flat show. They flew only formations, no maneuvers. Better than nothing though.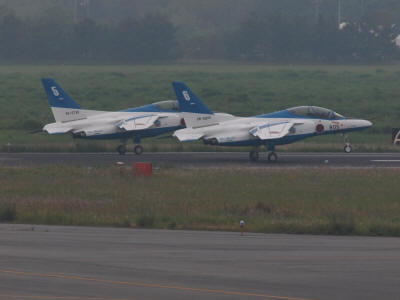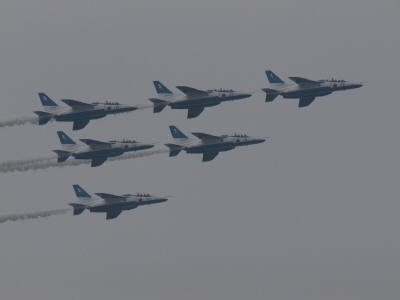 (The practice sesion.)
Then we went to Sakaiminato. A very famous cartoonist called Shigeru Mizuki was born in that city. He was famous for his monster stories. If you love Japanese anime, this guy was one of the pioneers. Last year, we went there, but didn't have time to visit his museum. The museum had a library that keeps most of his work. His fan could spend all day reading cartoons in the library.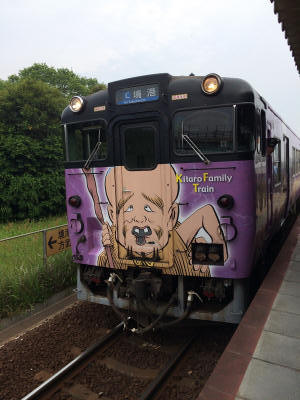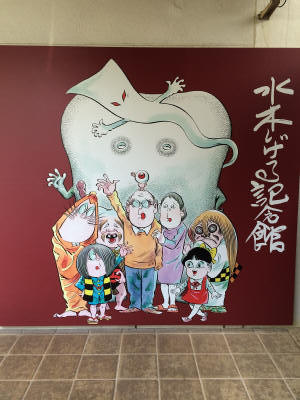 The next day, we left Yonago ANA hotel by bus to the Yonago airport. The entrance to the Miho air base is right next to the passenger terminal of the airport. But, no person was directing the pedestrians walking from the terminal, and there was a problem. The line was forming along the road leading away from the airport. The pedestrians coming from the airport to the gate was waved off, and had to walk all the way to the end of the line. We were also turned away and had to walk about two blocks to the end of the line. But, an elderly couple came to the gate, that was a problem. It was not right to force them to walk all the way to the end of the waiting line.
The guards directing people finally realized that nobody was directing people from the airport, and they allowed those pedestrians directly go into the base. Well, I would complain. It was not fair to us. But, they did a right thing. Not placing a person to diret people from the airport terminal was, I think, was a mistake, but they corrected it. Nice job.
The sky was clear in the morning. But, we clearly saw a line of clouds from a low-pressure system to the west. The cloud rapidly moved in to the area. The clear sky turned into overcast by 9am. The forecast was predicting a rain in the afternoon. I was praying that the rain does not start until the late afternoon.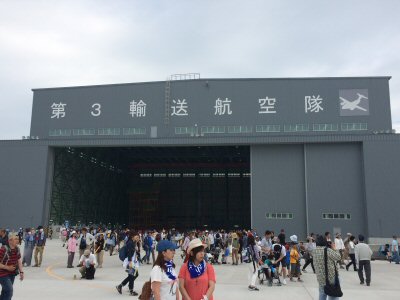 My prayer was not heard. Rain started around 10am. Not a heavy rain. It was rather on and off. Opening C-1, T-400, and YS-11 formation, 5 T-400s demo, F-15, and F-2 flew as scheduled. The ceiling was not bad at all. I could see the ridge line of the mountains to the west, so the visibility was not bad either.
The rain got heavy around 11am. We escaped into a hangar. The heavy rain didn't last long, luckily. And, Blue Impulse started around 12:45. I liked the smell of jet exhaust.
They initially started as a flat show. Ok, better than nothing. That's what I thought, when the four-airplane formation performed a Fan Break maneuver, and a solo flew a knife-edge pass. They switched to a low show!
The sky was cloudy, but their maneuvers were spectacular as always. It was worth travelling all the way from Pittsburgh.
We stayed a night in a traditional Japanese hotel called Hakusen. We stayed in the same hotel last year, and we really liked it. Such traditional Japanese hotels serve dinner and breakfast in your room. They deliver and set up a course meal for you. I recommend to stay in such a nice hotel at least one night when you travel to Japan. Actually, the price is higher in the weekend, but you may find a reasonable price during the week, or even Sunday night. What's special about this hotel was some rooms have a open-air hot spa. It was so nice to bath in a hot spa after staying outside for an air show.
If you stay in the Yonago area, you may also be interested in visiting Adachi Museum of Art. There is a shuttle bus from hotels including Hakusen (actually there is a shuttle from Hakusen to the bus terminal, and then a free shuttle bus from the terminal to the museum). I am not interested in paintings much, but my wife found it, and we visited there on the next day. That was a huge museum with a collection of paintings and Japanese gardens. One warning is that the shuttle bus was small. If you carry a suitcase for three-weeks supply, your baggage may not fit. If your schedule allows, you may want to leave your suitcase in your hotel while visiting the museum.
We were planning to go to Yonago station from the nearby station called Yasuki, and then transfer to super-express Yakumo bound for Okayama. But, it turned out Yakumo also stops at the nearby station. The problem was the train we were supposed to ride got cancelled due to obstraction caused by a fallen tree. We had to wait for the obstruction to be cleared. The problem was there was nothing to do around the station. Well, we were exhausted from the museum fatigue. We just sat and waited. The next Yakumo was not cancelled, and we left the station with about an hour delay.
I came back to Fukuyama to go to the shipyart, and my wife came back to her home. I stayed in the hotel next to the ship-building company until Thursday. Then, I made an exhausting trip to Matsushima Air Base. I took a Shinkansen train to Tokyo from Fukuyama. I arrived at Tokyo at 10:40pm. I checked in the hotel in Kanda just for sleeping. The next day, I woke up at 5am, and took the first Shinkansen train from Tokyo to Sendai. Transferred to Senseki line and arrived at Yamoto station near Matsushima base about 9am. Early enough to see the second round of the AM training flights.
I left large suitcase in the coin-locker at the Tokyo station. If you travel for three weeks, you may have to carry a large supply. If you are able to make use of coin-lockers of JR stations, you can substantially reduce the stuffs you carry around. Since I was supposed to go to the base and stay a night in my friend's place and come back to Tokyo, I only needed a one-day supply.
Matsushima air base is a home of Blue Impulse, and if you are lucky enough, you can see a practice flight over the base, they call it "field acro" on the radio. You can check the schedule by NOTAM in AIS Japan. 4-letter code for the Matsushima base is RJST. Miho is RJOH by the way.
I knew Blue Impulse was deployed for an airshow that day, but I rather wanted to see F-2s of 21st squadron. The 21st squadron is for fighter-pilot training and had F-2B fighters and is based at Matsushima air base. But, the F-2Bs were wiped away by the tsunami following the earthquake in March 11, 2011. Initially the airplanes were declared totalled, but the ministry of defense later changed the mind. They decided to identify usable parts and re-build as many F-2Bs as possible. They did it, and the squadron finally returned to Matsushima base this year.
I came to Matsushima base many times with my airplane-fan friends. Spent one whole day watching F-2Bs and T-4s taking off and landing, occasionally aerobatics. In fact, I was there three months before the tsunami devastated the base watching the first-in-the-year training flight of Blue Impulse. Because Matsushima base was so a familiar place, the tsunami disaster was not just a tragic event in the news. It was so real and personal. The return of F-2Bs to the Matsushima base is symbolic, but one great sign of recovery. I wanted to come to the place I was standing before the tunami, and wanted to see F-2Bs flying.
I took a taxi from Yamoto station to the main gate of the base. Then walked like 3-4 minutes to the location where I knew I could see the landing airplanes very well. I arrived my vantage point early enough to see an F-2B and a T-4, both of the 21st squadron, practicing touch & goes. It made me very emotional. Yes! The recovery is in progress. I will come back again, hopefully with the same friends and hopefully see a field-acro of T-4 Blue Impulse.
I stayed a night with my friend who is now flying a rescue helicopter at Matsushima base. I was not as brave as him when I had a choice to pursue a professional pilot career. He chose to be a professional pilot. Well, I am at least a pilot. One of the major differences is he gets paid for flying a helicopter, and I pay for renting an airplane. Actually our schedule for the next day was cancelled, and we drunk a bit too much. I had to ride a Shinkansen train back to Tokyo with a moderate hangover.
I met with friends from my college. I kept to one beer since my digestive system were still taking care of the alchole from the day before.
The next day was for shopping. If you are interested in Japanese Anime or Japanese sub-culture, you must have heard about Akihabara. Akihabara used to be known as an electric town. There were hundreds of shops selling wiring supplies, electronic parts, radios, computer hardware and software, appliances, CDs, etc. Now the number of such shops are declining, but still there are many. If you imagine such concentration of shops, you may think like a typical mall in the U.S. They sell things at higher price than online shops. Not in Akihabara. They often sell stuffs at competitive prices, if you walk around and search for the lowest price.
And, you won't want to buy some things online. I'm not talking about apparels. AC adapters, for example. Go to Amazon.com and search for "Lenovo laptop AC adapter". You find hundreds of AC adapters from Marketplace. They claim their AC adapters are authentic original Lenovo product. Then, look down to the reviews. So many of the people who shopped from those Marketplace complain that they received a cheap counterfeit product. If there is no danger, I may be ok with it as long as it works. But, if it has something to do with power, I'm worried about fire hazard. I never buy an AC adapter for my Lenovo X250 from Amazon Marketplace.
Another example is a suction mount for Garmin GPS. I'm mostly using Google Map app on my iPhone now a days. But, when I fly a Cessna, I mount video camera to record my flying, for fun and for later review. After not-so-intensive search, I concluded that an authentic Garmin suction mount is the best mount to tie a camera mount on. It does stick on slightly curved glass. It is designed for a wind shield, which is usually curved. Now go to Amazon Marketplace. Same thing as "Lenovo AC adapter". Hundreds of suction mount for Garmin GPS, most of which are claiming to be authentic Garmin product, and extremely cheap! I tried once. I ended up catching a counterfeit product. It sticks only on a flat glass. Not on a curved glass. If you want a Garmin suction mount, go to nearby Target and get the one in the authentic Garmin box. Never from Marketplace.
Good thing about Akihabara is you often find an authentic products from well-known brands at very competitive prices. You need to, however, walk. Visit shops and check for the lowest price. Make a to-buy list before coming, and you can easily save $30 to $50. When Japanese yen was cheaper, the saving was even bigger.
Also next to the JR Akihabara station is a huge store called Yodobashi camera. If you are into photography, you can spend hours in the camera floor. The problem of buying camera online is you cannot actually hold the camera, mount the lens, and actually shoot, before buying. In here, you can. You can try many of the newest cameras and lenses.
This time I was looking for a high-capacity USB cell-phone and tablet charger that I can carry on the trip. OK. This is something you can find cheap and high-capacity ones online, but from a brand you never heard of. Even if the seller claims the one is from a well-established and reliable brand, how can you tell that the product you receive is not a fake? I don't want to start a fire while charging my iPhone in a hotel room. I was hoping to find a good and cheap one in one of the small shops in there, but the best one I found was Sanwa Supply 3.4A charger. Sanwa Supply has been in business long time, and I trust the quality from this company.
I was able to make one more stop at Sendai to see my airplane-fan friends there. Then came back to my home in Hirosaki. Actually, I found the very first 8-bit PC I used was still in the closet. Everthing my career started from this guy. There was no monitor that can show the image from this computer, but at least I remembered how to play sound with it. I connected it to the power, and typed:
PLAY "V15CDEFGAB"
And I heard the sound from the PSG unit! I also tried:
FOR I=0 TO 1000:BEEP 1:BEEP 0:NEXT
which gave a weird sound that I heard so many times when I was 11 years old.
The next day my wife flew from her home to my home, so I tried to play it for her, but when I tried on the next day, the computer didn't respond. According to a person in the CMU computer club, (surprisingly he knew about FM-7), it must be due to the burnt power supply. Maybe my FM-7 used the last bit of its life to greet me for one last time. But, eventually I want to bring this guy here. People and knowledge of the CMU computer club may be able to make it back to life. One day. Sometime in the future. Until then, I let this 8-bit computer rest in peace in the closet of my home in Japan.
Then all of us, my parents, my wife, and myself, travelled to Yokohama, about 30 minutes from Tokyo, to see relatives. Then my wife and I flew back to Pittsburgh. From the Narita airport! We again had to stay a night near Narita airport. We were not able to enjoy the last night in Japan. Narita airport is horrible! Don't use that. Go for Haneda.
By the way, below are the Shinkansen seat reservations that I picked up with my Japan Rail Pass. Japan Rail Pass costed about $600, but gave all those Shinkansen seat-reservation free. (If you don't need a seat reservation, you don't even have to bother stopping at the counter. You can just walk straight to the platform.) It was a good deal. I didn't count how much all those tickets would cost, but I know Japan Rail Pass paid off by big.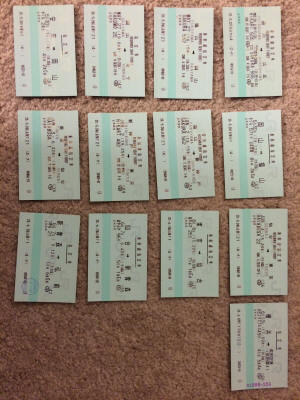 My wife and I were to go to Dayton Air Show within a week of returning to Pittsburgh.
| | |
| --- | --- |
| Comments are welcome. Send E-Mail to: | |