Please enable JavaScript to display links.
Not all programs in YSFLIGHT.COM are open source. But, you can download some of the source code from the following URL.
https://github.com/captainys/public
In Progress:
2021/12/28
(I'm uploading it on 12/28 but I flew on 12/15). My friend started a retro computer museum called the Bloop Museum a few years ago. Unlike many typical museums, his museum keeps historic computer in working condition. The visitors can actually use them. It is not just watching computers sleeping in a glass display case. That's how unique his museum is. Maintaining all those collections in working condition must take a substantial work.
He is also knowledgeable in Japanese historic computers and he is starting a Japan exhibit. So, I donated one of my FM77AV40s. I still have AV40 and AV. Good enough for testing actual hardware when necessary.
The Bloop Museum is located in Maryland outside Baltimore. It takes 4 hours drive from Pittsburgh. But, he told me he was going to pick me up if I fly to Westminster Carroll County Airport (KDMW). So I flew. I needed to drive 1 hour to Beaver, and then 1.5 to get there. The return flight was due to headwind took 2.3 hours. Time saving is 1.5 hours to go, less than an hour to come back. But, flying is much less tiring than driving. Beaver Valley Flying Club's Cessna has an auto pilot. Once I climb up and trim, it flies by itself. It is much easier to reserve an Cessna all day than before when I was renting from a flight school. Nonetheless, I needed to reserve early. I reserved a Cessna for December 15 based on the 10-day forecast.
(Read more)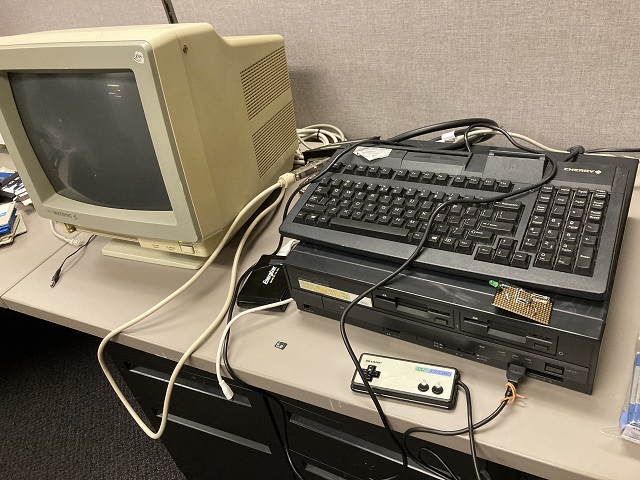 FM77AV40 at the museum.
10/29/2021
Carnegie Mellon Computer Club is going to host Demosplash 2021 Friday November 12 and Saturday November 13 Eastern Time.
This year the event is in-person again. Sort of. Carnegie Mellon students can attend the event in-person. For other folks, it will be broadcasted over SceneSat. The link will be posted on the website.
I'm going to talk about classic FM-series computer preservation work on Friday 20:15 Eastern time, Saturday 09:15 Japanese Standard time. We will be available for online chat on Discord as well. Please join us online, if you are not a CMU student! If you are a CMU student, please stop by University Center Rangos Ballroom during the event!
What was happening in the past two months
I realized I have been silent for the past two months. What was happening was totally abnormal. I am a 100% science and technology person. Such a science and technology person is now teaching Japanese to 7th and 8th grade students in Pittsburgh Japanese School. It is nothing but abnormal. I read textbooks, but I have many disagreements :-P I was good at Japanese until high school. I was writing answer that I guessed correct, but most of the time that was not what I interpreted a text. In high school, I came up with too many different interpretations when I read a text in the textbook, and I couldn't choose which one to write in the tests. I couldn't get good grade, but I think that was rather good for me. I now think it is better to be able to see the same thing from many different perspective.
But, I cannot believe I am teaching Japanese! I have been teaching C++ programming language, but I never imagined I was going to teach a human language. Life is unpredictable.
08/29/2021
Testing GoPro Cooling Fan (Complete Version) over the Niagara Falls
I had one more scenic flight scheduled before the fall semester. I was going to take my friends to Niagara Falls. This time, since I wanted to take a video of the falls, I mounted my camera face down. I didn't have to record a long video, I only wanted to record while over the falls. It was not as severe as over San Francisco. Still inside the cockpit with no much air circulation. If the camera was heated by the sun before reaching the falls, there was a possibility that the camera was not usable then. Also, the pattern over the falls is right turn. I had to mount the camera on the other side of the PIC side. It was going to be difficult to replace the battery once I was strapped in.

So, I made the complete version of the cooling fan. I used a metal laser-cutting service from OSH Cut. The shape of the plate is following. You can download the .SVG file if you want to try yourself. The idea was to use the copper plate as a heat sink. The last plastic plate was rather preventing heat from dissipated from the bottom side. But, this time, the copper plate should give a much better cooling.

(Read More)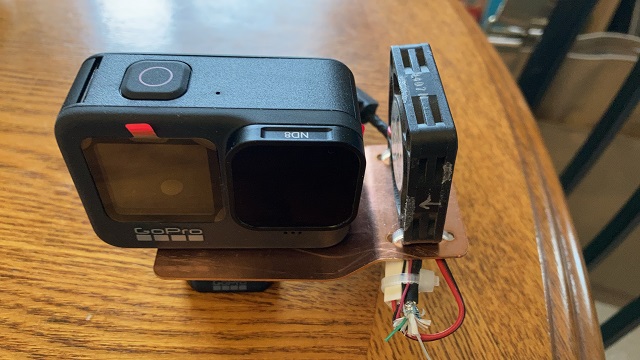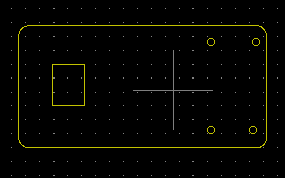 08/22/2021
Carnegie Mellon will start fall semester in-person in a week. At least at the beginning everyone wears a mask, and everyone is mandated to get vaccinated before coming to the campus. We cannot wait until the COVID risk is zero. I don't say online teaching is useless, but it is less effective. I am counting on Moderna vaccine, and the numbers coming from various sources are suggesting that the vaccine is very effective for at least six months or so. I'll be well protected until the end of October. I'll be worried about November and December when it is closer.
I got a new GoPro HERO 9, so I took pictures of lightnings. I used to be using my digital SLR, kept the shutter open for 15 seconds each, hoping a lightning or two flashes while the shutter is open at night. But, now GoPro can take a 4K video. I can just mount my GoPro on the window, and let it go, and then save a frame to an image using VLC. It doesn't have to be at night.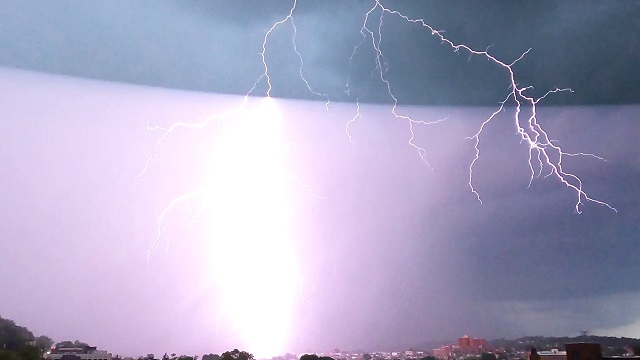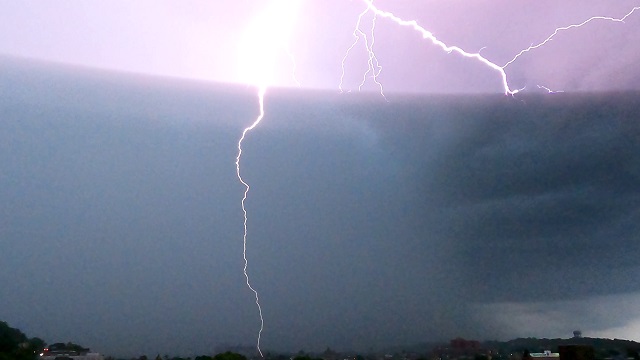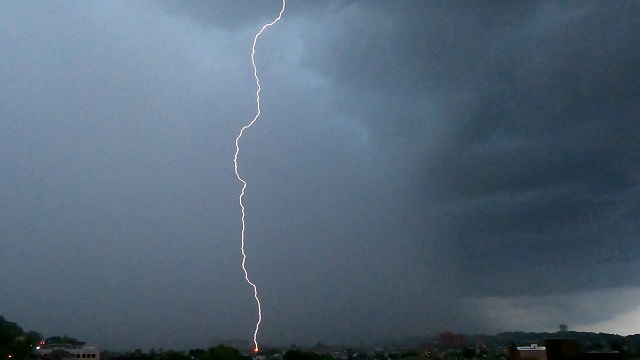 The following two are from over Niagara falls. I took my friends to Niagara Falls in my Cessna last weekend. I also used this opportunity to test the complete version of my GoPro cooling fan. The difference is, the prototype was attaching the fan on the plastic plate, and the complete version on the laser-cut copper plate. I was hoping the copper plate to work as a heat sink. Last time in California, my prototype cooling fan could not keep it cool enough for more than 80 minutes. What was heating up was the battery. The camera started working again when I replaced the battery though. This time I was over Buffalo NY. The sun was not as intense as in California. And I only took video for 20 minutes or so. But, the camera was cold after landing. I guess the complete version worked very well, and the copper plate worked as a heat sink.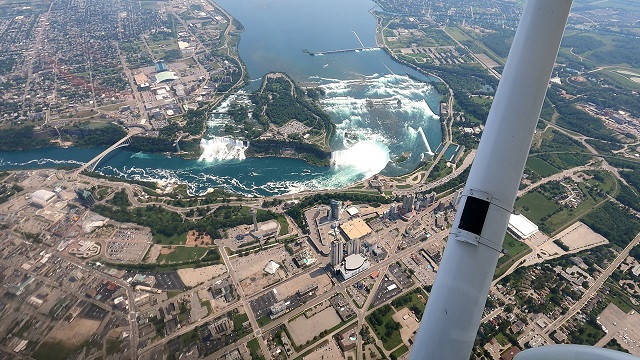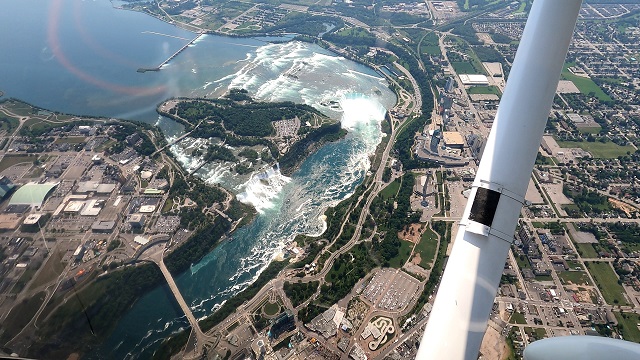 Maybe it was not as busy as before the pandemic, but I saw many tourists in the Niagara Falls State Park. Last year we saw a steep climb of COVID cases depite the lock down. This year we are seeing increase of COVID cases, but much slower, and we are not locking down. The vaccine is certainly working, and Niagara Falls is open for business. The COVID risk is not low yet, but the end is near.
08/10/2021
I think Tokyo Olympic went well after all. I enjoyed seeing Japanese athletes doing well. Of course, I was happy to see American athletes getting medals. I also was supporting Taiwanese athletes.
Some misinformed Japanese protestors were protesting outside the stadium. What was funny was those protesters, after protesting, were photographing fireworks of the opening ceremony. It's an indication that they didn't know what they were doing. I've always been thinking if the COVID risk became reasonably low, there would be no reason to cancel the Olympic games. In fact, many athletes visited Tokyo were probably safer in Japan than in their home country. Some Japanese news media are reporting hospitals in Tokyo are overwhelmed in the past a few days, but it is impossible after majority of elderly population got vaccinated already. Something doesn't add up. Japanese news media have been excessively pessimistic for the sake of their political motivation since the beginning of the pandemic. Maybe that's it.
University of Pittsburgh Medical Center updated the COVID news conference today. Their message has always been objective and hopeful.
https://www.upmc.com/coronavirus
Doctors in the news conference re-iterated that Pfizer, Moderna, J&J vaccines, used in the United States were all very effective against all known strains of the virus. I'm going to teach in-person this fall semester. I'm counting on the Moderna vaccine.
UPMC has been a big supporter of monochronal anti-body treatment, and they reported it has been very successful in UPMC network. Also they mentioned about post-exposure treatment, which I don't think they talked about too much details, became available to immuno-compromised and unvaccinated patients who potentially exposed to the virus. Although it doesn't apply to me because I was already vaccinated, availability of new treatments was very encouraging.
I think the corona virus won't go away but will become manageable soon.
08/07/2021
Eating, Shopping, Driving, and Flying in San Francisco
I had been to San Francisco for 9 days.
The United States is really re-opening for business. We do have some concern from COVID Delta strain. However, except the communist-made fake vaccines, numbers are telling real vaccines are very effective in preventing death and serious symptoms. It is good enough to me if I am protected from death, serious symptoms, and long-lasting health problems. At this time, we don't have a good data to judge if the vaccines are effective against long-lasting health problems, aka long-COVID. We don't have good data mainly because long-COVID is not well defined. Some define as a symptom lasting more than six weeks. I'm ok if the symptom is gone by the seventh week. Some study ended up including very light symptoms, which I don't care. So, I cannot draw a useful conclusion about long-COVID from the available studies. However, I think it is very unlikely that the vaccines protect against death and serious symptoms but not protect against long-COVID. Overall risk of me getting a serious health problem by COVID, or transmitting COVID to someone else is low.
We were eating, shopping, driving, and flying. First of all, my wife and I are from Japan and love seafood, but we are living in Pittsburgh, hundreds of miles away from the ocean. We were looking forward to eating good seafood there. Probably we can eat similar-quality seafood in Pittsburgh if we go to a pricy restaurant. But, human sense is influenced by the environment. Waking up to voice of seagulls and smell of ocean breeze give extra boost to the taste of the food. Being there makes a difference.
(Read more)
Below is the video from one of the two flights I did during the trip.
07/23/2021
Olympic Opening
It was a surprise that Olympic Games Opening featured whole bunch of game musics. I could recognize only Dragon Quest, Chrono Trigger, and Gradius 2 though. Others were too new to me. One of them was listed as "Gradius", but that music was from "Gradius 2". Although game music has been gaining recognition nowadays, once upon a time I was considered a weird kid who listened to square wave and FM synthesized tones. When I was a kid, I was told to study school subjects when I was studying programming. Although my father bought me Fujitsu FM-7 and later FM TOWNS, he was not thinking I was going to be a programmer. My mother even said don't become a weird profession called programmer. Now I see from time to time a teenage kid bragging app development on Twitter. Now those game musics are played in the Olympic Opening! It was a giant leap for the game music. What a difference three decades made!
Some misinformed Japanese are protesting outside Olympic Stadium, which is a shame, but I have a feeling that Tokyo is safe. Good proportion of elderly people have been vaccinated. Vaccines are working as advertised in the U.S. If it works the same in Japan, it is unlikely that Tokyo's medical system be overwhelmed. Olympic athletes are healthy and young (hopefully they don't have a heart problem from performance enhancing drugs), and the probability of getting serious health problem from COVID is non-zero but low. I expect it will work out ok.
I really wanted to see Japanese Air Self-Defense Force's Blue Impulse drawing olympic symbol over the stadium!
07/17/2021
Bowling
As the U.S. reopens, I am bowling again. I resume my quest for 300 game. I want to do it once before I die in a sanctioned league. I haven't bowled for 14 months until I bowled for the first time after my vaccination last month. I forgot a lot of things, and I lost good amount of muscle, which I am trying to re-gain now.
I'm no good athlete. It would be too unfair if I can code, can fly, can take good photography, and was a good athlete. Well, I am fully confident in my programming skill. I think I am a safe pilot, but not of a fighter jet or an airliner. Probably my photography skill is better than average, but not a professional. And I am no good athlete. But I can practice more than other people to close the gap.
First I had to retrain my wrist. My thumb skin peeled off twice, but now it grew back to be thick enough to sustain. I used to bowl 8 games in a row when I went to practice. I could bowl only a few. Then five games. Then six games. Now I am able to bowl 8 games in a row again. If I can bowl 8 games in a row, I can try different courses, use a very hooking ball and a less hooking ball to simulate different oil condition, sometimes I dedicate one game only for shooting my nemesis #10 pin.
I am a person who cannot do until I am able to express in words. Like my landing flare was not stable until I understood why. Just don't look at instrument once you start flare! This was the words I needed. Even before the pandemic, I had one problem in my bowling. My target point, where my ball is supposed to pass through, disappears just before my swing, and reappears only to see my ball passes one or two boards off the target. I found one of the reasons to be the jolt to my head. Unless my swing is coordinated, swinging my arm with a 15-pound projectile ends up applying a force on my shoulder, which is transmitted to my head, and gives a rapid movement of my head. My eyes were getting a motion blur. This problem is solved if I practice to coordinate my swing.
However, even when I succeed in swinging my arm at perfect timing, I often lost the target point and missed it. Why? I couldn't explain. Therefore I hadn't been able to correct it. I was looking for the reason for as long as my bowling career, which means since I was 14 years old. Nobody could tell me why. But, while practicing, I finally found the second, and hopefully the last reason why my target was disappearing during the arm swing.
I use four-step approach. From a stance, I walk for four steps to shoot my ball. During the four steps, I walk about 10ft. My eyes were focusing on a board near arrows, which are 15ft from the foul line. In total, my target is like 25ft away from myself. When I release the ball, it is 15ft. My eyes were not re-focusing to that distance!
So, my first reason of disappearnce of the target point was motion blur. The second reason was off focus! Actually, unless I tell my eyes to re-focus, my eyes keep the original focus distance, and once I finish throwing, my eyes were sloppily re-focused to my target. That was how my target point was disappearing and re-appearing.
The solution was to re-focus at the third step. In fact, until then, I was only paying attention to the arm-swing timing at the third step, and letting my eyes lapse. It's like re-pressing the shutter button half way when shooting a closing-in airplane with AF-S mode. In some cameras, AF-C mode never focues on a fast-flying airplane, and this strategy works way better. Once I noticed it, my target never disappeared.
Probably a good athlete can do it automatically. And, I probably was doing it without thinking, when I had an incredily good score like 277. Hope it increases my average. Well, I also need to re-learn to read the oil condition, which I need to practice until the fall league starts end of September.
07/05/2021
July 4th Fireworks (and How to find Beaver County Airport at night)
One thing I've been wanting to do was watching July 4th Fireworks from the air. I couldn't do it while I was renting from a flight school because flight schools were closed on July 4th. But, now I joined Beaver Valley Flying Club. Regardless of holiday or not, I can pull out and take off as long as I can reserve an airplane. So, I did this time. (Read More)
06/05/2021
For the first time in two years, I went to an airshow. Latrobe Airport hosted Westmoreland County Air Show over the Memorial Day Weekend. It's just 50 minutes away from Pittsburgh. I went there on Thursday to watch the airshow practice as well. For some reason, Westmoreland County Airshow is good at picking the worst-weather day for an airshow. The sky was clear on Thursday during the practice, and the weather was horribly bad on the weekend. Not just bad, it was cold like late February. Nonetheless, I was so happy to be able to watch Blue Angels again! (Read More)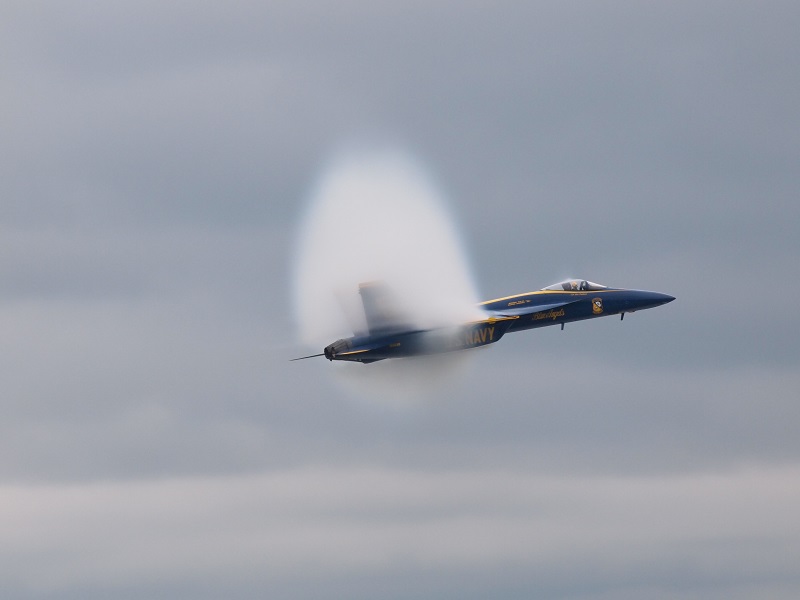 The United States is almost back to normalcy. Restrictions after restrictions are getting lifted. No sign of the infection count coming back up. Pfizer, Moderna, and J&J vaccines must be soooo much effective.
I am also monitoring numbers from Japan. Especially around where my parent is living. The number is declining, but the problem in Japan is not the number. But, such a fragile medical system. The hospital system is as if it were in a developing country, which is overwhelmed by a tiny fraction of the COVID patients compared to the U.S. It is probably impossible to reinforce the hospital system in a short time. Only hope is to vaccinate as many people as quickly as possible. It's not just to return to normalcy. Developed countries must start helping others. To help others, first need to secure own safety. That's the basic. Developed countries should start sending vaccines to the developing countries, vaccines that really work, not the one that doesn't work.
What should have happened was Japan should have started mass vaccination at least two months, or if impossible a month, earlier. The number should have started declining earlier, more hospital beds should be available now, and there should be no reason to cancel or re-postpone the Olympic games. What's shame is people who are blaming the government's slow response were not doing anything either. The government was not prepared at all, but neither did the private sector. It is really a shame.
05/28/2021
If your FitBit Charge 3 stops notifying anything including exercise alert
The quality of the computer software is consistently falling down like a rock. That makes me feel helpless now a days. The control software of FitBit Charge 3 is no exception. Probably from the wrong concept of agile programming. Programmers are thinking they can release something bad and then fix it in updates. The reality is they release something bad and never fix it. The concept of agile programming may not be wrong in an ideal world that doesn't exist, but if you take programmers' psychology into account it may be the worst idea.
I started wearing FitBit Charge 3 since I experienced a severe health problem last March. I thought I had a heart problem and wanted to monitor my heart rate especially while sleeping.
Now I am out of the health problem, but I keep wearing mainly for exercise alert every hour, but it suddenly stopped today after I replaced the band. Turned out it was a text-book case of bad user interface.
FitBit has a useless option called "Do Not Disturb", which kills whole purpose of FitBit. I don't know why this option exists at all.
What's really bad is there are two places you can set this option, and it is very easy to accidentally enabling one of them. If you long-press the only button, FitBit shows a menu to turn on or off "DND", which stands for "Do Not Disturb". Unless you have a good imagination, you may not see it means "Do Not Disturb". Meaningless use of short form. Worse, it is way too easy to accidentally enabling this "DND". Like when you are cleaning your FitBit, or when you are replacing the band like I was doing today, you need to hold the watch. You end up with accidentally enabling this "DND" menu because the watch thinks you are long-pressing the button. Then, you may accidentally touch the watch face, and "DND" is enabled without you even noticing it. This completes a creation of totally useless watch that gives no notification and display is too dark to be readable under the sun (even when you make it maximum brightness). This button design is also an engineering failure. I give F grade to FitBit.
OK. Here is the final blow. Whoever designed FitBit 3 control software decided to keep one "DND" option, and "Do Not Disturb" option separately in two different menus. "DND" and "Do Not Disturb" are no in sync. These are two separate options, and you need to turn off both "DND" and "Do Not Disturb" to re-enable notification. The user forum pointed that you need to turn off "Do Not Disturb". But, no mention about this "DND". It took several hours to find this critical flaw in the control software. I was lucky because I noticed this "DND" stands for "Do Not Disturb" when I long-pressed the button. If I didn't notice, I was almost throwing it away.
This is such a basic failure in the software design. Presumably whoever wrote this FitBit Charge 3 control software doesn't have a good education in user interface design. Is the control software written by a student? It's not a work of a professional programmer. It is made too poorly.
Why am I writing this? Because it is not just FitBit Charge 3 control software, but also the web program of the user forum is broken. I logged on and tried to add a comment on the discussion forum on the same problem, hoping to help some users, but "Reply" button was grayed out with no explanation. Hope who are experiencing the same problem finds this post with Google.
Will I keep wearing FitBit? Yes. Do I recommend FitBit? Absolutely not. Software quality is as if written by a student. I don't understand why I have to pay for this poorly-made program. Or, is the price of FitBit Charge 3 only for the hardware? Actually the hardware is not well designed either. I give F grade to the button that is too easily pressed accidentally. Also it is useless outdoor. Even if I set the brightness maximum, display is unreadable under the sun.
05/16/2021
NASA Rocket Launch

As NASA has been trying almost for a week, Black Brant XII rocket on KiNET-X mission was launched finally today. It was visible from Pittsburgh for a few seconds. If it were not for a patch of clouds to the east of Pittsburgh, it could have been visible probably a few more seconds. I was scanning the south-eastern sky just like searching for traffic in the cockpit, however, my wife spotted before me. I quickly aimed and took this shot.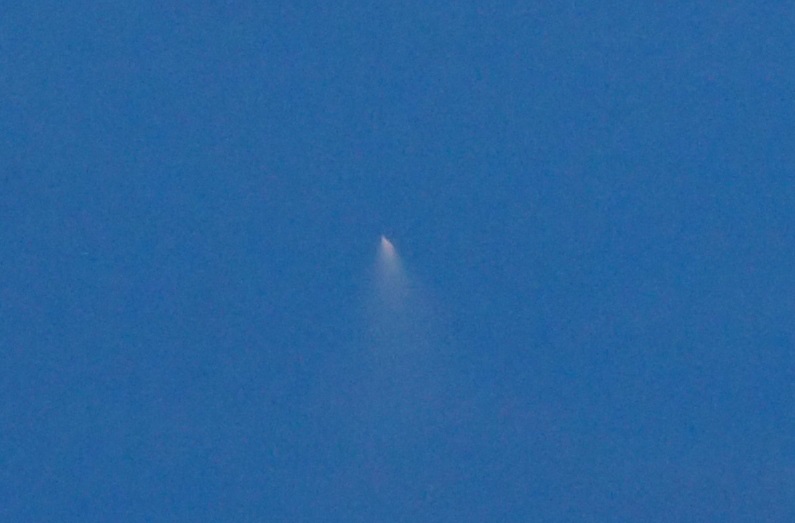 04/22/2021
In the U.S., COVID vaccines are everywhere. There are some walk-in clinics that let you get a vaccine shot even without an appointment. It is very amazing.
There have been a discussion of effectiveness of the current vaccines on the mutants or variants, but I think we know the answer by now. The number tells at least Pfizer and Moderna vaccines are effective to at least currently-spreading variants. I'm looking at the news of the COVID clusters in the elderly care facilities. U.S. suffered from COVID clusters in elderly-care facilities in the early stage. However, after those who are in the elderly-care facilities, living or working, got vaccinated, I don't see a news about elderly-care facility clusters at all. Not just less of the news. I see absolutely none for the past a few months.
The variants are already in the U.S. But, we don't see a new COVID clusters in the elderly-care facilities. The conclusion is Pfizer and Moderna vaccines are protecting against variants. It may be less effective to the variants, but is effective to reasonably good level, based on what I see.
Counter data for this conclusion is the case numbers in the countries like Chile and Brazil. The numbers there do not slow down despite relatively high vaccination rate. The difference from the U.S. is majority of the vaccines used there are Chinese vaccines. This article of Nikkei newspaper tells that the efficacy of the Chinese vaccine is 54%. Far lower than Pfizer and Moderna. I also saw in another article that the efficacy of the Chinese vaccine is 2% after the first shot (Not twenty. It was two.), and about 60% after the second shot. I lost the link to the article. But, this article is saying the first shot of the Chinese vaccine does little to no protection. We don't have data to judge the efficacy of the Chinese vaccine against the variants, but what we are hearing from Chile and Brazil implies that Chinese vaccine is not protecting well enough.
Looking at the situation in Japan, I am frustrated of the slow vaccine deployment. I am hoping my friends and family gets vaccine as soon as possible. But, it is frustratingly slow in Japan. What frustrates me about Japan is not just slow vaccine deployment. The majority is blaming the goverment's response, but what about the private sector? In the U.S., the government didn't help much until the administration changed, but the private sector fought very well against COVID. In some places, hospitals were unfortunately overwhelmed and had massive casualties, but here in Pennsylvania, the medical system stayed strong. UPMC consistently has been saying they are prepared, and patients should not delay their treatment because of the fear for the COVID. The daily new COVID cases in Japan is about same as that of Pennsylvania. The population of the Pennsylvania is about 10% of entire Japan. Still Japanese hospitals are about to be overwhelmed. There is something wrong with the hospital system of Japan. If the government is not helping the hospitals, what private sector is doing? If Japanese government is deplorable, the Japanese private sector is equally deplorable.
When the COVID vaccine was approved last year, I thought there was going to be no problem in Olympic games. But, after looking at the blunder of Japan, I am feeling it may not be possible. Well, not just Japan. Those European countries who were laughing at the U.S. are now suffering from another surge. If European countries cannot send athletes, then it won't be worth running the Olympic games.
I've just had the second shot of Moderna vaccine two days ago. I had a flue-like symptom as advertised. I had fever, chill, and headache. It started about 12 hours after getting the shot, and lasted about 24 hours. I knew it was not real infection. Indeed there was no sore throat or cough because vaccine does not attack throat and lung. After 48 hours of the vaccine shot, I'm feeling better. I still have a light headache, but no fever or chill any more.
04/06/2021
Free FM TOWNS Project.
03/05/2021
I've flown to Seven Springs Ski Resort. Although I didn't ski since I was at 5,500ft in the air. (* There used to be an airport called Seven Springs (7SP) and you could fly into the ski resort in your general-aviation airplane and ski until several years ago.)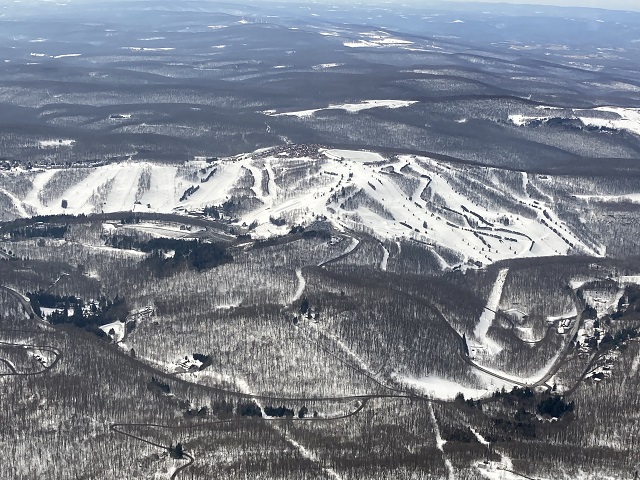 I've been writing my own MS-DOS V3.1 compatible DOS recently. The purpose is to replace MSDOS.SYS in one of the ROMs of FM TOWNS. In other retro PCs, some can run an emulator with a user-developed compatible ROM, or like MSX is an open standard, so you can run a retro game legally. As for FM TOWNS, the developer of UNZ emulator, Kasanova, has written an open system ROM. However, FM TOWNS has another ROM that has MSDOS.SYS, COMMAND.COM, and MSCDEX.EXE, which nobody was able to replace.
MSCDEX.EXE can be replaced with a compatible open-source module called SHSUCDX.EXE. I have been experimenting with it, and works with absolutely no problem. However, I still need MSDOS.SYS and COMMAND.COM which must be Version 3.1 equivalent. Actually to run SHSUCDX, it needs to identify itself as Version 3.3, but other functionalities can be Version 3.1 level.
Many of my friends asked if I can use FreeDOS. The conclusion is no. For some reason, the developer of FreeDOS mixed MSDOS.SYS, IO.SYS, and COMMAND.COM in one module. IO.SYS needs to be from FM TOWNS application disk or disc. Therefore FreeDOS cannot be used for a DOS variant like FM TOWNS. Software development is similar to chemistry. Once you mix chemicals, it is nearly impossible to separate them back to the original ingredients. Once you mix your software modules into one, it is very difficult to separate inter-dependent modules back to individual modules. I learned it hard way years ago.
If Microsoft opens MS-DOS Version 3.3, I wouldn't have to write my own, but Microsoft stopped short. They only opened up to MS-DOS Version 2.0. Better than nothing. At least I can read source code and compare disassembly to make sense of variables and flags. However, it is written pre-stoneage programming, or even before structured-programming paradigm. Hell of GOTOs. It is not practical to start from Ver 2.0 source code and morph it to Ver 3.1 equivalent. In fact, I cannot assemble it. I am suspecting some sources are missing. I'm wondering if anyone was successful in building MSDOS.SYS from the source code that Microsoft opened.
Unless the current (Japanese) copyright law changes wildly and it protects not only the developers, but also the software products, the situation stays the same. Strictly speaking you cannot run FM TOWNS emulator unless you own a FM TOWNS hardware. The number of working FM TOWNS hardware declines over time. If time t goes infinity, the number will become zero. Then nobody can run FM TOWNS emulator legally. Someone studying history of computer games 100 years from now won't be able to run FM TOWNS applications legally. I'd like to make sure such a person will not have a problem with copyright.
But, it will be too difficult if I start from zero because I cannot tell if I am writing correctly. So, I am writing it as a patch to existing MSDOS.SYS, and gradually taking over functions with my modules. It's like gradually eating original MSDOS.SYS. Kind of programming horror story :-) But, so far I successfully took over (ate) DOSINIT, PUTC(02h), FREAD(3Fh), FWRITE(40h), FCLOSE(3Eh), MALLOC(48h), FREE(49h), MREALLOC(4Ah), GETSYSVARS(52h). I am trying to take over FOPEN(3Dh), and it is tough as expected. I think I successfully took over a function (or procedure) to make up a full-path name with current directory and current drive taken into account (looks like called Fully-Qualified Filename in the DOS terminology). Then, I need to do media check, and then get to the directory sector. I think getting to the directory sector is very well defined, but I'm still vague about what to do with the media check, especially what I need to do if the media check failed. I'll see. I'm planning to make it open when it is able to boot into TOWNS OS without a single byte from original MSDOS.SYS. (Then I'll need to find an open COMMAND.COM somewhere or write my own.)
01/29/2021
Johnson and Johnson's COVID vaccine is reportedly 66% effective with one shot.... Haven't we heard a similar number from Pfizer and Moderna? If I remember right (although I'm not good at remembering), Pfizer and Moderna vaccines are 60 to 70% effective with one shot, and 95% effective with two shots. Then, isn't Johnson and Johnson vaccine equally effective with two shots, but not just tested?
01/28/2021
Wasn't it really COVID?
Actually,I really thought I was going to die last March. I had never experienced that bad health condition before. It took 3 months to fully recover. However, nobody knew much about COVID then. Only patients with cough and fever were tested for COVID, and I didn't meet the criteria. At this time, there is no way to tell if it was a COVID or something else.
It started in the first week of March. I had a very strange cough. I coughed like once an hour. But, just a single-shot cough. It never continued. Once I coughed, I didn't cough again for another hour or so.
Saturday 3/7. I felt sinus soreness. To be safe I skipped my bowling league. I took an over-the-counter cold medication before going to bed.
Sunday 3/8. My sinus soreness intensified. I stayed in bed for whole day.
Monday 3/9. I recovered as though I had nothing. I didn't even feel fatigue. I felt just normal. But, I stayed home and took a rest just in case. Luckily Carnegie Mellon was in the Spring break.
Tuesday 3/10. I felt really normal. My wife and I were going to the gym on Tuesdays. But, we started seeing COVID cases, and I had a cold-like symptom over the weekend. I asked our trainer if he was concerned, and he said no. So, we went to the gym as usual. And my trainer gave a pretty good (hard) exercise to me as usual. At that time, data coming out from Japan was suggesting very low fatality and severity. I was not expecting U.S. was going to mess up this much.
Wednesday 3/11. I experienced diarrhea and lost appetite. I got hungry, but after eating one or two bites, I felt full. I really thanked that CMU was in the Spring break. I was not in a condition that I could teach.
My body weight started diving down. I felt my stomach was digesting food extremely slowly. I think I lost 3kg (about 6lb) in a week. That was bad. If it continued 23 more weeks, my body weight would become zero. (Not really :-P) Beyond that, my mass will be negative. Does Theory of Relativity allow negative mass? (No worries...)
I was really lucky because CMU switched to online teaching after the Spring break. If my symptom was not from COVID, I was sure catching COVID on top of it was going to kill me.
Monday 3/16. Still I was feeling sick. Although I didn't have fever, not even elevated body temperature, I felt bad chill. I might have had problem breathing, but maybe not. It was so unclear symptom to me. I had to inhale strongly once every a few breathes. I was also getting a heart problem. My heart rate didn't go down below 70 even when I was lying down and doing nothing. Also the heart beat was so strong that my head was shaken on the pillow. I couldn't sleep. The best description of my condition was like after taking too much coffee. I felt I was going to faint at the beginning of my online lecture, but somehow I was able to get through.
Thursday 3/19. My wife's birthday. I pushed myself to get some Sushi dinner. As expected, my stomach broke again the next day.
Monday 3/23. I managed to finish my lecture without losing conscious. My body weight was still declining. I lost 10lb total from the beginning of the symptoms. The pace was slowing down though. I forced myself to eat some for dinner, but then I really felt sick. I really was worried my heart was going to stop. I visited ER. But, the doctor told that all the tests showed no problem in my heart. My SpO2 level was stable at 98% to 99%. I was feeling like dying, but my body didn't show any sign of problem.
Thursday 3/26. My PCP met with me. He told that it should be some virus infection, but it is unlikely to be COVID. He told me to believe in my own strength, and wait for a few more days.
Then I really started recovering in a few days. My fatigue didn't go away, but my heart-rate problem seemed to be gone.
Thursday 4/16. My heart-rate problem came back. The heart rate didn't go down. But, not as bad as in March. Just in case, I messaged my PCP, but he said if my condition is in general improving, it should go away.
I finally felt I fully recovered early June. It took whole three months.
If it was not COVID, what was it? I can think of two persons from whom I caught it. But, none of them didn't meet the testing criteria then. Therefore, they were not tested.
But, lately I saw an article that high heart rate while resting is one possible symptom of COVID. That was exactly my problem.
Well, because I lost my weight, I thought to keep that weight. But, it didn't work. I re-gained my weight. And, actually I was walking 10,000 steps per day, 5 miles indoor, spend 2500 Cal, but, it didn't work. I feel I started losing my muscle. And, I don't get sweat by doing it. And, maybe walking indoor without shoes on was not good for my knees. My right knee started hurting. I switched back to weight training and 1-hour exercise bike. FitBit is not smart enough to detect I am riding on an exercise bike.
01/05/2021
Happy New Year!
Well, almost for sure this year is going to be a better year than last.
Let's hope the vaccines work as advertised and leave this pandemic behind soon!
| | |
| --- | --- |
| Comments are welcome. Send E-Mail to: | |